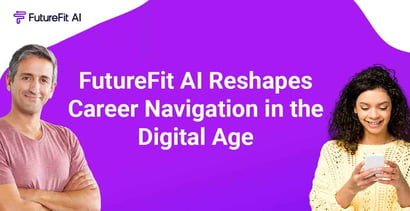 Experts share their tips and advice on BadCredit.org, with the goal of helping subprime consumers. Our articles follow strict
editorial guidelines
.
In a Nutshell: FutureFit AI is a groundbreaking platform that addresses the career navigational gap by using AI-powered algorithms to provide recommendations based on unique and transferable skills. Job seekers can use the FutureFit AI platform at their local workforce board, employment office, or career center. The advanced algorithms analyze this information and real-time job market data to generate personalized recommendations tailored to the job seeker's profile. We sat down with Lucas Levine, Head of Customer Success, to learn about FutureFit AI. 
Few things are more anxiety-inducing than embarking on a job hunt. From the lack of responses to being judged solely on a few words on a résumé, the process can be exhausting. But it's crucial to recognize that it's not because "nobody wants to work anymore" – it's because people today refuse to be exploited or overlooked.
Amid the Great Resignation of 2021, many employees across the US and Canada left their jobs due to low wages, lack of benefits, and high competition. Making things even more complicated  were applicant tracking systems (ATS) that eliminate more than half of candidates during the job application process. Since ATSs solely rely on keyword matching, applicants without the right words on their résumés are automatically excluded, overlooking those with unique qualifications or transferable skills. 

FutureFit AI knows it's not about the right keywords and that, in fact, a large part of the workforce is seeking jobs, changing careers, or experiencing some work displacement. That's why FutureFit AI was born: to serve as a platform connecting employers and job seekers based on skills rather than extensive résumés. 
Lucas Levine, Head of Customer Success at FutureFit AI, explained its mission best. 
"It doesn't matter who the individual is, where they came from, what they look like, or which college they attended. What matters is whether they have the skills to do the job. And that's what we're ultimately trying to deliver — connecting job seekers with the resources they need to put their best foot forward, and making sure employers don't overlook the talent they bring to the table."
Prioritizing Proven Skills Over Lengthy Résumés
FutureFit AI was founded in 2019 by a team with extensive experience in human resources, workforce development, and policy-making within the government sector. They recognized a gap in providing job seekers with the necessary guidance to build successful careers. 
It became apparent job seekers need real-time information about their transferable skill sets, potential career paths, and market outlooks. They have questions like: 
What do I have to do to have a successful career in this field? 
What are the steps I need to take? 
Which resources or certifications can help me?
What will the industry be like in 10 years?  
FutureFit AI lays out a road map that walks job seekers through every step as they reenter the workforce, transition to new careers, or seek opportunities within their industry.
"In one statewide project, we're connecting job seekers with funded training programs in high-demand fields," Lucas explained. "Every user is asked to take a general assessment — not to screen people out, but to determine where they are and the support they need. Our algorithms can then suggest their best fit and recommend next steps."

Here's how it works: Job seekers can visit an employment center and register for the FutureFit AI program. They'll provide information about their work history and education and, optionally, upload their résumé. If a résumé is uploaded, the AI system automatically extracts relevant details to create a list of transferable skills. The platform then provides market information and generates personalized recommendations for training opportunities and potential career pathways.
For example, if a former carpenter creates a profile, the AI tool may highlight skills they hadn't considered before, such as safety practices, critical thinking, and communication skills. Or, if the carpenter is considering a different job path, the tool might suggest different pathways, such as a cost estimation inspector, building inspector, or construction manager. 
But FutureFit AI also recognizes that many job seekers require support beyond guidance. So, the team behind the app forms partnerships with workforce departments and resource centers that can provide this information.
Lucas also emphasized that companies partnering with FutureFit AI have the opportunity to showcase relevant information, including benefits, pay, and transportation options on the configurable SaaS platform. This way, job seekers can better understand how these companies or positions can meet them halfway, too.
"Many of our partners work with veterans, immigrants, refugees, and other folks who are facing distinct barriers to securing employment," explained Lucas. "Often, the biggest barriers are not the lack of awareness regarding 'what's next?' It's the other challenges they face, like healthcare, housing, transportation, and mental health. We have to help take care of those needs to make employment attainable and sustainable."
How the Platform Acts as a "GPS for Your Career"
FutureFit AI describes its platform as a "GPS for your career," providing a concrete road map for job seekers to navigate their career pathways. It addresses challenges such as understanding their skills' value, identifying them, and translating them into relevant career pathways in different industries.
Job seekers can gain access to this powerful tool through partnerships with workforce organizations and virtual career centers. But FutureFit AI doesn't only benefit job seekers; it also caters to career center staff and the organizations running them.

For example, workforce development programs like employment centers have full-time career coaches who do exactly what FutureFit AI aims to do. 
Lucas explained how this could be used to their advantage. 
"One staff member has to remember a lot — they may be working with dozens of people with completely different backgrounds, searching across hundreds of jobs and training programs," said Lucas. "But our tool can help them identify the career pathways and resources that are most appropriate for each job seeker, then help them create a custom road map to success."
Workforce development organizations also use FutureFit AI to meet the unique needs and workflows of their partners, industries, and communities. It serves as a comprehensive resource hub for job seekers while facilitating better connections with individuals facing significant disadvantages, such as those in rural areas, minorities, and people with disabilities. The goal is to create an inclusive environment where anyone can walk into an employment center and access this tool when facing displacement or unemployment.
"It can be existential when a person has spent years in an industry and doesn't know where to go next," said Lucas. "There are so many opportunities they can step into, and we want to give them the language and the confidence to do so." 
For example, if a job seeker is a 60% match for a computer programming position, FutureFit AI can recommend online certifications or courses that could raise their compatibility score to 90%.
But FutureFit AI goes beyond the first step and draws a road map for what's next — hence being coined as the "GPS for your career." 
"They might be a computer programmer today, and we can help them determine their next stage toward a long-term successful career for tomorrow," Lucas added.
An AI-Driven Workforce Development Vision for the Future
FutureFit AI continues to lead the way in the field of AI in workforce development and plans to expand its tools for résumé building, cover letter generation, and coaching. It also plans to improve the Employer Portal by involving employers in the candidate-searching process right from the start.
"We want to bring employers in from the beginning so they can tell their partners, 'I need a person with these skills, and if anyone comes in and meets those criteria, then we're ready to hire them,'" said Lucas. "We feel it's important that employers are engaged in that part of the process." 
Another critical goal on the horizon is improving accessibility for a broader population undergoing career transitions. This includes partnering with virtual career centers to cater to individuals in rural areas or with those with disabilities. Leveraging digital marketing strategies will enable FutureFit AI to better reach these populations with ease.
"There are so many people who are struggling with career transitions, and unfortunately, it doesn't appear that it's slowing down anytime soon," Lucas said. "So our primary goal is to expand and reach out to populations who may have been left out previously."