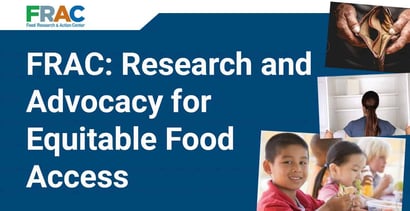 Experts share their tips and advice on BadCredit.org, with the goal of helping subprime consumers. Our articles follow strict
editorial guidelines
.
In a Nutshell: An alarming number of people in America do not have enough to eat. The Food Research & Action Center (FRAC) is looking to change that. FRAC is a nonprofit organization dedicated to understanding poverty-related hunger in the US and advocating for policy solutions to end it. FRAC helps spread awareness of the problem of food insecurity, convert skeptics into supporters, and connect those experiencing hunger with assistance. Ultimately the organization's efforts build a more equitable society where hunger is rare or nonexistent.
According to the U.S. Department of Agriculture, about 33 million Americans, including 5 million children, live in food-insecure households. A recent Wall Street Journal report indicated that nearly 580,000 people are experiencing homelessness in the US, an unprecedented 11% increase from 2022. It's clear there are systemic issues of struggle and hunger in American society.
Voters and their representatives in Congress and the states have built a safety net of nutrition support programs. Obtaining assistance is often a challenge and can sometimes discourage people from reaching out even when they know there's someone to turn to.

Policymakers and anti-hunger stakeholders need data and research to bolster arguments for a more robust safety net. And they need a strong advocacy voice to back up the numbers and guide policy forward.
That's the mission of the Food Research & Action Center (FRAC), a nonprofit dedicated to improving the nutrition, health, and well-being of people struggling against poverty-related hunger. By gauging the success of federal nutrition programs, FRAC provides an empirical basis for strengthening the food safety net.
President Luis Guardia said FRAC's holistic approach to anti-hunger policy advocacy comes with a commitment to the dignity of individuals needing assistance.
"We feel that food access is a human right and that people should be able to access food in a manner that's most dignified and equitable to them," Guardia said. "We also want to make sure that when we think about food access, we consider it from a systems perspective, and that includes thinking about agriculture, climate, worker justice, and more."
Protecting and Strengthening Federal Nutrition Programs
The rising cost of housing and basic necessities combined with low wages puts undue pressure on financially precarious individuals and households. Long-standing patterns of marginalization and exclusion exacerbate hardships for people of color, immigrants, and others.
In a highly productive nation with an overabundance of wealth and resources, many Americans believe they have a responsibility to care for those among them who are hungry. FRAC's work gives voice to those aspirations and puts muscle behind reform efforts.
"Hunger is one manifestation of people living in poverty, but it's part of a bigger system," Guardia said.

One way FRAC accomplishes the goals of anti-hunger advocates is by analyzing and promoting the effectiveness of federal nutrition programs, including the Supplemental Nutrition Assistance Program (SNAP), the flagship food safety net program in the US.
In contrast to food banks that may lack culturally appropriate food choices or locations near people needing assistance, SNAP delivers services through electronic benefits transfer (EBT) cards, and recipients may use them in the food stores of their choice. It's a steady source of support designed to address systemic issues, not temporary or emergency needs.
"It's our country's first line of defense against hunger," Guardia said. "When you're talking about addressing hunger at scale, you've got to do it through programs like SNAP."
FRAC also pays close attention to school nutrition programs, including the National School Lunch Program and the School Breakfast Program. During the pandemic, FRAC worked to secure waivers that allowed for universal meals across the country — a benefit that expired in the summer of 2022. It also boosts and promotes the Special Supplemental Nutrition Program for Women, Infants, and Children, known as WIC.
"Our work is largely focused around improving, strengthening, and protecting these programs," Guardia said.
Data and Research Boost Arguments for Food Equity
FRAC bolsters its outreach for federal anti-hunger programs through research and data gathering. It monitors program effectiveness by issuing monthly updates and producing publications and other research.
"We weigh in on related issues from a hunger perspective, measuring people's ability to access nutrition, good wages, adequate housing, health care, and education," Guardia said. "Many factors drive people into the cycle of poverty."
FRAC reports annual food insecurity numbers from USDA and looks at monthly U.S. census data.

About 1 in 7 households with children reported not having enough to eat, as of early fall 2023, the most recent figures available. Unexpected medical costs or increases in housing, utilities, and food costs are often factors leading to food insecurity.
"That means families probably had to make decisions about forgoing or reducing meals or not eating what they would normally consume because they didn't have enough," Guardia said.
FRAC provides a resource library with advocacy tools to communicate concerns to policymakers, best practices for leveraging existing programs to make them more effective, charts, fact sheets, guides, and infographics designed to convey the situation's urgency. The resource library also includes interactive data tools and toolkits and is a hub for video and webinar content — all accessible through convenient search filters.
A newsroom informs stakeholders about FRAC's advocacy activity, points to state resources, and provides expert analysis from FRAC and federal anti-hunger program administrators.
FRAC provides anyone interested in alleviating the current hunger crisis and improving the system with the necessary resources to take concerted action.
"Hunger numbers get much worse when you consider households of color," Guardia said. "That's one of the reasons we prioritize equity at the center of our conversations about programs and work to address food insecurity."
Bold Steps Toward a Nation Free from Hunger
This work doesn't happen in a vacuum. Indeed, FRAC is the hub of a network of hundreds of state and local anti-hunger groups that it is actively seeking to expand. SNAP advocacy, for example, happens in part through the Food and Agriculture Policy Cooperative, which works to defend and improve SNAP benefits and eligibility and increase food access. It also works to boost communities through the Healthy Food Financing Initiative and strengthen local and regional farm and food systems infrastructure.
Other partnerships and coalitions focus on school and community breakfast programs, out-of-school-time programs, and the relationship between hunger and health, which highlights the counterintuitive reverse relationship between hunger and obesity, among other things.
"We benefit from learning what our partners are hearing in their communities, but they also help us, and the federal government, better implement programs at the state and local level," Guardia said.
The FRAC website also includes an authoritative compendium of state anti-hunger organizations to increase the local effectiveness of anti-hunger stakeholders. Those interested in targeting anti-hunger work use the resources to home in on organizations that are on the ground in communities, doing the painstaking work with individuals and households experiencing food insecurity.
"It's vital for people to be aware of these activities because we continue to see the effects of hunger in this country," Guardia said. "If that outrages you, you need to know that solutions exist, but they need to be advocated for, not just by people like me."
An excellent example of effective advocacy came during 2023's debt ceiling negotiations, in which some legislators sought to change the SNAP program by adding more onerous work requirements that Guardia said would cost taxpayers more money than doing nothing.
Individuals may sign up for the FRAC Action Network to stay informed, connect with legislators, and contribute.
"People and communities need to engage their elected representatives on these issues," Guardia said.