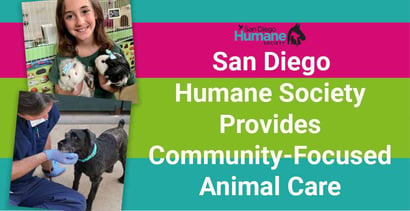 Experts share their tips and advice on BadCredit.org, with the goal of helping subprime consumers. Our articles follow strict
editorial guidelines
.
In a Nutshell: In the most basic sense, San Diego Humane Society is an animal shelter, but it's so much more than that. The organization provides necessary care and protection to more than 40,000 animals of all kinds in 14 cities in San Diego County. It also reaches out to communities with resources and education to place more animals in loving homes. Thousands of volunteers and professionals keep local campuses running, offering community resources, and supporting the society's national advocacy work for animal welfare.
There's a reason websites ask users the name of their first pet as an identity protection measure — we don't easily forget those special bonds. San Diego Humane Society can help people remember those bonds and foster them for others.


San Diego Humane Society serves animals and people in 14 cities in San Diego County, a region of 4,300 square miles with a population of 3.3 million. In normal times that would be a tremendous responsibility, but the usual patterns aren't holding anymore.
As the busy summer season approaches in 2023, the Society finds itself caring for an unprecedented number of dogs, cats, and other animals, all with unique needs, as holdovers from winter 2022. Unlike in previous years, there's been a continual, escalating demand for services and shelter space, and it shows no sign of stopping.
The reasons behind that disturbing trend are complex. But it puts an unprecedented burden on a network of more than 5,000 dedicated volunteers and 600 professionals who need extra help now and will continue to need it moving forward.
In other words, San Diego Humane Society cherishes its volunteers. While people don't have to live in San Diego County to contribute, there are plenty of opportunities for those who do.
And anyone who loves animals can donate time to help the Society extend its work at home and effectiveness as a national animal welfare advocate. San Diego Humane Society works to connect people and pets, offers access to animal services in places where needs are greatest, and acts as the nation's animal conscience.
"Even sharing information in your social media community about strays and pets who need new homes is a form of volunteerism," Director of Public Relations Nina Thompson said. "But we have so many amazing ways for you to volunteer."
Creating a More Humane San Diego
There's a historical dispute about whether San Diego Humane Society is the oldest nonprofit in San Diego County or just one of the oldest. It was established in 1880, believe it or not, at a time and place when human relationships with animals were very different from the present.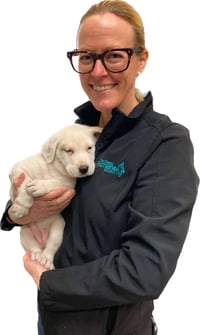 Today, the Society provides services in 14 cities through six campus locations and expects to take in more than 40,000 animals in 2023.
"That is a huge number of animals who count on our organization for a second chance," Thompson said.
The Society makes a herculean effort to find homes for the strays and owner-surrendered dogs and cats that comprise most of its client base. It maintains more than 2,000 animals at a time in daily care, and its dog population is at 158% capacity.
Other animals come to the Society through cruelty investigations that lead to their seizure by humane officers. More than 13,000 sick, orphaned, and injured wild animals go through the Society's Project Wildlife program, where dedicated staff and volunteers rehabilitate and release them back into the wild.
It's very resource-intensive work. Although a healthy, highly adoptable abandoned pet might receive a new home in two weeks, some animals require shelter medical care from the Society's extraordinary veterinary team. Training from the Society's behavior team is also available.
An injured animal may need orthopedic surgery, and animals sometimes arrive needing cancer treatment. Some animals remain with the Society for years before finding a placement.
"It's anything from the smallest hamster all the way up to a pig and a horse and everything in between, and these animals don't have owners to tell us what's wrong," she said. "We're highly trained and skilled in shelter medicine to help these animals find a forever home or family."
Community Support Services Reach Underserved Areas
The Society governs adoption services according to the policy that every pet has a right to a continuous and nurturing relationship with people who convey an enduring sense of love and care. Its work extends into the community in ways that aren't just about the animals but the people.
"If you own a pet, it is our goal for you to stay together with your pet even if you're struggling," Thompson said. "If you need help with pet food, resources, veterinary medicine, or something else, we want you to come to us if you live in our community."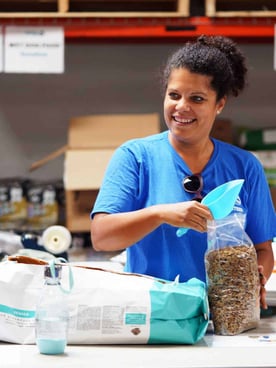 The Society's long list of community support services begins with its mobile veterinary unit, which goes into underserved areas and provides free and low-cost wellness care. The team offers advanced care on a case-by-case basis with the goal that no one should have to turn in an animal because they can't afford to care for them.
At the Society's four main campuses in El Cajon, Escondido, Oceanside, and San Diego, community pet pantries distribute free bags of dog and cat food, with no questions asked.
In 2022, the Society's community pet pantries provided 1,817,690 meals for pet families in need and 881,374 meals for rescue partners, who work to find homes for animals as quickly as possible.
Owners who feel their pets' behavior is out of control and need to speak to a behavior specialist may contact the Society's behavior helpline. The Society also offers free and low-cost Zoom training classes.
"Thanks to a donor who wanted to help on the behavior and training front, we'll work with you to waive the fee if you want to attend a training class," Thompson said.
Support a National Leader in Animal Welfare
As a national leader in animal welfare, the Society prides itself on its education and advocacy role, sharing its knowledge with shelters across the country so others can benefit from the lessons it has learned and the programs it provides.
Meanwhile, the need for volunteers rolls on as the Society learns to cope with what appears to be a new normal for animals needing care and homes. The Society's volunteer information page is a one-stop shop for donating time and spirit to the cause as a busier-than-ever summer season approaches.
There are many ways to volunteer. Some volunteers start with animal care and husbandry and work their way up to become dog walkers. Others prepare meals and treats for companion animals or the Society's Project Wildlife program.
The Society sorely needs volunteers at events. The Walk for Animals, held every spring, requires 400 volunteers to do everything from flipping pancakes to holding signs and walking adoptable dogs. There's also a considerable need for fostering.
"Fostering is such a gift for an animal because the shelter environment is very stressful," Thompson said. "Even a facility as wonderful as ours is not a place for an animal, especially not for a longer period of time."
Unofficial ways animal lovers can act as volunteers or ambassadors for San Diego Humane Society don't end with sharing posts about strays and pets who need homes on social media. Those too far away to volunteer in person may serve in spirit by adhering to pet-ownership best practices, such as spaying or neutering pets, providing a microchip or secure ID, and lovingly remembering their first dog or cat.
And when a pet needs a new home, consult the Society's rehoming resources for local links.
"It's rewarding for our volunteers to see that their work directly impacts the animals and the organization," Thompson said. "Even when we're closed to the public on Mondays, the animals need us."