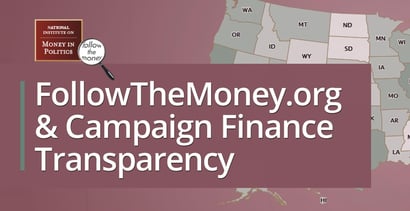 In a Nutshell: Every two years in the U.S., the political election cycle heats up with candidates on one side proclaiming why they are better for the elected position than their competition. Some potential voters take this information at face value, but it can be extremely beneficial to dive deeper and learn where campaigns are getting their money from. FollowTheMoney.org works to bring transparency to these campaigns by collecting and tracking campaign finance data, and making it freely available to the public. This information can help voters understand what type of person a particular candidate is and if they may be beholden to certain industries if they are elected.
Whether it's a midterm or presidential election year, the months before election day often become a heated battle between candidates at the federal, state, and local levels. Meanwhile, U.S. residents are inundated with political advertisements at nearly every turn — particularly in swing states.
And 2020 seems to be shaping up to be more contentious than any election year in recent memory. TV commercials, internet ads, political mailers, radio ads, and even yard signs extol the virtues of one candidate while highlighting the alleged shortcomings of another.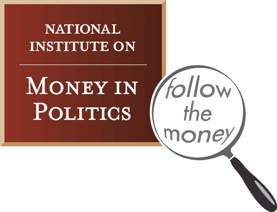 Many people may find it fairly simple when it comes to deciding for whom to cast their vote in the next presidential election. At least in 2020, the lines appear clearly drawn. But things can get a bit hazier in state and local elections.
And, of course, different people are interested in different issues. Environmental issues may be the priority for one voter while foreign policy is front and center for another. For those struggling with debt or credit issues, student loan debt forgiveness, mortgage and housing assistance, or further credit card reform may be the most important issue.
Learning about each candidate's platform and plan of action is valuable in deciding who to vote for. But understanding where a political campaign's funding comes from can also be extremely valuable when selecting a candidate.
That's why FollowTheMoney.org strives to bring as much transparency as possible to political campaigns. The website was created by the National Institute on Money in Politics.
Stacy Montemayor, a researcher at FollowTheMoney.org, recently spoke with us about the organization's mission, how people can become more informed about campaign finance, and the 2020 election cycle.
Promoting an Accountable Democracy by Shining a Light on Campaign Funding
The National Institute on Money in Politics launched in 1999 when three regional groups joined forces to help reveal the influence of special interest contributors on state elections, according to FollowTheMoney.org.
"We're a nonprofit, funded primarily by large philanthropic organizations," Montemayor said. "Basically, we are wanting to promote accountability in our democracy — transparency and disclosure with all things campaign finance."
This means FollowTheMoney.org collects, standardizes and makes publicly available campaign contributions to candidates and committees, she said. It also tracks lobbying data and independent expenditure data to some degree.
"Unfortunately, those last two have big asterisks by them because there isn't an abundance of transparency or disclosure there," Montemayor explained. "But we do advocate for them, so maybe at some point down the road there will be."
The nonprofit researches and archives a 50-state federal and state database of contributions that documents more than $100 billion, and more than 2 million state lobbyist-client relationships are registered annually, according to the organization website.
FollowTheMoney.org recently expanded to include select local level data, independent spending reports for campaigns in 31 states, and lobbying spending in 20 states.
Montemayor said FollowTheMoney.org's database seems to be growing almost exponentially.
"First, 2016 was quite a year, then 2018 was an incredible year for the volume of money in elections," she said. "Now, 2020 is on track to just blow all that out of the water. I mean, Mike Bloomberg alone added $1 billion with just one race."
Montemayor said that once the organization receives the data, it standardizes it to make it easier to decipher.
"Then we provide all of that for free to anyone who comes to our website," she said. "We specifically support academics, journalists, advocacy organizations with the use of this data."
She said she also receives at least one phone call per week from an average citizen wanting to gain further insight into some of the data on the website.
FollowTheMoney.org Offers an Array of Tools to Help Citizens Make Informed Decisions on Candidates
"Knowing where people get their money from is not everything, but it actually kind of is everything," Montemayor said. "You can see who is donating to who, and that really makes an impact."
She said if a candidate has 50% of his or her campaign contributions coming from citizens, that candidate is likely to behave differently in office than a candidate who has only 5% of contributions coming from citizens.
"The rest of it may come from a handful of industry sectors that are going to have a bunch of bills going through the legislature," Montemayor said.
This kind of information can be particularly valuable for folks struggling with debt or credit issues. A candidate who accepts a large portion of funds from big players in finance may be less likely to support initiatives that would help relieve those in debt.
Watch on
Thankfully, FollowTheMoney.org provides tools that make accessing this information simple and easy to understand.
Visitors to the site can filter searches to access a vast amount of information, from the federal to the local level. Potential voters can even access all the available information specifically for their district within seconds.
The organization also offers an array of graphics that help to visualize the data.
Another important component of the organization's work is how it provides information on each state's campaign finance laws and ranks the transparency of states when it comes to disclosures.
Montemayor said this is important because a contribution of $150 in a state like Montana, which has strict campaign finance laws, may be extremely meaningful because it's the maximum donation allowed. On the other hand, Texas has no limits on contributions, so a $10,000 contribution may seem like a lot at first glance, but may not be as meaningful as the $150 in Montana.
The 2020 Election Cycle is Presenting Unprecedented Challenges in Transparency
The 2020 election year is shaping up to be one of the most divisive, and in some cases contentious, elections in years. The COVID-19 pandemic has impacted citizens in numerous ways, including their health, employment status, and finances. Medical debt is expected to rise, and some experts are saying it will take years for the U.S. to fully recover from the pandemic's collateral damage.
With all this in mind, Montemayor offered some insight into what FollowTheMoney.org is seeing on its end.
"There's a lot of dark money in this election cycle — a lot, and it's coming from everywhere which is maybe even more concerning. There are congressional leadership super PACs at the federal level. It's not one party or the other, both parties are doing this." — Stacy Montemayor
She said the National Institute on Money in Politics recently released a report on this trend that offers a deep dive into the issue.
"For these congressional leadership super PACs, which are the dark money groups, in the first 18 months of the 2020 election cycle, 91% of their money was from donors who gave $100,000 or more. And 74% was from donors giving $1 million or more."
She said these donations total $378 million.
"It's just a staggering amount of dark money and what we're also starting to term gray money because while it's not transparent, some of it is not completely impossible to track," Montemayor said. "It's just really sketchy."
Small-dollar donations are also exploding during this election cycle she said.
In 2010, the U.S. Supreme Court made a landmark decision in Citizens United v. Federal Election Commission, which led to the creation of super PACs, political action committees that can take unlimited contributions from wealthy donors, but they may not coordinate with the campaigns. Super PACs have drastically changed how U.S. election campaigns are funded, and many believe for the worse.
Even if super PAC money remains largely in the dark, thanks to FollowTheMoney.org, potential voters can gain a much better understanding of how political candidates are raising money. This information allows voters to make informed decisions that will hopefully lead to positive change.
Advertiser Disclosure
BadCredit.org is a free online resource that offers valuable content and comparison services to users. To keep this resource 100% free for users, we receive advertising compensation from the financial products listed on this page. Along with key review factors, this compensation may impact how and where products appear on the page (including, for example, the order in which they appear). BadCredit.org does not include listings for all financial products.
Our Editorial Review Policy
Our site is committed to publishing independent, accurate content guided by strict editorial guidelines. Before articles and reviews are published on our site, they undergo a thorough review process performed by a team of independent editors and subject-matter experts to ensure the content's accuracy, timeliness, and impartiality. Our editorial team is separate and independent of our site's advertisers, and the opinions they express on our site are their own. To read more about our team members and their editorial backgrounds, please visit our site's About page.