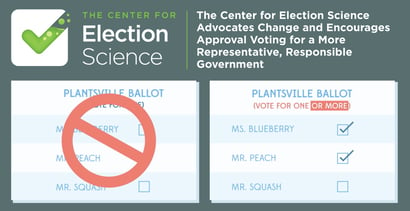 In a Nutshell: American voters are accustomed to casting a vote for just one candidate in elections, but that system is fraught with pitfalls. That's why The Center for Election Science advocates for approval voting, a method that allows voters to cast votes for all candidates they support — rather than just one. This process not only better fulfills the purpose of expressing popular support, but it also enables emerging parties and perspectives to gain a foothold in government. Approval voting has already been successfully implemented in Fargo, North Dakota, and The Center for Election Science has set its sights on gaining traction with the electoral system at both the state and national levels.
In 1992, Ross Perot ran the most successful third-party presidential campaign since Theodore Roosevelt's campaign in 1912. Perot garnered support from liberals, conservatives, and moderates, and he won a respectable portion of the popular vote. But, in the end, he did not earn a single electoral college vote.
While not actually the case, conventional wisdom maintains that Perot's run split the conservative vote and cost incumbent George H.W. Bush the election. Since then, third-party candidates have had presidential aspirations, but none have had any success in their White House bids.
In October 2016, a Guardian poll indicated that 61% of Americans did not feel that either of the two major political parties represented them or their beliefs. But one month later, 95% of voters cast their ballots in favor of one of the two major candidates. The conventional wisdom that a vote for a third-party candidate is a wasted vote struck again. Many people believed that third-party votes would hand the election to someone they didn't want in office.


Those numbers suggest Americans may be caught in a trap of voting for the lesser of two evils rather than for candidates who represent them and their economic interests. This situation keeps U.S. politics locked in a grudge match between two sides, and new parties, candidates, and ideas struggle to enter the discussion.
The Center for Election Science wants to free the American people from the dilemma of either voting for one of the two major parties or "wasting" their vote. And it aims to open up the electoral process to a broader range of candidates and ideas.
It plans to accomplish that by advocating for — and implementing — a new approach to elections: approval voting.
"We can either change the voting method or limit it to only two candidates, which is highly undemocratic," said Aaron Hamlin, Executive Director and Co-Founder of The Center for Election Science. "Unfortunately, the people who are elected have preferred the undemocratic method, which is limiting your options."
The Center for Election Science is a nonpartisan, nonprofit group. It is not interested in tipping the political scales in one direction or another. Instead, it strives to facilitate a better system of governance for the American people.
Aiming to Eliminate the Dilemma of the Two-Party System
U.S. voters are conditioned to believe we only get one vote in elections — and traditionally, that has been the case. But approval voting is a straightforward electoral method that changes that dynamic.
With approval voting, voters can make as many selections on their ballot as they wish. If there's only one candidate they approve of, they would only make one selection. But if they feel three candidates are qualified for office, voters could cast a vote for all three. On election night, the candidate with the most votes would be the winner.
Approval voting does not force voters into an either-or choice of candidates. And it bypasses concerns about splitting the vote — the supposed cause of Bill Clinton's victory in 1992. And it provides a more accurate reflection of voter support than the single-choice method. In short, voting for the person that you want to win would no longer incur the risk of surrendering the election to a candidate of whom you disapprove.
Watch on
The Center for Election Science has already introduced approval voting in Fargo, North Dakota, home to a population of 120,000 — 63.5% of whom chose to convert local elections to approval voting.
"We got a lot of support from the local community and even the local paper," Hamlin said. "The initiative passed at the end of November 2018. It will go into effect for their local elections only in the general election of 2020."
Approval voting can be used not only to elect public officials but for other issues put to a popular vote, including constitutional amendments and ballot referendums. "For a ballot initiative, if there are more than two options, then it would make sense to use approval voting in that case," Hamlin said. "You could have a ballot initiative that says, 'We're looking to change the way that our school taxes work. Here are five proposals that we're looking at. Choose all the ones that you approve of.'"
Improving the Social and Political Functions of Voting
Voting methods perform several important political functions, the most obvious of which is selecting a winner. The current system works on a plurality basis that is rife with vote splitting, but approval voting takes more of a consensus approach. That means the greatest number of people will be happy with the outcome.
Another of voting's functions is to reflect the public's support of a party or candidate. In contemporary elections, neither the popular nor the electoral college vote fulfills this function. Instead, it reflects only the candidate a citizen voted for — not necessarily who they wanted to win. That doesn't accurately reflect political support or voters.
"When people talk about parties, they tend to get caricatured into these homogeneous groups, when, within those groups, there's a lot of diversity," Hamlin said.
Finally, voting should allow for new voices and ideas to enter the political arena, ensuring all thoughts and concerns are heard. Currently, the U.S. system's mechanics prevent alternative options from gaining a foothold.
"In a 2016 poll we conducted, Jill Stein went from approximately 1% to 9% under approval voting. Gary Johnson went from 3% to nearly 21%. We see these drastic differences in support," Hamlin said. "Under our current scenario of choosing just one, candidates can get marginalized easily, whereas, with approval voting, you get a more accurate reflection of support.
Hamlin also said that candidates could build support through approval voting because of the natural positive feedback loop. That means when people look at the polls, they might consider a candidate that has proven support.
Bringing Diversity and Inclusion to the Electoral System
Approval voting provides hope that third-party candidates may finally be seen as viable again, thereby expanding the options of U.S. voters. For example, people may not always want a Coke or a Pepsi; sometimes, they may prefer a Mountain Dew or a Dr. Pepper. In an approval voting scenario, those people could have their Dr. Pepper without any fear that Pepsi would consequently force Coke out of the market.
"One issue that people in lower socioeconomic brackets face is that they look at candidates and they say, 'I'd like to support this candidate, but I don't think they're viable,'" Hamlin said. "We have this proxy measure for viability where we look at name recognition and how big their war chest is. Unfortunately, those two factors aren't necessarily predictors of if they're going to do a good job in office representing our interests. We get stuck in this dilemma, and approval voting lets you pick as many as you want."
Voters can still directly support a favored candidate whose views align with their own, but without fear of wasting a vote or handing the election to an undesired candidate.
"You can still support them, and ensure they retain that support so their ideas get heard and they're not marginalized. But you can support another candidate at the same time whose ideas align with yours," Hamlin said. "We can't forget either that the reason we're able to empower citizens with a meaningful vote is because of donations. Just as it's important to invest in our retirement portfolios, we must also invest in the short and long-term health of our society."
Fargo and St. Louis Represent First Steps Toward Large-Scale Implementation of Approval Voting
The Center for Election Science got its first significant grant at the end of 2017, which allowed it to bring approval voting to Fargo. And its success there has resulted in additional funding and opportunities to introduce approval voting to other areas.
"We received another grant from the grantor who provided the initial one because they were so excited about the quick turnaround and efficiency. Next up, we're looking at the city of St. Louis, and we're working with local partners there now," Hamlin said. "Following St. Louis, we'd like to approach another city, likely over half a million people, and we'll continue that trajectory. In the not-too-distant future, we'd like to start looking at states."
The Center for Election Science began at the city level, but plans to work its way up to the state and national arenas. But its success with advancing and implementing approval voting depends largely on widespread support from citizens who want to participate in a more adequate, representative electoral method.
To that end, Hamlin encourages interested voters to visit the center's website and sign up for its newsletter, which will help them stay informed on the center's progress and alert them to nearby events.
"We're a virtual organization, so we have board members all over the country," Hamlin said. "Often, a board member or I will travel to cities to discuss approval voting. Signing up for newsletters is a way to find when we're going to be near you. "We can't forget either that the reason we're able to empower citizens with a meaningful vote is because of donations. Just as it's important to invest in our retirement portfolios, we must also invest in the short and long-term health of our society."
Advertiser Disclosure
BadCredit.org is a free online resource that offers valuable content and comparison services to users. To keep this resource 100% free for users, we receive advertising compensation from the financial products listed on this page. Along with key review factors, this compensation may impact how and where products appear on the page (including, for example, the order in which they appear). BadCredit.org does not include listings for all financial products.
Our Editorial Review Policy
Our site is committed to publishing independent, accurate content guided by strict editorial guidelines. Before articles and reviews are published on our site, they undergo a thorough review process performed by a team of independent editors and subject-matter experts to ensure the content's accuracy, timeliness, and impartiality. Our editorial team is separate and independent of our site's advertisers, and the opinions they express on our site are their own. To read more about our team members and their editorial backgrounds, please visit our site's About page.