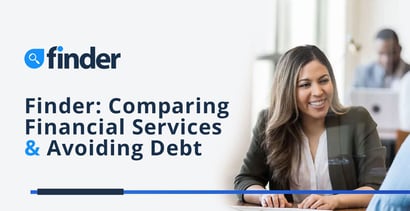 In a Nutshell: People currently have access to more information and more choices than ever before, whether it's deciding on what movie to watch or signing up for a new credit card. Finder is a website that helps consumers narrow down their options when it comes to finance-related products and services, including insurance, loans, credit cards, traveling, and shopping. The Australian-based website launched its service in the U.S. about four years ago and provides readers with in-depth information and comparisons on just about any financial product or service available. It also offers a wealth of information for navigating the COVID-19 pandemic in a physically and financially healthy way.
I switched automobile insurance companies several years ago after running into some unsatisfying experiences with my previous provider. Up until that point, I had used the same insurance company since I was a teenager — and that was only because it was the company a family member used.
When it came time to search for a new insurance provider, I hopped on my computer and did a quick search, and, well, quickly became overwhelmed by the number of options available.
Decision paralysis is real.

Which company was the best? Which plan was the best? Why does this company offer a certain discount when another one doesn't? If I get a good deal does that mean the insurance isn't so great? Would I have to go into debt to pay for decent insurance?
I was able to finally settle on a well-known company thanks to consulting some friends who had good experiences with the provider.
But, having access to a website like Finder would have saved me a lot of time and several headaches.
We recently spoke with Finder writers Katia Iervasi and Anna Serio, who specialize in insurance and lending respectively, to learn more about the convenient website and how it helps consumers make important financial decisions and avoid excessive debt.
"We were founded in Australia about 15 years ago, and we've been operating in the U.S. for approximately four years," Iervasi said. "Our mission as a company is to help our readers to make better financial decisions. And we compare pretty much any financial product you can imagine from loans and insurance, which is what Anna and I focus on, to mortgages, bank accounts, credit cards, and the list goes on."
Cutting Through the Complexities of Insurance Coverage to Identify the Best Offerings
Iervasi spoke to how Finder helps consumers cut through the noise to find the right products and services for their unique needs.
"My job is breaking down all the jargon and the confusion," she explained. "We want to really simplify insurance so that it's easy for our readers to understand the coverage they need, and also how to get it."
Iervasi said that, in her experience, insurance is often unnecessarily complicated, but at its core, it's a really simple concept.
"You're either buying protection for yourself while you're alive or for your loved ones when you're gone," she said. "But for some reason, it's packaged in this really confusing way for consumers."
Finder's coverage of insurance is extensive. The website takes a deep dive into comparing companies, discounts, rates, and coverage, and other insurance considerations for automobile, life, travel, home, pet, and business.
"Insurance companies should be transparent, but they're not always transparent," Iervasi said. "As a consumer, you may have to do some digging to find what you want in terms of rates, riders, policy features, exclusions, limitations, things like that. But that's also our role at Finder — to do that legwork for you and find the fine print."
She said Finder wants to help consumers make educated decisions about the coverage they want and need. And that's the first step — deciding what kind of coverage you want.
"Our advice is always that some insurance is better than none," Iervasi said. "And with most types of coverage, you can always add on to your policy later. Or you can lower your policies, which is a strategy called laddering."
This is just a small sample of the vast resources and advice that can be found on Finder regarding insurance. Don't worry though. The website helps to cure decision paralysis, rather than add to it. And, of course, when consumers can make educated decisions while saving money and avoiding debt, that's a win.
Helping Users Understand Which Loans and Financial Products are Best Suited for Them
As with its extensive insurance comparisons, Finder provides users with a wealth of information when it comes to nearly any financial product or service imaginable.
"I think comparing lenders and comparing all types of lenders is really key to making sure that you're working with a provider that is best for you" Serio said. "There are a lot of new online companies that seem really easy and fast that might be attractive to some people. Or they might seem unattractive to others because they're new and people may not be sure how they're regulated."
Simply gaining an understanding about how these providers work and being able to compare them to more traditional lenders such as banks goes a long way, she said.
Watch on
"And considering your monthly budget is one of the most important numbers that you can have in mind when you're applying for a loan," Serio explained. "Factors like your rate, term, and loan amount are going to determine this but when you apply for those, you should end up with something you can easily afford each month and have a little bit extra leftover."
Keeping these kinds of considerations in mind may seem obvious, but when consumers are wading through the vast amounts of information available online it can be easy to lose track of your goals — and easier to fall into debt.
Finder's in-depth coverage and comparison of financial products and services is perhaps even more extensive than its insurance comparisons.
Users can find a treasure trove of information on credit cards, credit card perks, loans, banks, investment tips, money transfer services, mortgages, and credit scores.
With Finder's solid guidance, comparisons, and reviews, readers can get the most out of their finances, learn how to get out of debt and avoid future debt, and even grow their money.
Compiling Resources to Assist Consumers Navigating the Challenges of COVID-19
Iervasi said that Finder determines what subject matter to cover, in part, based on reader feedback. And in the past year, readers wanted to learn more about how to make important financial decisions in the middle of the COVID-19 pandemic.
That's why Finder added a new section to its website that serves as a comprehensive guide to navigating the COVID-19 outbreak.
"We're committed to publishing comprehensive guides and the latest news updates to help you understand the implications of the virus and make informed choices for both your health and your finances," according to the company.
With so many lives and livelihoods affected by the pandemic, it can be easy to forget just how businesses and services outside of our daily bubbles have had to change and adapt as well.
"Since the coronavirus outbreak started, actually a lot of creditors have stopped looking at your credit score as much as your cash flow. That's basically how much income you have coming in each month and how much you pay in bills, rent, mortgage, and debts," Serio said. "But having a good credit score is still sort of a requirement in many cases."
Serio said large banks actually had a more difficult time keeping pace with changes that came with the coronavirus outbreak compared to smaller, online-only banking service providers.
"Banks have had a much harder time adjusting than fintech companies, especially online lenders," she said. "Even though banks have a lot more funds to support them, they have not been able to really pivot as easily because of the really high cost of customer acquisition."
Since fintechs are just online, often with algorithms underwriting applications, costs remain relatively low for them compared to the costs for banks.
This kind of valuable insight and much more can be found on Finder's COVID-19 resource page.
When it comes to insurance, Iervasi said premium relief has been a big issue for consumers during the pandemic.
"We started writing a bunch of pages about how the coronavirus affected travel insurance, life insurance, disability, etc.," she said. "People couldn't pay the premiums anymore. I think insurers actually became a bit more competitive about how much they could offer their policyholders."
Iervasi said the automobile insurance industry generally offered the biggest discounts. And some insurers allowed policyholders to pause their payments for three to six months.
The next time you're thinking about switching insurance providers or looking to take out a loan, visiting Finder to learn more about what's available is certainly worth the time.
Advertiser Disclosure
BadCredit.org is a free online resource that offers valuable content and comparison services to users. To keep this resource 100% free for users, we receive advertising compensation from the financial products listed on this page. Along with key review factors, this compensation may impact how and where products appear on the page (including, for example, the order in which they appear). BadCredit.org does not include listings for all financial products.
Our Editorial Review Policy
Our site is committed to publishing independent, accurate content guided by strict editorial guidelines. Before articles and reviews are published on our site, they undergo a thorough review process performed by a team of independent editors and subject-matter experts to ensure the content's accuracy, timeliness, and impartiality. Our editorial team is separate and independent of our site's advertisers, and the opinions they express on our site are their own. To read more about our team members and their editorial backgrounds, please visit our site's About page.