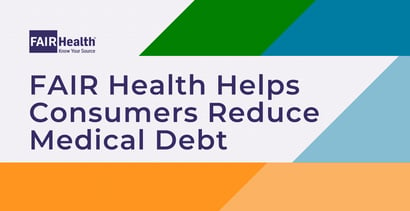 In a Nutshell: Consumers often face challenges when navigating the healthcare system, whether it's choosing a provider or interpreting bills and insurance benefits. FAIR Health offers a free, national consumer website in English and in Spanish designed to help consumers navigate the healthcare system and make informed decisions that balance their financial and medical needs. FAIR Health also can be a valuable resource when it's time for healthcare providers and patients to discuss treatments and desired outcomes for complex illnesses. When all parties understand the options for care and associated costs, patients are better positioned to receive care that fits their needs while helping them prepare for the near- and long-term financial implications. Estimating healthcare costs before you receive care, or comparing cost estimates with your medical bills after care has been received, may help reduce the chances of going into debt and carrying long-term debt.
According to a report from USA Today, more than half of Americans surveyed had medical debt sent to collections in 2020. Of those consumers, 20% owed more than $10,000.
Carrying medical debt can drag down consumer credit scores, and if it is a large amount, even on-time payments primarily go toward the interest. That can make it challenging to bring the balance down to a manageable level. And if consumers can't make payments, defaulting can further damage credit and hurt their overall finances.
It's a situation that anyone can find themselves in, especially after an unexpected diagnosis or health emergency. To help potentially lower the chance of going into medical debt, consumers need access to healthcare costs associated with services and procedures, including costs for treatment options related to various conditions.
FAIR Health is an independent, nonprofit organization that maintains a proprietary, national database of private healthcare claims. Its goal is to make information on healthcare costs and health insurance transparent to all stakeholders in the healthcare system. FAIR Health's data power its free, national consumer website which helps educate consumers about the healthcare system, costs of care and insurance reimbursement.

"Our data collection is national, and we serve the entire country," said Robin Gelburd, President of FAIR Health. "At the macro level, we use our data to support statutes and regulations regarding surprise billing, support workers, compensation fee schedules, or help with broad policy studies. But at the micro level, we help individual consumers navigate the healthcare system in a meaningful way that gives them confidence."
Using the FAIR Health consumer website, insured and uninsured consumers can access resources to help them estimate and plan for the costs of various medical and dental procedures and learn how to navigate the healthcare system through an educational platform of articles, videos and a glossary. The website also offers resources to support consumers with certain complex and serious conditions (and their families) in the process of shared decision making with medical professionals. These resources ultimately allow people to make more informed decisions — from both the healthcare and financial perspectives.
Educational Resources Clarify Medical Costs and Benefits
FAIR Health resources can offer insights at many different stages in the healthcare journey. One example is the fundamental decision of selecting the right provider.
"Some people who come to our site are unsure whether they want to stay in their network for a procedure or go out of network," Gelburd said. "They may need some form of knee surgery, and their Aunt Sally recommended a doctor who is not in their network. So they are trying to get a sense of what their out-of-pocket obligations and responsibility will be and compare that with the in-network price."
FAIR Health's cost estimation tools and educational resources come in handy when reviewing paperwork, including bills or explanations of benefits. That helps consumers better understand the costs, learn about alternatives, and in some cases, avoid overpaying or receiving an unexpected bill for medical or dental care. Being proactive by estimating and/or negotiating the costs of care may help reduce the likelihood of going into debt for unpaid bills.
"There are times when people are in their doctor's or dentist's office and will go to the front desk and say, 'Can you please go to this site?' just to show what the pricing is on our side to compare to what they're being charged," Gelburd said.
Other people may use the website after they receive an explanation of benefits form or a bill from their doctor, according to Gelburd. They can visit the FAIR Health consumer website to put that information in context, gather data to ask questions, enter a constructive conversation with their providers, and possibly even negotiate the price down. The website's Insurance Basics section features a host of articles, including one that includes practical steps consumers can take to better advocate for themselves throughout the healthcare journey.
Informed Decisions Empower Patients and Caregivers
For certain clinical scenarios, shared decision making—the process through which the clinician and patient (and in some cases, the caregiver) discuss and decide on a treatment pathway based on clinical options relevant to a patient, the patient's values and preferences, and the financial ramifications — may be helpful.
"We're injecting cost into that conversation as well. When they share different decision needs and combine different clinical pathways, the next question often is, 'What are the financial implications of these different choices?'"
In 2020, FAIR Health evaluated how patients and providers viewed shared decision-making tools and resources for a set of palliative care scenarios. Palliative care aims to maximize the quality of life and mitigate suffering for people with serious illnesses. According to the brief that summarized the findings, the shared decision-making resources and tools proved invaluable to consumers and providers.
"The categories involved nutritional assistance, breathing assistance, and dialysis," Gelburd. "These are fraught decisions to make. These are people who have some serious illnesses. What we have learned from professionals is there's a real hunger for information when there are different options."
Those conversations and needs aren't limited to patients and healthcare providers. Caregivers, family members, nurses, and social workers all participate, but they need adequate informational resources. And, ultimately, the focus is on the patient and their needs and desires.
"For too long, patients have been almost in the chorus line in insurance decisions and, sometimes, health conditions," Gelburd said. "Now it's time for them to be center stage with the spotlight on them so they can better themselves and achieve better outcomes that meet their priorities."
Price Transparency Provides a Road Map to Medical and Financial Health
Cost is a significant factor and priority for most healthcare patients. According to the Peter G. Peterson Foundation, people in the United States spend an average of $11,000 per year on healthcare — about 18% of the GDP. FAIR Health's resources allow consumers to plan and avoid an outsized financial burden by balancing cost with the medical outcomes of their decisions.
"Someone could choose knee meniscus surgery, for example, as opposed to going the physical therapy path," Gelburd said. "A patient may decide they should give it time or that there may be ways to remedy through physical therapy. They also may be contemplating a surgical intervention, and those obviously would have very different price tags."
Watch on
A variety of factors influence that price tag. Procedures don't have a single, fixed price. Many smaller components add up to one substantial bill. That's why consumers should understand what they're paying for to make an informed decision about their care.
"For example, with a meniscus surgery, you'd also see what the anesthesia would cost. Or a colonoscopy, you'd see what the biopsy or pathology would cost," Gelburd said. "That's another way for consumers to inform themselves and navigate that healthcare highway. We have many different roads that can get you to similar places."
FAIR Health: Resources Prioritize Patient Well-Being
FAIR Health has not only been embraced by patients, but by healthcare providers as well. Doctors are enthusiastic about any new resources to advance their commitment to patient well-being. With plans to expand its shared decision-making resources for other types of care, FAIR Health intends to provide additional resources for both healthcare professionals and consumers alike.
"The consumer website, which launched our shared decision-making scenarios, now has a companion provider site that hands providers similar aids, tools, and resources to allow them to engage in more meaningful conversations," Gelburd said. "We have found that providers welcome those resources. They have the same interests in making sure their patients are well informed and comfortable with the choices and can plan for the financial consequences of those choices."
The provider-facing site was funded by the Fan Fox and Leslie R. Samuels Foundation.
FAIR Health's data repository also continues to expand, with over two billion claims added annually. FAIR Health continually analyzes the data to create a reliable picture of medical and dental costs around the country. Its consumer website is regularly updated to reflect the most recent cost data and timely educational topics.
Equipped with cost information and educational resources, consumers can navigate the healthcare system and make informed decisions with greater confidence. And ultimately, healthcare decisions that are based on the full picture — both the health-related aspects of care and the financial ones as well — can help lower the chances of going into medical debt.
Advertiser Disclosure
BadCredit.org is a free online resource that offers valuable content and comparison services to users. To keep this resource 100% free for users, we receive advertising compensation from the financial products listed on this page. Along with key review factors, this compensation may impact how and where products appear on the page (including, for example, the order in which they appear). BadCredit.org does not include listings for all financial products.
Our Editorial Review Policy
Our site is committed to publishing independent, accurate content guided by strict editorial guidelines. Before articles and reviews are published on our site, they undergo a thorough review process performed by a team of independent editors and subject-matter experts to ensure the content's accuracy, timeliness, and impartiality. Our editorial team is separate and independent of our site's advertisers, and the opinions they express on our site are their own. To read more about our team members and their editorial backgrounds, please visit our site's About page.