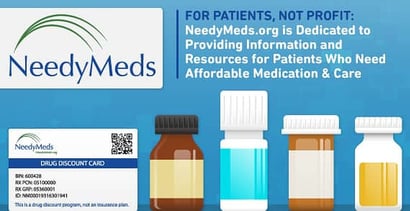 In a Nutshell: Despite health care changes, the cost of prescription drugs in the United States has been steadily increasing for decades. In 2016 alone, the average adult paid 11% more for pharmaceuticals than they did the year before. For millions of people struggling to find affordable medication and care, the solution is NeedyMeds.org. With a comprehensive database of hundreds of Patient Assistance Programs, thousands of coupons, and more than 15,000 free/low-cost/sliding-scale clinics, NeedyMeds gives patients the resources necessary to get the help they need. For one-on-one help, the toll-free helpline is available five days a week. Additionally, NeedyMeds offers a completely free drug discount card, saving users $5 million a month at over 65,000 pharmacies.
Arguably because of America's love of free speech, it is home to some of the most diametrically opposed views on just about any topic. From politics to football, space travel to reality TV, everyone has a different opinion — and they're all being opined at the same time. Among the many disagreements, however, stand a few things on which the voices are strangely concurrent. High up on that list is the troubling cost of prescription medication.
In 2014 alone, Americans spent nearly $298 billion on prescription drugs. That number then rose by more than 10% in 2015, and 2016 saw prices go up another 11%. These jumps, while startling, are hardly new; the retail pharmaceutical market has seen steady growth for over 20 years, more than doubling between 1997 and 2007. The average American spends more than $1,100 a year on medications — a financial hardship for many, and nearly impossible to afford for the rapidly retiring baby boomers and victims of a hapless job market.
"It's a choice no one should have to make — pay rent and buy food, or get prescriptions filled," said Dr. Richard Sagall, President of NeedyMeds.org, a patient resource site that helps people find affordable medications and care. "Yet all too often it's a choice Americans, particularly older Americans, have to make."
Americans just like Jane, who wrote, "After a series of major life changes, I had some severe financial troubles. There were times when it was all I could do to keep the electricity on. Much-needed health care took a backseat to more mundane but immediate needs, and my health suffered as a result."
A family physician, Richard, and his colleague, Libby Overly, started NeedyMeds 20 years ago as a resource for people to find pharmaceutical company assistance programs. Today, the site has expanded to include information on hundreds of Patient Assistance Programs (PAPs), thousands of diagnosis-based assistance programs, more than 15,000 free/low-cost/sliding-scale clinics, and a plethora of other programs, coupons, and informational resources.
"What we do is supply information on programs that help people who can't afford medications and health care costs," explained Richard. "We don't, ourselves, provide the assistance. We provide the information on the programs that provide the assistance."
Watch on
The best part? It doesn't cost the patients a dime. "All the information is free; we never charge individuals for anything we do," Richard stressed. "And access is anonymous; there's no registration or signup — you come, you get the information you want, and then you leave."
"NeedyMeds has played a huge role in helping me get the care I need," continued Jane. "I've found Patient Assistant Programs for several prescription medications, often allowing me to get those medications for free. I've also found doctors and clinics, and they've all been excellent. The site is well-organized and easy to use, and emails are answered quickly."
A Complete Catalogue of Thousands of Patient & Diagnosis-Based Assistance Programs
Ever watch a television commercial for a pharmaceutical and heard the bit at the end that says something like, "If you can't afford this medication, the manufacturer may be able to help"? Ever wonder how to get that help? Well, wonder no more. NeedyMeds can direct you to the right forms — and, if necessary, someone to help you complete them.
"What they're talking about in those commercials is the company's Patience Assistance Programs," explained Richard. "These are programs designed and supported by pharmaceutical manufacturers in which they give away billions of dollars of drugs every year to people in need." The keywords there are "in need."
"You have to meet certain eligibility guidelines to qualify — it's not for just anybody," Richard added. "The guidelines are based upon income, residency, diagnosis, insurance, age, and medication. But if you meet these guidelines, you'll often be able to get the medication for free."
The site also has a full complement of resources on available scholarships, retreats, camps, and various government programs. For more specialized help, check out the catalogue of diagnosis-based assistance options.
"We have a section called diagnosis-based assistance, which lists close to 2,000 programs that help people solely based on their diagnosis," described Richard. "They may help with living expenses, with transport to get medical care, or even durable medical equipment. We have one program that helps people prevent hair loss during chemo using what's called scalp cooling techniques."
According to Richard, no resource on the site is more important than another, as they each offer different types of assistance. One of the most impactful, however, is likely the extensive listing of affordable medical clinics.
Watch on
"We have over 15,000 free/low-cost/sliding-scale clinics on the site," he said. "The assistance programs may be the most utilized, but the free clinics are important, as well, because if you can't afford to pay for a physician, the PAPs can't help you — you need a prescription to qualify. Similarly, the diagnosis-based programs can't help you if you don't have a physician and a medical diagnosis."
A Directory of Medications to Find the One You Need — at a Price You Can Afford
One of the many things that make NeedyMeds so helpful to millions of patients and advocates is the ease of use. The prescription assistance section, in particular, makes finding the right drug information extremely simple with its highly functional directory of thousands of medications, programs, and coupons.
Users can search the database for a specific drug using its brand name or its generic one, and some drugs also include options for different dosage types (e.g., tablet vs. capsule). Clicking on the drug will open up links to any available manufacturer PAPs and applicable coupons or rebates. If the generic version of the medication qualifies for one of the many $4 generics programs, users can also view a list of participating programs.
"We have over 2,000 coupons listed," said Richard. "Some of them will save you a little, while others can save you hundreds of dollars."
Additionally, many of the medications will include additional informational resources. These can range from short informational sheets to detailed Consumer Reports profiles. Some drugs may also include a short video explaining the proper use of the medication. Being a nonprofit, NeedyMeds has to prioritize its resources but the team constantly works to improve and update the site's information.
"As we can afford to hire more people, we add more data to the database," Richard said. "We also strive very hard to keep our information current. For example, we check the coupons every month because they're changing so frequently. And the PAPs we check every three to four months."
NeedyMeds also runs a toll-free helpline (800-503-6897) for anyone who needs assistance, with representatives available from 9 a.m. to 4 p.m., Monday through Friday. For off-hours help, try them through email (info@needymeds.org).
"We want people to call us," said Richard. "We're happy to get 5,000 or 6,000 calls a month. In fact, I'd like to get 10,000 or 12,000 calls a month, so that we know we're helping more people learn about these programs — and get the health care and medications they need."
A Free Prescription Drug Discount Card Saving Patients $5M+ a Month
Whether due to disastrous insurance or simply none at all, paying for prescription drugs without a healthy discount plan can be financially draining. For many, a non-insurance drug discount card can help fill the gap, like the one from NeedyMeds that is helping users save about $5 million a month on their prescriptions, for free.
Watch on
"It's a totally free card. There's no registration, no signup, and no enrollment. Anyone can use it — no questions asked," Richard described. "Our card is accepted at over 65,000 pharmacies. The only limitation on our discount card is that you cannot use it with insurance; it's only insurance or the card."
Getting the card is fast, simple, and completely anonymous. It can be printed directly from the website for immediate use or people can request multiple cards from NeedyMeds through the mail. "Anyone can send us a self-addressed, stamped envelope, and we'll be happy to mail out as many cards as they like," explained Richard. "We send out thousands every month. We just want everyone to have one."
Though Richard encourages everyone to use the card when needed, he also recommends checking the database first, in case the drug can be obtained completely free through a PAP or diagnosis-based program.
"We don't want people to use it as a first line," he said. "We want them to look and see if they can get the medication for free. Then, if you can't get it for free, by all means use the card."
He also stressed that, unlike some other discount card programs, the NeedyMeds card doesn't collect any personal information about the user. "I can tell you about the medicine, the price, and the pharmacy — but I can't tell you anything about the people who use the card." What's more, as a nonprofit, NeedyMeds offers the discount card with a patients-first mentality rather than as a effort to drum up profit.
"With every discount card out there, the people who market the card make something each time it's used — that's how it works. It's called a transaction fee," Richard explained. "Our transaction fee is the lowest in the business — we earn the smallest amount of anybody — because our goal is not to maximize profit. Our goal is to maximize patient savings."
NeedyMeds Has New Tools in the Works to Help Even More Patients in Need
Every year, Americans spend more of their hard-earned money on prescription drugs. As baby boomers, one of the country's largest generations, continue to reach retirement age — and even larger generations take their place — demand for quality medications will likely only increase. Indeed, predictions for 2017 indicate retirees over 65 will pay at least 9.9% more, and those under 65 an additional 11.6%.
Luckily, for all those who struggle to afford necessary medications, there is NeedyMeds. In Jane's words, "I tell everyone I know: NeedyMeds is a lifesaver."
With its comprehensive database, knowledgeable representatives, and dedication to patient savings, the team at NeedyMeds is helping millions to find affordable medical care. And they're always working on ways to help even more patients.
"We have a number of other projects in the works," revealed Richard. "One project we're working on is a site called HealthWeb Navigator. It will have reviews of health-related websites so users can look up a particular site to check if it's legitimate. We have another project, called Safe Needle Disposal, which has info on how to safely and legally dispose of used shots, in every state. And we're continuously working on other educational projects as we go along."
Advertiser Disclosure
BadCredit.org is a free online resource that offers valuable content and comparison services to users. To keep this resource 100% free for users, we receive advertising compensation from the financial products listed on this page. Along with key review factors, this compensation may impact how and where products appear on the page (including, for example, the order in which they appear). BadCredit.org does not include listings for all financial products.
Our Editorial Review Policy
Our site is committed to publishing independent, accurate content guided by strict editorial guidelines. Before articles and reviews are published on our site, they undergo a thorough review process performed by a team of independent editors and subject-matter experts to ensure the content's accuracy, timeliness, and impartiality. Our editorial team is separate and independent of our site's advertisers, and the opinions they express on our site are their own. To read more about our team members and their editorial backgrounds, please visit our site's About page.