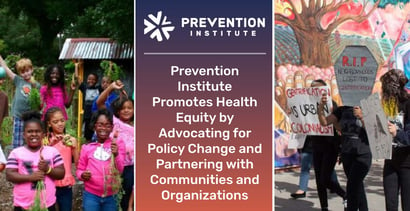 In a Nutshell: Most people understand how taking personal preventive measures, such as exercising, can help avert health issues in the future. But many may not consider how important healthy communities are to personal health. Prevention Institute takes this to heart and strives to deliver health equity to all by supporting positive change in underserved communities. The nonprofit also conducts research and collaborates with numerous organizations to promote awareness. Recent focus areas include helping policymakers understand the importance of not only investing in preventive measures to save lives and money, but reinvesting the returns as well. Prevention Institute is also exploring ways to address the opioid crisis at its source, so support organizations can be less reactive in treating the issue and stem the problem altogether.
Many Americans understand the importance of taking preventive measures to reduce health risks later in life — don't smoke, get some exercise, order the baked chicken instead of fried.
But many are unaware of just how important our communities are to the health of the population, including financial health. These are important components in the fight to achieve health equity, which means that everyone has a fair and just opportunity to be healthy and obstacles to health — like poverty or discrimination — are eliminated.
"Illnesses and injuries are more likely to happen, and in greater extremes, in communities that have suffered from decades of underinvestment because of racism, concentrated poverty, and other injustices," said Andrea Buffa, the Communications Director for Prevention Institute.

Prevention Institute is an Oakland-based nonprofit that seeks to deliver health equity to all through its advocacy and partnerships. The organization also maintains offices in Los Angeles, Houston, and Washington D.C.
"To achieve health equity, we support communities in their efforts to reverse policies and practices (like housing discrimination and unfair land-use decisions) that have left many communities behind, and enact policies and practices that enable all communities the opportunity to be healthy," said Buffa.
Buffa said reducing tobacco use and automobile-related deaths are a couple of other familiar examples of how policy changes in communities can and have saved both money and lives.
"In each of these cases, people recognized a problem and organized for change, engaged a diverse set of partners, and took action at multiple levels to change policies and practices," according to the institute's System of Prevention book. "As a result, they transformed public understanding of these issues and dramatically shifted the cultures and norms, advancing health and safety."
We recently chatted with Buffa to learn more about the Prevention Institute and how healthy communities can lead to more healthy lives.
Improving Community Conditions can Aid in Preventing Many Health Issues
"A zip code shouldn't determine the state of someone's health," Buffa said. "But a community rife with alcohol outlets, vacant lots, and dilapidated buildings is inherently less healthy than a community filled with safe parks, grocery stores, playgrounds, and bike paths."
This relates directly to the land-use decisions made within communities, such as which project gets built and where, whose voices shape the process, and what supports are in place to ensure that existing residents benefit from new investments, she said. All of these factors directly impact the health of a community.
"To improve health outcomes and lower costs we must change community conditions in ways that support health and prevent illness and injury before they occur," she said.
Improving the streets, parks, open spaces; social connection and opportunities for cultural expression; and economic-educational opportunities that shape health — otherwise known as the social determinants of health — can reduce the frequency of health problems in a community, which reduces the need (and cost associated with) medical treatment, according to Buffa.
"In other words, this community-based prevention approach can disrupt the pathway that leads to high utilization of medical services," she said. "And the same community conditions that prevent illness and injury are also critical to maintain and restore health and well-being."
Buffa said parks, trails, community gardens, and other urban green spaces serve as fundamental building blocks to create healthy, active communities. In principle, public parks belong to everyone, but in practice, access to parks and recreation areas is anything but equal.
Many communities with low household incomes and communities of color have few — or no — green spaces, and existing parks and recreation areas may be poorly maintained, understaffed, unwelcoming, and unsafe, according to Buffa.
To illustrate how Prevention Institute is addressing this issue, Buffa said that, in 2016, L.A. County voters approved Measure A — the Safe, Clean Neighborhood Parks and Beaches Measure — which is expected to generate $95 million per year — money that could make a real difference when it comes to addressing inequities in park funding and upkeep in LA's park-poor communities.
"Now, as the county moves toward implementing Measure A, equity commitments that voters made at the ballot box need to become reality by ensuring that funding guidelines and processes steer investments toward communities that need parks the most," she said.
That's why Prevention Institute supported the Park Equity Alliance — a small group of community organizations and leaders from across the county — which worked to ensure that the board of supervisors supported key equity provisions.
These included a minimum of 30% of competitive grant funds prioritized for projects in high-need areas; a technical assistance program to ensure that smaller jurisdictions representing high-need communities get the support they need to submit competitive project proposals; and a cutting-edge displacement avoidance policy to minimize potential displacement inducing effects of new or improved park infrastructure.
"We did similar work in Los Angeles related to legislation to ensure investments in L.A.'s water infrastructure are distributed equitably," Buffa said. "Access to clean, affordable water is a social determinant of health that, when unrealized, compounds environmental and economic disadvantage to weaken immunity and exacerbate health conditions."
Investing, and Reinvesting, in Prevention
Another recent focus of Prevention Institute involves raising awareness about the importance of not only investing in preventive initiatives but reinvesting the profits to maximize funds and impact.
"There's a growing consensus among policymakers and health planners that if we want to improve health outcomes and lower costs we must change community conditions in ways that support health and prevent illness and injury before they occur," according to the Prevention Institute website.
The website features a recent study that outlines some essential elements of a sustainable funding mechanism.
The authors — Larry Cohen and Anthony Iton — argue that we need to "close the loop" by ensuring that, when prevention efforts do save money, substantial portions of that money gets plowed back into prevention.
"What would you say about an investment that returned 5,500 percent? If you were lucky enough to have made the investment, you'd probably look for ways to reinvest most of it to earn more of those hefty returns," the authors wrote.
Watch on
California saw this impressive return rate after using $2.4 billion taken from cigarette sales tax money collected from 1989 to 2008 and investing it in the California Tobacco Control Program. The money was used in widespread efforts to reduce smoking, from grassroots movements to large media campaigns.
A recent University of California analysis revealed the $2.4 billion investment saved $134 billion in the form of reduced medical expenditures that would have been needed to treat smoking-related illnesses.
But Cohen and Iton point out that very little of that $134 billion was used to reinvest in anti-smoking efforts.
"We believe it's time to close the loop to ensure that two things happen," according to the paper. "First, when funds are generated through taxes, fees, or even fines connected to a behavior such as smoking, driving, or drinking, a major portion of that revenue should be devoted to preventing or reducing the harms that may stem from those activities."
Second, when the prevention efforts prove successful and save money, a substantial portion of the returns should be invested back into prevention.
"Just think of the money and lives that could be saved if a significant piece of the $134 billion saved by tobacco control efforts was focused on efforts to reduce tobacco use in communities where rates haven't decreased significantly and on efforts to reduce access to tobacco products among young people," according to the paper.
Looking Upstream to Address Problems at the Source
"In the last few years, Prevention Institute has applied our community-level prevention approach to the opioid crisis — a crisis estimated to have cost the U.S. over $1 trillion from 2001 to 2017, with a human toll that can't be calculated," Buffa said.
She said that, when it comes to opioids, society is struggling — metaphorically — to pull people out of the river. Buffa said we need to look upstream at the causes of the opioid crisis to more effectively approach the issue.
"When we look upstream at the causes of the opioid crisis, we see rural and urban communities hit hard by social and economic instability and decline; loss of living-wage jobs; underfunded schools and health systems; intergenerational poverty; social isolation; and strained social services that don't meet the community's needs," she said.
Prevention Institute gained this knowledge firsthand through its work in Ohio and by listening to residents in hard-hit areas.
"Conditions like these create or exacerbate trauma in communities and put residents at risk of developing diseases of despair like substance misuse and addiction, depression, and suicide," she said.
Buffa said one of the groups Prevention Institute worked with in Ashtabula County, Ohio, said they spend much of their time trying to pull people out of the metaphorical river.
"We all knew that if we got out in front to find out why they're falling in in the first place, we'd keep people out of the river altogether," according to the Ohio representative. "If we don't invest in prevention, whoever takes over for me in the future will be taking on the exact same issues and trying to implement the same efforts."
These issues represent just a small portion of the vast efforts Prevention Institute is undertaking to deliver health equity. Other areas include preventing violence, mental health and well-being, and early childhood wellness.
The organization welcomes individuals and organizations to help support its causes and makes a range of tools and other valuable information available on its website to anyone interested.
Advertiser Disclosure
BadCredit.org is a free online resource that offers valuable content and comparison services to users. To keep this resource 100% free for users, we receive advertising compensation from the financial products listed on this page. Along with key review factors, this compensation may impact how and where products appear on the page (including, for example, the order in which they appear). BadCredit.org does not include listings for all financial products.
Our Editorial Review Policy
Our site is committed to publishing independent, accurate content guided by strict editorial guidelines. Before articles and reviews are published on our site, they undergo a thorough review process performed by a team of independent editors and subject-matter experts to ensure the content's accuracy, timeliness, and impartiality. Our editorial team is separate and independent of our site's advertisers, and the opinions they express on our site are their own. To read more about our team members and their editorial backgrounds, please visit our site's About page.