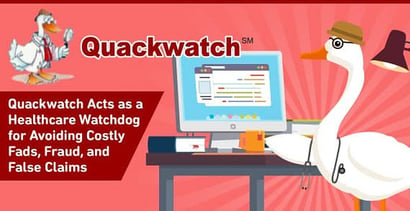 In a Nutshell: With more options for maintaining our health and wellness than ever before, Americans today are faced with a growing challenge — how to separate the truth from all the false claims. With this in mind, Stephen Barrett, M.D., operates Quackwatch, a watchdog site dedicated to transparency that leads consumers to better health-related decision-making. From fad diets and over-priced vitamins and supplements to remedies that can do more harm than good, Quackwatch exposes the illegitimate treatments, concepts, and practices that have no scientific basis or rationale.
I've recently hit the milestone of 50, and, as with many who reach the half-century mark, I have begun contemplating my mortality and eventual demise.
Now, I don't plan on checking out anytime soon, as I'm in excellent health and have been blessed with a good genetic background. However, morbid thoughts aside, I've been spending a lot more time lately thinking about what I should be doing to maintain my body and my overall good health.
People like me, who believe we should be doing something about our health, but aren't quite sure what, have spent countless billions of dollars in the pursuit over the years. And that's not to mention the fortunes spent by those who are actually suffering from diseases and are looking for answers and relief from their conditions. Books, treatment programs, vitamins, supplements, exotic remedies, and lifestyle changes — all of these are designed to appeal to our deepest desire to find that hypothetical Holy Grail to help us live as long and as well as possible.
Scientific breakthroughs continue to offer hope for improving health and treating illness and diseases that were previously thought impossible to overcome. But the challenge remains how to separate these legitimate medical treatments from the costly, fraudulent, and, in some cases, harmful ones out there. Fortunately, there are educational resources for those of us who really want to separate fact from fiction when it comes to maintaining our health.
Quackwatch


is a website devoted to questioning unsubstantiated health declarations and exposing the myriad false claims about health remedies.
The founder of Quackwatch is retired psychiatrist Stephen Barrett, M.D., who began investigating and writing about quackery more than 50 years ago. Dr. Barrett has produced 52 books on the subject of health, wellness, and diet, and has been recognized with countless awards and honors for his work.
The Quackwatch website features articles and observations by Dr. Barrett and others on topics ranging from acupuncture to weight-loss fraud, with a wide range of questionable practices, fads, and schemes in between. We caught up with Dr. Barrett recently, and he was kind enough to share some insights on Quackwatch and his decades of work in the field.
"We have a lot of articles on how to spot quackery on the website, on how to spot untrustworthy or unreliable information sources, and how to spot untrustworthy websites, he said. "The healthcare marketplace is so complicated now. I tell people what to look for and how to spot quackery and fraud."
What is Quackery and How Can You Spot It?
The noun "quack" is used to describe a pretender to a medical skill, or a charlatan. It can also refer to one who talks pretentiously without sound knowledge of the subject being discussed. Dr. Barrett clarifies his use of the term on his website by stating, "The definition suggests that the promotion of quackery involves deliberate deception, but many promoters sincerely believe in what they are doing." But more often he uses the word "quack" as an adjective, as in "quack products" or "quack theories."
It's this promotional aspect — and even over-promoting — that Dr. Barrett says is a sign of quackery. In fact, one of his definitions of quackery is "promoting something that's unsubstantiated and lacks a scientifically plausible rationale." He went on to say, "it's not like I call folk remedies quackery because they're not being promoted as these other things are."
The US Food and Drug Administration (FDA) defines health fraud as "the promotion, for profit, of a medical remedy known to be false or unproven." This definition can cause confusion because in ordinary usage — and in the courts — the word "fraud" connotes deliberate deception. Quackery's paramount characteristic is promotion rather than fraud, greed, or misinformation.
The Quackwatch website tells us to beware of treatments that are overpromoted, claims that are false or unsubstantiated, and information that does not come from a reliable and objective source.
This would include questionable ideas as well as questionable products and services, regardless of the sincerity of their promoters.
In pursuit of providing reliable, accurate, and objective information, Quackwatch has a list of reliable agencies and organizations for healthcare consumers to reference. Many of these organizations are governmental or government-sponsored entities, and all are known as trusted sources of information.
Avoid Treatments and Remedies with No Scientific Backing
As a passionate consumer health advocate, one of Dr. Barrett's biggest gripes is with the vitamin and supplement industry. Each year, Americans spend around $21 billion on vitamins, supplements, and herbs — despite the fact many have no scientific proof they provide any benefit.
"On the issue of vitamins, the most common problem is what I call 'nutrition insurance,' or the widely promoted idea — which is false — that it's hard to get the nutrients you need from your diet," Dr. Barrett said.
In fact, if Americans were to take the money they spend on vitamins and supplements and spend that money on quality food ingredients, Dr. Barrett believes they would be far better off.
Another problem with the vitamin and supplement industry is how the products are distributed. Many of them are sold through multi-level marketing, or MLM, companies, with the individuals promoting them knowing very little about their efficacy. Dr. Barrett had an interesting way of describing the problem.
"In MLM businesses, you have millions of people who have become distributors for companies, and they tell their friends and neighbors to 'buy my vitamins and herbs' to help their health — but they often don't," he said. "And most of the MLM participants never make any real money. So, you have this dual effect of people who are wasting money trying to make money, and others who are wasting money on trying stuff they don't need that's excessively expensive."
There are many articles and lists on the Quackwatch website, including Twenty-Six Ways to Spot Quacks and Vitamin Pushers, in which Dr. Barrett lists tips that can help people make better decisions about nutritional supplements and diet.
How to Get the Most Out of the Quackwatch Website
The Quackwatch website was launched in December 1996, and Dr. Barrett has been adding to its content since that time. As a result, it is home to many hundreds of articles and studies on a wide range of topics concerning health and wellness. Many are in list format, which can seem a little daunting to scroll through at first glance. However, the site has a search feature that works very well in locating articles.
There is also a page with Tips for Navigating the Quackwatch site, as well as the 25 other websites maintained by Dr. Barrett. You can choose to search just the primary Quackwatch website, or choose to search for a term in all of his other sites. In any case, the organization of the Quackwatch site is deliberately laid out in an index format, making it easy to search alphabetically for a term, or just to scan what's available.
Consumers who are truly interested in learning more about quackery, health fraud, and making more intelligent health care decisions should spend some time exploring all that Quackwatch has to offer.
While the discussion of health care is currently front and center in the national dialogue, there are few resources more relevant in guiding consumers to the truth than Quackwatch. Dr. Barrett, as a lifelong champion of consumer health and promoting public awareness, continues to offer his expertise and valuable insights to those of us who want the facts.
Advertiser Disclosure
BadCredit.org is a free online resource that offers valuable content and comparison services to users. To keep this resource 100% free for users, we receive advertising compensation from the financial products listed on this page. Along with key review factors, this compensation may impact how and where products appear on the page (including, for example, the order in which they appear). BadCredit.org does not include listings for all financial products.
Our Editorial Review Policy
Our site is committed to publishing independent, accurate content guided by strict editorial guidelines. Before articles and reviews are published on our site, they undergo a thorough review process performed by a team of independent editors and subject-matter experts to ensure the content's accuracy, timeliness, and impartiality. Our editorial team is separate and independent of our site's advertisers, and the opinions they express on our site are their own. To read more about our team members and their editorial backgrounds, please visit our site's About page.