Experts share their tips and advice on BadCredit.org, with the goal of helping subprime consumers. Our articles follow strict
editorial guidelines
.
In a Nutshell: Common Threads is a nonprofit organization with a mission to encourage health and wellness and bring families closer together through nutritional education and hands-on skills. With poverty, nutrition, and health all closely connected, the organization focuses on under-resourced households and communities. Common Threads offers numerous courses in schools and communities for students, families, and teachers. Over the previous school year, the nonprofit reached 98,000 people and reports data that shows an overwhelmingly positive impact on the lives and dietary habits of its participants.
When a single father of three was invited to attend a Common Threads cooking class with his young daughter, the disabled Marine veteran thought he might learn a handy recipe or two.
Little did he know that the two-week course, and the one he took after it, would make such a positive impact on him and his family.
Common Threads Founding CEO Linda Novick O'Keefe shared the letter the man had written to the nonprofit in which he told his story. The father described how his three children went from wanting to eat breakfast at school to eating breakfast at home, eagerly waiting to learn what dish he would be making for them in the morning.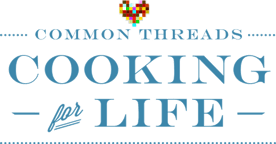 "Not only have we changed our eating habits to much healthier meals, but cooking with (my children) has become an enjoyable moment — yes, cooking has brought this U.S. Marine closer to his children," the father wrote. "And I love every moment of it. So, once again, thank you for changing our lives."
Novick O'Keefe said she gets a little choked up each time she reads the letter aloud because it cuts right to the essence of what Common Threads is all about.
The organization was officially founded in 2003 but its roots date back to the 9/11 tragedy in New York City. Co-Founders Art Smith and Jesus Salgueiro went to cook for families who had lost someone during 9/11, Novick O'Keefe said.
"They really walked away from that experience just seeing the healing power of families beginning to cook together and eat together at the table," Novick O'Keefe said, and the Common Threads idea was born. "I met him soon after that, and he told me the idea. I was so moved by it that I wrote the business plan and mission statement, filed for the articles of incorporation, and left my paying job."
That mission is to bring health and wellness to children, families, and communities through cooking and nutrition education.
Income Levels, Diet, and Physical Well-Being are Connected
"We know that financial well-being and physical health are tightly intertwined," Novick O'Keefe said. "Poverty causes poor health and poor health perpetuates poverty. And lack of access to healthy foods — veggies and fruits — in under-resourced communities really creates challenges for families and their children."
She said many parents in financially-challenged households are forced to make difficult choices about where to place their limited funds, and nutritious or home-cooked food doesn't always make it to the top of the list.
"We really believe that cooking and nutrition education can be a game-changer," she said. "Cooking at home is an easy step to ensure that meals are healthier because you know what's in it."
"Possessing the knowledge to make healthy selections and the tools to plan and prep fast, nutritious meals goes a long way to create a healthier home while sticking to a budget," she added.
"So, all of our recipes really try to put families first that are shopping on a budget and may not have access to a full-line grocery store near their home," Novick O'Keefe said.
Common Threads offers its free Cooking For Life Handbook on its website, which can be delivered via email to recipients who complete a short request form.
"We've worked very carefully on these recipes. Everything is aligned with SNAP and WIC because those are the resources that so many of our families are using," Novick O'Keefe said. "We provide a plan — eight weeks of meals that cost $10 for a family of four."
She said Common Threads truly believes that cooking as a family and sitting down for meals together leads to healthier and happier households.
Educating Children Now About Healthy Foods Can Benefit Them for a Lifetime
One of Common Threads' main focuses is delivering information about healthy shopping, cooking, and eating directly to children and families through public classes and hands-on courses in schools.
"At Common Threads, we are picking up our pots and pans to fight the obesity crisis and hunger paradox on the front lines: In the schools, communities, and kitchens across America that need us most," according to the organization's website.
Its family-centric model empowers children to make healthy choices and to be agents of change in their schools and communities.
"Common Threads offers a variety of in-and-out-of-school programs," according to the website. "All programs are hands-on, culturally relevant, and teach children, their families, and teachers how to cook healthy meals on a budget with available resources."
The Small Bites student program is aimed at pre-K through eighth-grade students. The eight-lesson course combines nutrition education and knife-free cooking recipes. This program can also be extended to include the Garden Curriculum for those who have access to a school or community garden.
The Cooking Skills and World Cuisine course is geared toward third through eighth graders and explores the cultures and cuisines of 10 different countries.
"This class challenges students to use a wide variety of cooking equipment and ensures that they know how to safely and effectively use each tool, including chef's knives, graters, peelers, stoves, and ovens," according to the website.
Common Threads also brings children and parents together with its family cooking classes, which focus on one of three areas: Breakfast: Getting a Healthy Start; Family Meals Made Easy; or Restaurant Meals You Can Make at Home.
The organization also offers courses just for parents that focus on healthy eating habits at home, basic nutrition, grocery shopping, and cooking with children. Professional development courses are also available for teachers.
Common Threads Delivers Measurable Results
"The percentage of obese kids aged 6–11 increased from 7% in 1980 to almost 18% in 2012. At the same time, the percentage of obese teens increased from 5% to almost 21%," according to Common Threads via the Centers for Disease Control and Prevention.
Additionally, 1 in 3 children or teenagers is overweight or obese, and rates are around 40% for children in Black/African-American and Hispanic communities. And children who are obese between the ages of 10 and 13 are 80% more likely to be obese as adults.
These numbers are alarming, but thankfully, Common Threads' efforts are making a difference in the lives of the children and families it works with.
"Over the past school year, we served close to 98,000 children, parents, and educators — teaching them to cook for life through our program," Novick O'Keefe said.
After participating in Common Threads programs, 79% of students can answer 5 out of 7 nutrition knowledge questions correctly, according to the website. And perhaps even more impressive — 51% of students say they like vegetables after going through a Common Threads course.
Novick O'Keefe said 9 out of 10 of Common Threads participants try at least three vegetables while participating in the programs, while more than half of the students showed high preference scores for home-cooked meals after participating in a Common Threads program.
And 90% of students who participated in the Cooking Skills and World Cuisine course reported that they were confident in three cooking skills.
Novick O'Keefe said Common Threads programs have also contributed to offshoot programs within schools and communities, such as a pen pal initiative in which U.S. students share recipes with students in Spain. Other programs have included fundraisers and cooking initiatives spearheaded by parents, teachers, and students.
Seeking Government Funding and Increasing Partnerships to Boost Impact
A large part of Common Threads' reach and impact is due to partnerships with major school districts and community-based organizations, Novick O'Keefe said, and the nonprofit is looking to expand those partnerships in the near future.
"We're really focused on community impact and how meaningful partnerships can help us really achieve our goals," she said. "Right now, we're also actively pursuing government funding."
Other exciting developments include partnerships within the medical community that would involve training medical students on nutrition so they can impart that knowledge to their future patients, Novick O'Keefe said. Common Threads is entering its third year of offering Cooking Up Health, a culinary medicine curriculum co-written by Common Threads and Northwestern University's Osher Center for Integrative Medicine.
Partnerships such as this will help to reach more families like the single father who not only learned how to cook nutritious meals for his family but learned how to bring his family closer together through food.