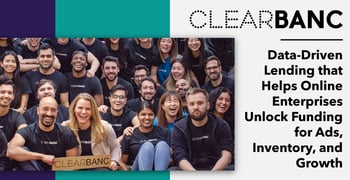 Experts share their tips and advice on BadCredit.org, with the goal of helping subprime consumers. Our articles follow strict
editorial guidelines
.
In a Nutshell: Clearbanc offers online businesses an alternative to the strenuous task of hunting for venture capital. And the company provides entrepreneurs with access to funding based on their performance and potential, not on their personal finances. Clearbanc offers customers a flexible, revenue-sharing payment model that accommodates the unpredictable nature of cash flow. Beyond providing capital, Clearbanc connects clients with a network of partners to help expand their reach and ensure their operations continue to thrive.
In 2017, Erin and Kevin Bury started Willful, a company that leverages digital technology to simplify the process of estate planning. They established the service on their own, but to expand its reach and raise its profile, they needed additional funding. They turned to banks, but most wanted a personal guarantee from the owners before issuing a loan. When they approached investors, interested parties wanted either too much control or a significant ownership stake in the company.
And during the search for funding, the Burys still needed to manage their day-to-day operations and develop a strategy for deploying the capital once they secured it. Then they found Clearbanc, a lending alternative that helped them achieve their vision while maintaining control of the company.

"We want to take the fundraising and financing part off their plate completely," said Andrew D'Souza, Co-Founder and CEO of Clearbanc. "If you've got a business that's working and you've got an efficient way to put capital to use, we want to be a source that can continue to scale with you as you grow."
Clearbanc primarily serves U.S.-based businesses but also operates in Canada and the U.K. And it democratizes funding by delivering capital to worthy companies at fair rates while also guiding them to greater success.
That philosophy stems from D'Souza's vast experience working with tech companies in the realms of sales, marketing, and fundraising.
"I spent a lot of time on planes, meeting investors, and making pitches for a couple of different tech companies," D'Souza said. "It's difficult for most entrepreneurs to get access to capital, at least on favorable terms. It's very time-consuming, and it can be expensive. We're trying to unlock capital on more favorable terms for entrepreneurs."
A Client-Centered Approach Protects the Personal Credit
of Online Entrepreneurs
America loves entrepreneurs — at least, in theory. But in reality, entrepreneurs often find themselves in difficult financial situations when their ventures don't work out. Typically, they pay costs using their own credit, and that lingering debt can hurt their individual creditworthiness — and their ability to access future funding.
"Many people don't realize you're also signing a personal guarantee," D'Souza said. "Even if it's a business loan or a business card, there's a personal guarantee associated with it. If your business fails, you're personally on the hook for whatever expenses you've lined up. That's where a lot of people get into financial trouble."
Clearbanc's funding is not associated with the business owner's finances. It conducts background checks for fraud mitigation and compliance purposes, but all funding is provided based on the enterprise's merits. And Clearbanc uses business data — not personal financial history — to evaluate risk.
"If we look at the data and we're wrong, and the business fails, that's our fault," D'Souza said. "It shouldn't go against the person's home and family and credit. That was a big factor in creating a fairer product."
Clearbanc leverages data on the applicant's online marketing, conversions, repeat customers, and other factors. Essentially, the decision boils down to: Do you have a product people want? Can you connect with those customers efficiently? And can you use capital effectively to grow business? If the answers to these questions are, "yes," Clearbanc typically extends funding so those entrepreneurs can continue to grow their businesses — free from the risk of personal financial ruin.
A 20-Minute Term Sheet Process Enables Fast Access to
Working Capital
Clearbanc funding is available to businesses that generate between $10,000 and $10 million per month in revenue. Business owners fill out Clearbanc's 20-minute term sheet, a mostly automated process that's supplemented by an associate who provides an all-important personal touch.
Business owners connect Clearbanc to their online sales accounts, bank accounts, payment processing, and advertising channels. Then, Clearbanc's system analyzes the data, decides how much capital it can offer, and delivers it within 48 hours.
"You don't have to get on a plane, pitch your business, or put your house and your life on the line to unlock capital to grow your business," D'Souza said. "We know that business owners are busy people, and so we try to make it as easy as possible."
Clearbanc customers repay their advances on a revenue-sharing basis. Advances are paid according to monthly revenue rather than on a rigidly structured payment schedule.
"With a small business or startup company, sometimes your revenue ebbs and flows, as does cash flow, and you can't always make the same payment month over month," D'Souza said. "Say we give the company $100,000. We'll take 5% of their sales until we get $106,000 back. That's a typical structure, and it could be six months or 12 months. We try to underwrite, so we understand what that revenue trajectory will look like. But if things change, we're in it with them for the ride."
Partners Support Clients in Strategic Fund Allocation
In the realm of online business, securing funding isn't the only challenge. Owners who seek to grow their operations will eventually need to navigate that growth and scale their service. And amid those new and uncharted waters, everyday decisions and leadership tasks still demand the same amount of time and attention.
"It is a real challenge. I've lived it many times," D'Souza said. "There's a lot on your plate, and then there's a lot you could do. It's hard to know what that right next step is."
That's why Clearbanc also helps businesses find ways to use the capital more efficiently. And it leans on its experience with other companies to guide entrepreneurs in the right direction.
"We've funded more than 2,000 companies. We're starting to build a bit of better understanding and a playbook of what to do next. Managing cash flow and financing is probably one of the biggest stressors for early-stage and late-stage companies. The numbers get bigger, but the stress and the challenges don't really go away."
Dedicated account managers draw on Clearbanc's institutional experience to help businesses think through their next steps. Customers can also tap into its network of partners and access expertise that can help them increase their reach and scale their businesses through marketing and other avenues.
"We have a network of these partners who help our company host webinar sessions and dinners and similar events with these founders to help them be more successful," D'Souza said.
Inventory Financing Helps Retailers Cover Rising Costs
Thanks to Clearbanc, Willful funded advertising and began experimenting with alternative avenues of outreach involving events and social media influencers. Through that creative use of funds, Willful experienced 300% sales growth within a year.
"Now they're in a really strong position. And they can raise funds from investors on their own terms," D'Souza said. "That's one of the other things we try to focus on: Giving people an option and letting them know there's something else in their back pocket. They may want to go to a bank or an investor, but at least they know we exist, and they have an offer from us."
Willful has returned to Clearbanc three times since its initial funding. And D'Souza said that 80% of customers return to Clearbanc for further funding needs.
In 2019, Clearbanc added another offering to its roster. Now, in addition to advertising funds, its customers can take advantage of inventory financing and protection programs. D'Souza said that funding option represents a pressing need for online retailers.
"We've heard increasingly that people who are buying inventory — essentially from overseas — have become increasingly worried about tariffs and their suppliers are demanding more upfront payments," D'Souza said. "Originally, our capital was designed for marketing, but now, we're allowing people to use it for inventory, as well, and seeing a lot of use cases."