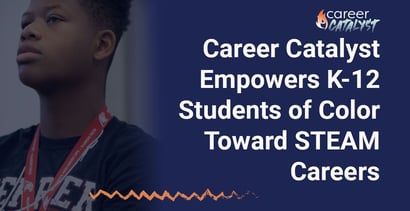 Experts share their tips and advice on BadCredit.org, with the goal of helping subprime consumers. Our articles follow strict
editorial guidelines
.
In a Nutshell: There's plenty of room for everyone in the rapidly evolving STEM sector (science, technology, engineering, and math), even K-12 students of color who may not consider themselves tech-focused. Career Catalyst, a program of the Kapor Center's SMASH initiative, offers impact-driven programming that recognizes the role of liberal arts in STEM career success. For more than a decade, the Kapor Center, based in Oakland, California, has served as a leading driver of diversity and inclusion in the tech industry. Career Catalyst broadens the STEM focus of SMASH into STEAM (the A is for arts), providing a more inclusive basis for career exploration among underrepresented K-12 youth.
Dr. Hassan Brown, known to many as "The Doc From Da Block," is a Brooklyn-born whirlwind who has packed several careers into his life since he graduated from Morehouse College in 2006 with a BA in psychology.
The thread holding those careers together is his mission to inspire people of color, like him, to overcome barriers, some self-imposed, and access opportunities the mainstream takes for granted.
As a social worker, Brown helped Brooklyn families thrive by tapping into needed resources. He then took on the challenge of working with Brooklyn middle and high schoolers in math and science before journeying to Oakland, California, to build a broader career in education.

As he worked toward a doctorate in education leadership at Harvard in 2021, Brown wore many hats as a change-maker and bridge-builder for underrepresented youth of color nationwide. One is as CEO of Career Catalyst, an educational technology and media startup he created that year  to inspire youth of color to pursue careers in the STEM fields of science, technology, engineering, and math. Career Catalyst features STEM leaders of color sharing their stories and advice to K-12 teens through multimedia.
Career Catalyst has taken a twist in its approach in keeping with STEM's rapid evolution in today's marketplace. It recognizes the role of liberal arts in STEM success, which transforms STEM into STEAM, with the A standing for arts.
Career Catalyst is an outgrowth of the STEM-focused SMASH initiative sponsored by the Kapor Center, which facilitates research, community engagement, impact capital, and educational initiatives to increase diversity and inclusion in the tech sector.
"Many of the kids who come to SMASH have a sense that they'll end up in STEM, but with Career Catalyst, we work with kids who probably don't see themselves that way," Brown said. "The STEAM term is really powerful because it extends our understanding of the kinds of careers that can be considered STEM careers."
Extending the SMASH Approach Through Multimedia
Career Catalyst offers a prime example of how educational technology (also known as edtech) leverages technology to extend the effectiveness of a tried-and-true program like SMASH. SMASH Academy is SMASH's three-year STEM-focused college prep program that works with students through summer internships and mentorships during the school year.
"It's about learning through a culturally affirming lens how to be productive not just for others but for yourself," Brown said.
SMASH Admit then works with high school seniors to prepare them for their first year of college, and SMASH Rising establishes workplace internships for college students.

In its 2022 Impact Report, the Kapor Center noted that 87% of SMASH seniors committed to STEM majors. SMASH alums earned $3.2 million in scholarships, and SMASH Rising placed more than 400 alums into tech internships. In 2022, its pilot year, Career Catalyst reached more than 1,800 youth, and the sky's the limit for the future.
"My north star is helping folks gain access — that's what I've been doing my entire career," Brown said. "Career Catalyst allows me to do that at scale within a national nonprofit."
Brown said that as a 100% free digital platform, Career Catalyst partners with youth programs such as the Boys and Girls Clubs of America and school districts to offer a suite of mixed-media engagements with STEAM practitioners. That partnership also entails lesson plans, curricula, and other resources to allow schools with self-directed facilitators to engage students around questions of self-perception and occupational identity.
There's support for writing compelling college essays, leveraging the financial aid process and other funding options to help pay for college, and preparing resumés.
"Honestly, whether you're in K-12, a parent of a child in K-12, or an adult going back to school, this is knowledge you can benefit from," Brown said. "We think of it as offering direct service to students but also serving families."
STEAM Expands STEM Awareness to Liberal Arts
Through its senior program, SMASH Admit, Career Catalyst also offers College Catalyst, a free college readiness platform with videos and resources to help young people find their college fit. Underlying the Career Catalyst approach is a recognition that the modern STEM workplace welcomes workers with skills that reach beyond narrow views of math and science.
"You don't always need those hard skills to be part of the tech and innovation economy, especially nowadays," Brown said. "With Career Catalyst acting as the scaling engine for SMASH, we're reaching students who may not see themselves as STEM students to say, 'Here are some awesome jobs that are the jobs of today and tomorrow in the rapidly changing STEM sector.'"

Brown noted that although the A in STEAM stands for arts, he means the term to refer to core competencies and habits of mind — sometimes known as 21st-century skills — that are applicable and transferable regardless of industry. Career Catalyst seeks to inspire young people of color to see themselves in these careers by giving them mentors and archetypes — people of color doing this work despite the incredible odds and dismal representation numbers.
STEM representation for people of color is indeed dismal. A recent Pew Research study noted Blacks and Hispanics were underrepresented in STEM compared to the total employment market, while Asians and whites were overrepresented.
"A lot of that is by design — for centuries, it was illegal for someone who looked like me to even attain an education," Brown said.
Brown said because STEM occupations stand to increase much faster than non-STEM jobs over the next decade, they present an excellent opportunity for students of color to realize their potential and enter mainstream employment.
"At Career Catalyst, we aim to provide underrepresented students with exposure and mentorship to cultivate those habits of mind and skills," he said.
Practical Skills to Navigate a Changing Jobs Marketplace
Brown said Career Catalyst's mind-bending approach is a way to flip the narrative those dismal Pew numbers suggest. Career Catalyst shows students of color real-life examples of folks from "Da Block" who have made it. And the only thing they had to change to do it was themselves.
"The folks we feature have a wide range of backgrounds," Brown said. "Some folks come out of the womb knowing they want to be a doctor, but others have to try and fail — or try and learn, I like to say."
That doesn't mean the program is purely motivational. On the contrary, Career Catalyst makes the case to students of color that solid factual information gives them agency to conceptualize career paths that increase earning potential.
"We want them to have a complete picture so they can make the most informed decisions for themselves and their future families," Brown said.
As tech workplaces mature and diversify and employee numbers mount, the need grows for organizational thinkers, behavioral economists, and other high-level analysts that STEAM represents. These are the jobs Career Catalyst says are ripe for the taking if youth of color want them.
There's also room for workers to think about tech on a higher level. As artificial intelligence and other technologies emerge as more influential in the economy and society, people need to research and understand their implications. Career Catalyst positions students of color to do that work.
It also cautions students to understand that education is an investment and guides them toward decisions that make a return on their investment in education more certain. In a marketplace where obstacles may be self-imposed, having numbers to support an argument for moving forward goes a long way. It's all on the website for interested students to explore.
"Our goal is to see our students' perceptions of themselves, their beliefs, shifting," Brown said. "We want to see them dreaming bigger, seeing themselves as archeologists, as pilots, as surgeons."