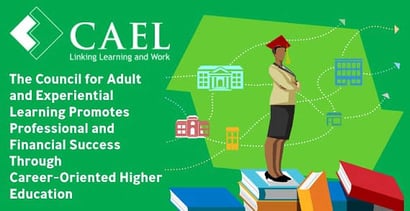 In a Nutshell: Despite the benefits, many perceived hurdles stand in the way of adults interested in returning to school to further their careers through more advanced degrees. The cost and time commitment of career development are commonly cited as excuses for career stagnation, but none of these are insurmountable when it comes to the pursuit of higher education. To overcome such misconceptions, the nonprofit Council for Adult and Experiential Learning (CAEL) engages professionals, schools, and employers to promote adult higher education and to emphasize its importance for a robust workforce. Work experience, previously earned college credits, tuition reimbursement programs, and flexible courses and programs can all help ease the burden of achieving a degree. With the right guidance and motivation, adult learners are able to enhance their value, advance their careers, and boost their earning power.
After graduating high school, Beth Doyle was planning to clean houses for a living.
Doyle considered her interests and available options, and instead, decided to attend community college, where she earned a certificate in advertising design. She began her career as a graphic designer at a small ad agency before working as a writer and account manager, and later transitioning into market research and strategy.
Doyle was just getting started in marketing when the owner of the agency she worked for began preparing to retire.
"I realized I would be kind of stuck if I didn't have a degree," Doyle said.
Obtaining a more advanced degree initially proved problematic. Her local college only offered the courses she needed for the degree at hours that clashed with her full-time work schedule. After looking around a bit more, she found a school where she could earn her marketing degree through courses offered on nights and weekends.
Her work experience paid off, as well, as the program awarded her college credits when she could demonstrate what she learned from her practical experience in marketing. The school even allowed her to transfer in credits she'd earned in community college.
Doyle earned her bachelor's degree in just two and a half years. Then she landed a job as Marketing Director for an organization designed to help people in the same spot she had been in early in her career — the Council for Adult and Experiential Learning, or CAEL, for short.
"Now, I am Vice President of Higher Education Services at CAEL, and I'm working on my doctorate," Doyle said.
CAEL is a nonprofit organization focused on helping adult learners succeed. It provides guidance for adult learners, works directly with institutions to help meet the needs of their adult students, and educates employers on the value of accommodating and supporting workers pursuing higher learning. These efforts all help foster a strong, well-educated workforce able to meet labor demands.
"There are employers who can't find the skilled workers they need. In some cases, those workers may have the skills, but they don't know it because they don't have any documentation of it," Doyle said. "If you don't have a degree, people are just guessing at what you know or don't know. That's where a degree often becomes the entrance for a lot of jobs. It proves that you know a certain amount of things."
Education offers a number of benefits to working professionals. It can help fill gaps in their knowledge and provide formal credentials for what they've learned through experience. It can also create opportunities for career advancement and make workers more competitive in the labor market. Having verified skills also increases job stability and makes it easier to transition to a new workplace. And on average, earning a degree leads to better pay and stronger financial situation.
Workers and Employers Find Value in Experiential Learning
Experiential learning is knowledge gained through work experience. For traditional students, this often takes the form of an internship that allows them to apply their classroom knowledge to a real work environment. But, for adult learners, it's the opposite.
"They already have the work experience, and they're looking to get some credit for some of this learning," Doyle said. "For instance, all the training in the military has been evaluated by the American Council on Education (ACE) for college credits. You want to make sure to choose an institution that accepts this if you have that kind of military experience. Similarly, if you've worked at some big companies, ACE has evaluated some of their training, so you want to take that into consideration."
In a 2017 report, the Society for Human Resource Management reported 53% of US businesses surveyed offered undergraduate educational assistance, and 50% also provided it for graduate study. Formalizing work experience through these academic means has been shown to benefit workers, as well as their employers.
Watch on
For example, Cigna, a popular insurance company, offers an Educational Reimbursement Program that funds employees earning an undergraduate or graduate degree. A Lumina Foundation study discovered that Cigna employees who took advantage of the program enjoyed an average of 43% higher wages. Cigna, itself, saved money on talent management, earning a 149% return on its investment.
In short, by supporting adult learners in their ranks, companies can fill skill gaps and reduce costs. Their employees can avoid paying high education costs out of their own pockets and open a clear path to career advancement.
Career and Life Experience Reduce the Time and Financial Cost of College
Although the benefits are obvious, going to college can be intimidating for adults whose schedules are already jam packed with work and family obligations. The key question for adult learners, then, is: How do you get an education as efficiently as possible?
One way to minimize academic time and effort is by getting credit for experiential learning, as described above. Another option for former students is to transfer college credits earned through courses they've already taken, like Doyle was able to do.
"A lot of people who are going to college a little later in life already went for a year or two and already have credits accumulated from different sources. Make sure, when you pick a college, that you're looking for ones that have friendly credit transfer policies," Doyle said. "That can make a very big difference in terms of how quickly you can earn your degree."
Of course, the practical aspects of learning aren't the only daunting factors. For many, the social and scholastic facets can also be intimidating. Some feel they can't keep up and compete with young people fresh out of high school. But Doyle said adult learners often have an advantage over traditional students.
"Adults often do very well when they go back to college because they have learned a lot along the way, and they often find that those 18-year-olds aren't so much smarter than they are. You have to take the first step to see, but once you do, you start to see you're not behind like you thought you were — in many cases, you're actually ahead," Doyle said. "The biggest challenge adults face is that they're so busy. Of course, that also means they bring a lot of self-discipline and other things that sometimes 18-year-olds need to work on."
How to Make an Educated Decision About Higher Education
Attending college isn't enough to guarantee future career success. Aspiring professionals need to earn a degree in an area that is currently in demand, experiencing job growth, and will offer opportunities upon graduation.
"You want to ask specifically which programs are going to lead to what kind of jobs, and what kind of money they pay," Doyle said. "Sometimes, colleges have that information if you ask the right person. Workforce centers might have that kind of information. It's not as available as it should be. Doing your own research online before you make a choice is important."
It's also crucial to find a school that accommodates its adult learners. An ideal college will offer classes at convenient times, such as in the evenings and on weekends — not exclusively during normal work hours. It should also specialize in meeting the needs of adult learners; for example, the school might offer daycare instead of funding social events for students. And it should have a career resource center that is open outside business hours so adult learners have access to the information necessary for planning their futures.
CAEL's Partnership with the Gates Foundation will Pioneer Localized Career Information
"CAEL thinks it's very important to help people have a little bit more knowledge about the career opportunities in their region. It's different from city to city — what careers are growing, where there might be more opportunities," Doyle said.
To provide better access to important career information, CAEL has partnered with the Bill and Melinda Gates Foundation. Their joint project represents an ambitious step toward targeted, actionable data that can lead to professional success.
"We're doing a project in a couple areas in Tennessee where we're putting up a website that will reveal what some of the fastest-growing jobs are in the community, so people can make better choices," Doyle said. "It's like having a public utility of sorts, like a library. You can have, in a community, a place where all the residents know they can go to explore the top three career fields in a region, and then explore all the different jobs — what they pay, what kind of education they require.
"I think that is a really exciting thing. If you could make that available in every community, I think it would make a big difference for young people, as well as adult learners."
Advertiser Disclosure
BadCredit.org is a free online resource that offers valuable content and comparison services to users. To keep this resource 100% free for users, we receive advertising compensation from the financial products listed on this page. Along with key review factors, this compensation may impact how and where products appear on the page (including, for example, the order in which they appear). BadCredit.org does not include listings for all financial products.
Our Editorial Review Policy
Our site is committed to publishing independent, accurate content guided by strict editorial guidelines. Before articles and reviews are published on our site, they undergo a thorough review process performed by a team of independent editors and subject-matter experts to ensure the content's accuracy, timeliness, and impartiality. Our editorial team is separate and independent of our site's advertisers, and the opinions they express on our site are their own. To read more about our team members and their editorial backgrounds, please visit our site's About page.