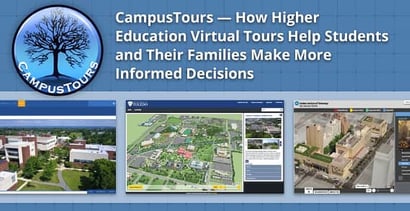 In a Nutshell: When it comes to building a more secure financial future, a college education is the safest investment toward that goal. But choosing the right school is a big decision. Students and their families must consider a myriad of factors, and the more resources you have to help in the process, the better. CampusTours provides innovative, interactive virtual content on campuses around the country to help prospective students and their parents narrow their search. Through virtual maps, videos, and other resources, CampusTours helps users take a deep dive into particular campuses so they're better informed when choosing which ones to tour in person, which can save money on unnecessary visits.
It's difficult to overstate the importance of investing in a college education.
Most of the benefits should be obvious — improved job security and higher earnings potential being just two of the principal advantages. But a college degree can positively impact more peripheral aspects of people's lives, too. For example, college graduates are reportedly more likely to own homes, be married for longer periods, be in better health, and live longer lives.
No matter why someone decides to further their education, the first step is choosing a school that best suits their personal and financial needs. But this can be a daunting task with literally thousands of colleges and universities to choose from. Sure, plenty of information can be gleaned from websites, but there is certainly no substitute for visiting a campus in person.
However, traveling to even a handful of campuses can be expensive and time-consuming. Narrowing down a list of favorites to visit is possible with basic online research, but the information offered on college and university websites is often biased.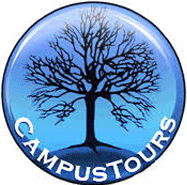 One third-party site, CampusTours, offers students and their families sneak previews of schools they're interested in. Founded in 1997, CampusTours develops cutting-edge virtual tours and maps of most undergraduate colleges and universities around the country.
"We are the central destination for virtual campus tours and interactive maps online," said Chris Carson, President and Founder of CampusTours.
"We also feature a lot of college data associated with US undergrad institutions, and we're increasingly adding career schools and other types of institutions to our database, as well," he continued. "Students can very easily browse interactive maps and videos and actually tour various institutions without needing to get in the car and go visit them in-person."
By exploring CampusTours' veritable trove of interactive content, the process of narrowing down a list of campuses to physically visit is both more accurate and fruitful for students and their families.
Making Interactive Videos and Maps a Prominent Part of Research for Prospective Students
Until recently, students were at the mercy of colleges' official websites and printed materials when it came to researching schools. The information on these sites was often outdated, and the sites themselves didn't put the user experience first in terms of design or content curation. As Carson points out, some of these issues still exist.
"When we were getting this project off the ground, we began to realize how difficult it was to actually find a university's virtual tour on their website," he said. "Sometimes the tours would be buried six levels deep on the admissions page or somewhere you wouldn't expect. Even today, we still find that it takes three to five clicks to get to some of these resources. This can be laborious and frustrating for prospective students and presents an unfortunate barrier. CampusTours is here to alleviate that."
For parents trying to help their children find the school that best suits their needs and interests, CampusTours provides intuitive, easy-to-use resources and insights. And let's face it — it's likely parents who are footing the bill to cover the costs of traveling to different campuses. CampusTours helps parents and their kids engage in comprehensive, interactive research to minimize the number of campuses they need to visit in person.
"Many times, people use our site as a prelude to an actual visit, or to help them better determine which campuses they need to see in person by exploring interactive maps and videos first," Carson said. "Not many people can afford to take lots of these trips, so they often visit a number of them together. Also, it can be tough to remember which aspects belonged to which campuses after a week filled with looking at schools. CampusTours can help reacquaint you with which institution was which."
No-Strings-Attached, Quality Info Available to Everyone
Another great aspect of CampusTours' services is that they're free. What's more, you don't have to log in or provide your email address to view them.
"Almost all similar sites require registration, which is something that we've held off on with CampusTours," Carson said. "We feel that it's nice to be able to use a website without being forced to register all the time. And this gives students and their parents the freedom to focus on their decisions and not be bothered."
Because it's never too early to begin thinking about furthering one's education, the time during middle school and high school present perfect opportunities for young students to begin looking at colleges. And CampusTours' no-registration-required policy makes it easy for educators to give kids a personal, interactive look at what it's like on university and college campuses across the country.
"It's wildly popular with grade schools and high school career and guidance counselors because we don't have this big front door that requires an entire classroom full of kids to register one at a time," Carson said. "They can go right in and see the data about the schools and just enjoy the learning process."
Harnessing Augmented and Virtual Reality Capabilities
Though augmented and virtual reality (AR and VR, respectively) technologies have been around for years, people have only recently begun to apply them more widely. The most accessible example of these technologies would be the popularity of Pokémon Go in 2016. This interactive game uses AR to overlay graphics on what players are actually seeing through their phones' cameras.
CampusTours has incorporated similar AR capabilities into some of its maps, giving users an immersive, truly interactive experience — especially when they're visiting campuses in person.
"There are many schools looking to develop augmented reality experiences that we're helping them out with in some cases," Carson said. "With AR, you're holding your smartphone up as you wander around campus, and, just like the Pokémon Go game, you can overlay virtual things onto the campus itself. So as you're looking at it through the phone, you see things normally except there's a spinning icon hanging out, for instance, that you can touch and get information on certain buildings and landmarks."
Once prospective students and their parents use the site's interactive maps and tools to narrow down their lists of campuses to visit, they can take a stroll around a campus to a completely new level of user experience thanks to the AR features.
"With AR, if you're in front of the campus chapel, for example, you're going to get a little person on your screen telling you fun facts and funny anecdotes about the chapel as you're standing there looking at it," Carson said. "It's just like an actual tour guide would do. It really deepens the whole experience."
Content that Goes Beyond Promotional Videos
A lot goes into deciding which college or university is right for someone. The decision extends beyond cost, geography, course offerings, and so on. The culture of the school and the community where it operates has as much to do with its identity and how much a person will fit in there.
"A lot of the decisions of where to go comes down to the culture of an institution. For example, when I was looking at college campuses, I was struck by how many where I felt right at home at and how many others I couldn't wait to leave," Carson said. "Our goal with CampusTours is to help provide an electronic way of conveying that type of experience of actually being there, which I realize is difficult. The virtual tour needs to embody the culture of the institution because that's what comes across loud and clear in person. There's a lot that gets transmitted non-verbally to help students realize whether or not they're going to fit in on a particular campus."
And it's these non-verbal traits that CampusTours does such an excellent job of conveying through the content it curates.
"We have both official university guided tours, and we also have footage of all these people simply commenting about their personal experiences on the campus," Carson said. "It's this content with actual students telling you that they stayed out late and ate pizza in their dorm room and not to tell mom because they're supposed to be eating on the meal plan — that's the stuff that really gives people a sense of what it's really like on a particular campus."
CampusTours' offerings have been used and appreciated by more than 7 million students, and the site has received two Webby Awards — a recognition given by the International Academy of Digital Arts and Sciences for online excellence. Its most recent Webby nomination was for an interactive experience it created for Stevens Institute of Technology in Hoboken, New Jersey.
Watch on
"Stevens Institute of Technology has just released one with us that was recently nominated for a Webby Award," Carson said. "We build all sorts of experiences, and Stevens is a guided video tour with an interactive map. Gaining the Webby recognition again is proof that we're doing something right."
Whether you're looking to further your education or your child is about to take that step, CampusTours is an invaluable resource, ultimately removing a great deal of guesswork and saving money that you can put toward other expenses. Those books aren't free, after all!
Advertiser Disclosure
BadCredit.org is a free online resource that offers valuable content and comparison services to users. To keep this resource 100% free for users, we receive advertising compensation from the financial products listed on this page. Along with key review factors, this compensation may impact how and where products appear on the page (including, for example, the order in which they appear). BadCredit.org does not include listings for all financial products.
Our Editorial Review Policy
Our site is committed to publishing independent, accurate content guided by strict editorial guidelines. Before articles and reviews are published on our site, they undergo a thorough review process performed by a team of independent editors and subject-matter experts to ensure the content's accuracy, timeliness, and impartiality. Our editorial team is separate and independent of our site's advertisers, and the opinions they express on our site are their own. To read more about our team members and their editorial backgrounds, please visit our site's About page.