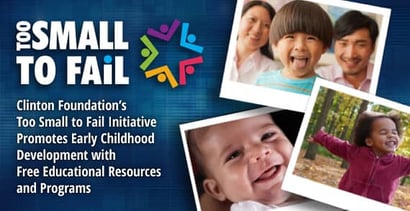 In a Nutshell: Thanks to the flexibility of their brains, children are able to begin learning before they even enter the world. And the more parents invest in education and foster awareness at these early stages, the more likely children are to succeed academically. Too Small to Fail, an initiative of the Clinton Foundation, provides resources to help parents and caregivers make the most of the crucial years between birth and age 5 when children begin to develop fundamental skills like literacy and mathematical proficiency. The program also provides resources for socioemotional development and health so children are able to productively navigate school and life. By fostering learning and emotional well-being in children, parents can lay the foundation for the type of academic excellence that often translates to financial success in adulthood.
It's common knowledge that children begin learning at very early ages. But, while studying the results of a pair of experiments involving underprivileged children, Professor James Heckman discovered something unexpected about early learning and academic achievement.
In his paper "The Lifecycle Benefits of an Influential Early Childhood Program," Heckman explains that comprehensive early developmental care from ages 0 to 5 has a major impact on children's success later in life. In fact, the ROI for children in the studies was 13% — much higher than the 7-10% return for similar preschool programs targeting 3- to 4-year-olds.


A major component of this comprehensive care is early childhood learning, which fosters brain development at a crucial stage. Promoting that learning is the purpose of Too Small to Fail, an initiative of the Clinton Foundation.
"Too Small to Fail works to help at-risk children in underserved communities get the best possible start by encouraging parents and caregivers to regularly engage in language-rich interactions with their children from birth," said Patti Miller, Chief Executive Officer of Too Small to Fail. "Meaningful interactions between parents and children during the first years boosts early brain development and lays a strong foundation for lifelong learning. Too Small to Fail was established because every child deserves the opportunity to succeed in school and in life."
Too Small to Fail aims to achieve this goal by promoting research on childhood brain development; partnering with childcare providers, early life educators, pediatricians, and community organizations in its Talking is Teaching campaign, which provides parents with resources that will help their babies' brains develop when they are malleable and already actively learning.
According to Miller, they have partnered with a wide range of national, media, and community organizations who've helped reach parents and encourage them to engage their children in meaningful interactions through everyday activities.
"We've worked with the American Academy of Pediatrics, which released its first literacy policy statement recommending parents talk, read, and sing with children from birth," she said. "We've also had success working with the national Head Start Association and the National Association for Family Child Care to reach early childhood educators through our free professional development program, "Strive For Five."
Children who receive such early education and care are more likely to meet with academic success as adolescents and young adults. In turn, success in school is a significant predictor of financial well-being in adulthood. Too Small to Fail is working to help parents, educators, and caregivers invest effectively in those early years, creating a solid foundation for their children's futures.
The Development of the Infant Brain
The human brain is composed of a huge number of cells called neurons (along with other cells that support the neurons' functioning). Thoughts and actions occur because neurons connect with each other in different combinations and patterns.
These interconnected neurons stimulate one another through electro-chemical reactions. These active chains of neurons are the material cause of thoughts, emotions, behaviors, and every other human action and experience.
The brain is already developing during gestation, so learning occurs even before birth. Scientific American reports on a study that discovered even newborn babies cry with their mother's accent; French newborns issue rising cries, while the cries of German infants fall. Science Magazine also reports another study suggesting babies exposed to more language before birth show more development of cognitive functions related to language.
Of course, hearing something in utero is the equivalent of listening to (but not seeing) someone talking with their hand over their mouth. Now, think of how much more you can learn when you can see that person's gestures and expressions and hear them clearly. The difference for a baby, as with us, is substantial.
The difference is that a child's brain is still rapidly developing. In the first few years of life, over 1 million neural connections are made each second. These connections are the physical foundation of learning, and the more they are activated and used, the stronger and more durable they become. Over time, many connections deteriorate and are eliminated to improve the brain's efficiency. Therefore, interactions with parents and caregivers helps cement and maintain important connections and responses developing at early ages.
Resources to Help Parents and Caregivers Foster Literacy and Learning
Too Small to Fail provides resources that help parents and caregivers foster and strengthen the neural pathways involved in language acquisition, conceptual thinking, and general learning.
These resources are available in both English and Spanish and take the form of documents, videos, and visual media. Materials can be browsed by subject — literacy, math, and social-emotional development — or by age group, letting parents find just the right resource to stimulate their little learners.
Literacy Skills Lay the Foundation for Educational Success
Too Small to Fail's literacy resources help children grow into stronger readers by making them proficient language users.
Parents and caregivers are encouraged to engage in back-and-forth exchanges with children, responding to physical gestures and non-linguistic noises like gurgles and squeals. This establishes an early form of communication between the two that serves as a basis for more sophisticated and complex language use later on. By building this foundation, parents can help their children enter school with adequate verbal communication skills and as more competent readers and writers.
Children who don't get this experience are at an immediate disadvantage when their formal education begins.
Among Too Small to Fail's literacy resources, parents will find tips for integrating speech and song into everyday activities, like playing and bathing, helping children develop their language and communication skills. The initiative's site also features a guide to creating your own lullaby (and, luckily for most of us, tips on how to sing it). Parents can also download a developmental map to help them navigate the milestones of their child's progress. All resources are available at TalkingIsTeaching.org.
The importance of language in learning is obvious as language is the substance of human knowledge. Humans can only think and reason through language. As such, literacy opens the way to learning other subjects and developing equally important cognitive capabilities.
Math Resources Develop Fundamental Learning Skills
Mathematics is another crucial aptitude that children begin developing surprisingly early.
"Research has found that a strong understanding of early math concepts predicts both a child's future math and literacy skills, and that the roots of early math skills begin developing from birth through a young child's everyday play and interactions with parents and caregivers," a Too Small to Fail press release said. It's no surprise, then, that the initiative expanded into mathematics after establishing the importance of literacy.
Too Small to Fail's math resources are split into three loose subcategories: math, science, and technology and engineering. In the math resources, parents will find activities that help them introduce basic mathematical and related skills to their young learners. Videos teach six fundamental concepts: counting, shapes, spatial awareness, measurement, early computation, and patterns.
Science-oriented activities include things like describing objects in everyday life and observing similarities and differences. These emphasize the child's ability to explain the things they see around them and to make predictions based on observation and reasoning. The engineering and technology resources address topics like physical problem-solving through experimenting and play. The site offers various activities appropriate for different age ranges.
As noted, these activities depend on verbal communication. One major purpose of language is to coordinate action among individuals; for example, humans couldn't work together on scientific research or engineering projects without being able to talk about them. The same is fundamentally true of any endeavor.
This reveals another function of language: helping individuals integrate into their society. To facilitate this process, Too Small to Fail also provides resources to help parents and caregivers ensure their children enjoy social and emotional health in addition to intellectual well-being.
Helping Guide Healthy Social-Emotional Development
"Too Small to Fail defines social-emotional development as a combination of the relationships we share with others, emotional awareness, and the ability to recognize, understand, express, and respond to feelings in socially appropriate ways," the initiative said in a recent white paper on the topic. Social-emotional development is essentially an understanding of — and a sense of well-being about — oneself and one's place in society.
Because this character dimension is so crucial to success throughout life, Too Small to Fail offers resources to help guide children through healthy social-emotional development. These include ways parents can communicate that provide children with a sense of safety and security and how to help them develop productive skills like interacting with others and expressing their feelings. You can find early learning resources on social-emotional development here.
Parents will also find advice on best practices for raising children, particularly in the realm of understanding child behavior. For every action, there is a motivating emotion, and interpreting children's behavior depends on understanding the feelings that cause certain actions. By doing so, caregivers can foster good behaviors while mitigating and circumventing the bad.
Altogether, these resources enable parents to help their children achieve a mindset and emotional state that is conducive to learning and healthy development. This helps children to develop traits and skills that will allow them to make the most of their knowledge and find success in later life.
Assisting Parents in Preparing their Children for the Best Possible Future
According to Too Small to Fail, 60% of children are entering kindergarten without the skills they need to succeed — lagging behind their peers in critical language and reading skills.
Through partnerships with pediatricians, hospitals, faith-based leaders, community-based organizations, businesses, entertainment industry leaders, and others, Too Small to Fail is meeting parents where they are to help them prepare their children for success in school and beyond. Whether at the pediatrician's office or the playground, Too Small to Fail aims to make small moments big by creating opportunities for meaningful interactions.
Watch on
To learn more and to access early learning resources for your family and community, visit talkingisteaching.org.
Advertiser Disclosure
BadCredit.org is a free online resource that offers valuable content and comparison services to users. To keep this resource 100% free for users, we receive advertising compensation from the financial products listed on this page. Along with key review factors, this compensation may impact how and where products appear on the page (including, for example, the order in which they appear). BadCredit.org does not include listings for all financial products.
Our Editorial Review Policy
Our site is committed to publishing independent, accurate content guided by strict editorial guidelines. Before articles and reviews are published on our site, they undergo a thorough review process performed by a team of independent editors and subject-matter experts to ensure the content's accuracy, timeliness, and impartiality. Our editorial team is separate and independent of our site's advertisers, and the opinions they express on our site are their own. To read more about our team members and their editorial backgrounds, please visit our site's About page.