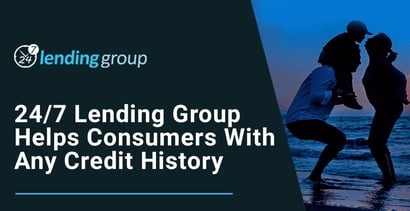 Experts share their tips and advice on BadCredit.org, with the goal of helping subprime consumers. Our articles follow strict
editorial guidelines
.
In a Nutshell: Sometimes, a small setback can spiral into a financial crisis for individuals and families living from paycheck to paycheck. Many lenders have the flexibility to extend credit to consumers who have made past financial mistakes, but they can be hard to find and evaluate. The 24/7 Lending Group is a free and easy-to-use referral service that matches individuals with verified responsible lenders who can help them.
Americans who live paycheck to paycheck are always on the verge of a financial crisis. Studies show that nearly two-thirds of US consumers can't handle a sudden car repair bill with the money they have on hand.
Unfortunately, those who struggle financially are rarely good candidates for credit. The way the system works, consumers with the most savings and the least need for credit are the ones who qualify for the best terms.
People with past financial mistakes on their records and low credit scores, on the other hand, may end up paying a lot more to access credit.
That means finding the right deal with the right lender can be challenging. Regulators, including the Consumer Financial Protection Bureau, have done a good job clearing the worst payday lenders from the market, loan costs and terms still vary widely. Deciding on the best course of action can be an exercise in uncertainty.
Many consumers turn to 24/7 Lending Group for reliable access to responsible lenders.


The lending group emphasizes a positive customer experience and has a strong track record of success. It aims to give people who need the money the opportunity to obtain credit and achieve positive results.
The 24/7 Lending Group doesn't lend money itself. Instead, it's an entirely free referral service that matches consumers with lending partners that best fit their needs and financial circumstances.
"Our partners provide us with a strict set of filters," said Jordan Robbins, 24/7 Lending Group CEO. "We're never going to push the consumer in the wrong direction."
Connecting Qualified Consumers with Reliable Lenders
Partnerships are the heart of the 24/7 Lending Group value proposition. And Robbins has forged them over many years in the lending industry. He learned from the inside as a marketer for an auto loan firm before starting his own business and moving on to specialize in personal loans.
Because of his industry experience, 24/7 Lending Group can provide consumers with loan options that may not be available elsewhere.
"A lot of our competition, they all work with the same lenders. But we have the ability to present different products because of our unique relationships," Robbins said.


Lenders in the 24/7 Lending Group network offer APRs that range from 5.99% to no more than 35.99%. Borrowing terms vary from 61 days to 72 months, and consumers can search for loans from $1,000 to $35,000. The platform's annual verification follows strict regulatory standards to assure responsible lending practices.
24/7 Lending Group partners also offer flexibility for consumers who fall outside traditional acceptance criteria. For example, people with below-average credit scores may qualify for debt consolidation loans that combine all their debt into one lower-interest payment.
Those with scores on the lower end of the scale are not often a fit for debt consolidation. So it's more likely they will match with a debt consolidation company to negotiate lower interest and lower payments with each creditor.
Either way, consumers can find a path to get out of debt.
"Instead of taking on more debt, they can increase the money in their wallet while paying off the debt they have," Robbins said.
Free Application Process Can Yield Fast Access to Funds
One irony of credit applications is that when a lender pulls consumer information from a credit bureau, it can lower the applicant's score. That means when a lender denies an applicant, that consumer may be worse off than when they started.
Because 24/7 Lending Group is a referral service, not a lender, its free application process never requires a hard credit pull. The website collects only basic information, including the applicant's contact details, loan purpose and amount, and how much debt the applicant carries. In many cases, applications don't require a Social Security number upfront.


Once a consumer applies, 24/7 Lending Group leverages proprietary technology to find the best loans and terms. Sometimes, the site matches the applicant with a single lender. When it returns more than one option, the lending group also offers a rate table to make comparing terms easy.
A hard credit pull only occurs when an applicant elects to proceed with an offer. And the application has a high chance of success because it has met the basic requirements of the preapplication process.
Technology also makes accepting the loan more convenient. After the applicant consents to a hard credit pull and is approved for a loan, documents arrive electronically for esignature verification. Funds usually become available within 24 to 48 hours.
"We only send the consumer to the lender that makes the most sense," Robbins said.
Educational Resources Teach Wise Credit Decisions
With today's strict public oversight of the personal lending market, not everyone who applies for a loan through 24/7 Lending Group receives one. But that's a good thing, especially given some of the abuses the market has seen. Many payday lenders charge exorbitant interest and exploit contractual fine print in other ways.
Consumers in difficult financial situations, with credit scores below 500, are typically better off working with a debt consolidation firm. For those applicants, 24/7 Lending Group suggests consolidation firms rather than formal credit providers.
Every client can count on being treated with respect at 24/7 Lending Group. They can also count on a personal commitment to excellent customer service and to educating all who visit the site.
The platform offers an extensive collection of borrowing tips covering everything from advice for first-time borrowers to the consequences of defaulting on a loan. It even offers advice about credit pitfalls and what to avoid when considering a loan offer. Its content covers the potential downsides of using esignature technology to sign a loan agreement.
Robbins personally reviews each email the company receives, ensuring that no questions go unanswered and that the platform addresses any dissatisfaction quickly. That attention to detail generates significant word-of-mouth and repeat business for 24/7 Lending Group.
"For me, it's not just about connecting the consumer with a loan; it's about creating a positive user experience and trying to educate people," Robbins said. "We just try to listen, to the good and bad."