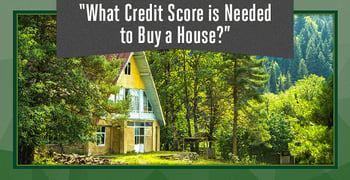 A few years ago, I stumbled upon what's being called the "tiny house community" while watching a TV show. The community consists of a wide variety of like-minded people, all around the world, who are determined to minimize their material possessions — and their entire living spaces.
In fact, the average tiny house is about 12% of the 2,600-square-foot, average American home.
While the tiny house lifestyle isn't for everyone, the goal of owning a home is certainly one shared by many. If you've ever wondered what credit score is needed to buy a house — or assumed your credit score would automatically disqualify you from attaining that dream, read on. The real minimums may surprise you.
Minimum Scores | Average Score
Minimum Score Needed Will Depend on the Type of Loan
As with most things in finance these days, your credit score is not the only factor that goes into determining your eligibility for a home loan. That said, it's still an important part of the decision-making process for many providers. The actual minimum score a provider will accept will generally vary with the type of loan you need.
Conventional Bank Mortgages: 620+
The conventional home loan you get from the bank or credit union will likely come with the best interest rates — and the fewest number of strings. However, conventional loans also have the highest credit score requirements, especially if you have less than 20% to put down.
According to most sources, the minimum credit score for a conventional bank mortgage is 620. This number is generally based on the fact that Fannie Mae and Freddie Mac, the government-sponsored programs that buy up private mortgages to sell to investors, require borrower scores to be at least 620.
Regardless of your score, you'll want to shop around to get the best interest rates possible. Mortgages are long-term loans, and interest adds up over time. See some of our picks for home loan providers for bad credit.
Each lender will have its own guidelines, which, in general, will have higher minimum scores than the base 620. If you're concerned about not being approved due to a low credit score, you may want to consider a government-backed loan.
FHA and Other Government Loans: 500-580
A number of home loans exist that are actually insured by various government agencies — the USDA, VA, and FHA, in particular — which means they pose a lower risk to the lenders who provide them. This, in turn, means the lenders are often willing to take on riskier borrowers, aka, those with lower credit scores or rocky credit histories.
For most borrowers with low credit scores, the best option will be a loan backed by the FHA (Federal Housing Administration). FHA-backed loans can be obtained from many lenders also offering traditional mortgages, but have much less stringent requirements for credit score, income, and down payment.
The FHA will insure loans to borrowers with scores as low as 500, but most lenders still consider such borrowers to be too risky — unless they provide a very generous down payment. In general, you'll want a score of at least 580 to qualify for an FHA loan, especially if you do not have a large down payment. For qualified borrowers, FHA loans can be obtained with as little as 3.5% down.
The USDA (U.S. Department of Agriculture) and VA (Veterans Affairs) offer home loans that have specific requirements for location or membership but do not have set credit score requirements. For USDA-backed loans, the house must be in a rural location to qualify for a loan.
To obtain a VA-backed loan, you'll need to be an active or retired member of the military, reservists, or National Guard.
The Average Credit Score of New Homebuyers: 728
Though by now it should be obvious that it's possible to get into a great home with even bad credit, most new homebuyers aren't really in that situation. According to a ValuePenguin analysis, in fact, the average new home buyer has a score of 728 — firmly in the "good" range.
Still, don't take that number as a sign that you'll automatically qualify — the nature of an average means that plenty of people qualified with much lower scores, as well as higher ones. The best way to ensure you'll qualify with an average to good score is to save a large down payment.
Good Credit Scores Get Good Loan Terms
Whether your new home is a tiny 100-square-foot cottage or a massive 10,000-square-foot mansion, buying a house is possible for many of us — even if we don't know it. Of course, the better your credit score, and the higher your down payment, the better your deal will be.
You can be pre-qualified for a mortgage to get an idea of the rate and amount you may be offered, but that will not include an analysis of your actual credit report. On the other hand, when you're ready to take the next step, mortgage pre-approval will include a hard credit pull and will give you a much more accurate picture of your potential rate and loan amount.
The very best mortgage rates are going to be reserved for the very best credit scores, so consider improving your credit before applying for a mortgage. That said, don't think your bad credit means you should accept the first offer you get; always shop around for the best rate. Purchasing a home is an exciting experience, and just because your credit isn't the best, it doesn't mean this opportunity should not be available to you.