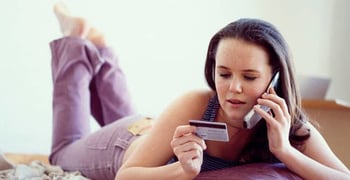 Experts share their tips and advice on BadCredit.org, with the goal of helping subprime consumers. Our articles follow strict
editorial guidelines
.
So you've graduated and are heading off to college? Congratulations! I'm sure you've gotten plenty of advice intended to keep you out of trouble.
Well, here's a little bit more – only this advice is intended to keep you out of financial trouble.
Even some of the most responsible young adults I know of have found themselves swimming in debt problems – most of them before they even know it. So that's why I've put together these credit tips for new college students.
Many of you have probably already seen a slew of credit card offers that closely followed your college acceptance letters.
It seems credit card companies like to extend credit to college-bound young people – probably because they know you'll use it. But credit cards can be both a blessing and a curse.
Knowing how to use credit responsibly is the key here. Pay close attention because this could be one of your most important lessons.
1. Not all credit cards are the same.
Those that are aimed at college students sometimes have low introductory interest rates, followed by very high rates after that.
They also may have an annual fee, which can be cost you even if you don't use the card.
2. Keep to a single credit card.
Once you've found a card that has a low fixed rate and no annual fee, stick with that one and no more. It's easy to get carried away, especially if you run up a balance on your card right from the start.
"It will be easier if you establish a good

relationship with credit from the start."
3. Don't go overboard with charging things.
That means not using your credit card for things like groceries or trips to the movies. These little things can add up fast. Before you know it, you'll be over your head.
Make it a practice to use cash first. It will make you stop and think, "Do I really need this?"
4. Never use your credit card to take out a cash advance.
And I mean NEVER. You end up paying extra for this type of "loan" and then have to pay the interest charges on it until it's fully paid off.
It just isn't worth it, and it's one of the easiest ways to get stuck in an endless debt cycle.
5. Try to pay off the balance every month.
If you do this, you will not incur any interest charges and won't be throwing away your money. This is the smart way to use credit.
6. Learn to use your card sparingly.
Consider a trick like wrapping it up in paper inside of your wallet with a note on it that says, "Use only in case of emergency."
7. Your relationship with credit begins with your first card.
The way you use it is reflected in your credit report, which can be used by employers when it comes time to look for a job.
Also, a negative credit report impacts the interest rates you pay for loans, how much you pay for car insurance and lots of other things. Do yourself a favor and keep your credit clean.
These are tips I wish I had been told when I entered college. Most of them I had to learn later in life, which is why I'm passing them along to you.
It will be so much easier for you in so many ways if you establish a good relationship with credit right from the start. So, with that being said, good luck to you in your studies and in life.
Photo source: nsbank.com.