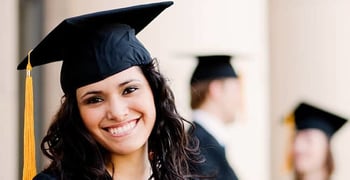 Our popular "How-To" series is for those who seek to improve their subprime credit rating. Our articles follow strict
editorial guidelines
.
As a general rule, the more education a person has, the more money they will earn during their lifetime.
If you have decided to continue your education by pursuing a graduate degree, you probably already know this.
Education, especially at the graduate level, can be an expensive endeavor. Most people enter grad school with a mountain of undergrad debt already, and it is important to keep this debt from getting out of hand.
Much of what you need in grad school is going to be charged on a credit card, at least initially.
You may have student loans, a source of income, a grant or even a stipend, but the money coming in from those sources may not arrive when you need it.
That is why you will need at least one credit card to hold you over temporarily. Having a good credit score means having a better interest rate on your credit card.
Here is how to keep grad school from negatively affecting your credit:
1. Know what your credit score means.  
For as much time as you are putting into your studies, take a little bit of time to learn just what a credit score is comprised of.
There are five components that make up your credit score, although they each have slightly different weightings.
Your payment history accounts for 35 percent of your total score. Your credit utilization comes next at 30 percent and then your length of credit history at 15 percent.
The final component is your mix of credit and new credit accounts opened – each of these compose 10 percent of your score.
Take the time to learn about these and it will help you make better credit decisions.
2. Choose the right card.
The kinds of credit cards you carry and how you use them will have a great impact on your credit score.
If you already have decent credit, go for a zero interest card that carries no annual fee. They do exist.
When the introductory zero interest rate goes away, exchange it for another card. Be sure to look for the longest zero interest period available.
"The more frugal you are,

the less debt there will be."
3. Using credit in the right way.
Once you have the right card, you also have to use it in the right way. This means making your payments on time every month.
If you know you are going to be in the field doing research, schedule payments so they are made for you. The worst thing you can do is to miss a payment and let your card company charge a fee and take away that precious zero percent interest rate.
4. Never overdraw your checking account.
The fees and penalties for overdrawing your checking account can make credit card interest payments look like school lunch money.
If the choice is between using your ATM card when you are down to your last few dollars and using a credit card, choose the credit card.
Liquidity is your friend and running out of cash is actually worse than going a little deeper into debt. Paying fees and penalties is just wasted money, so avoid this always.
5. Be frugal.
I know this one goes without saying. After four years as an undergraduate, you are used to living on a shoestring, but grad school is different.
You are required to buy much of your own equipment, pay at least part of your travel expenses or maybe buy some new clothes for meeting with prospective funders.
All of these things can add up. The more frugal you are in every area of your life, the easier it will be to pay for these things. Never treat your credit cards as an unlimited source of income.
Even though you will likely graduate with a decent amount of credit card debt, the more frugal you are, the less there will be.
Grad school is expensive, no matter how you look at it. However, it does not have to negatively affect your credit.
By being smart about how you use it, you can keep you good credit score, which is in your best interest. You can also graduate with a manageable debt load rather than a mountain you have to scale.
Photo source: careercruising.com.