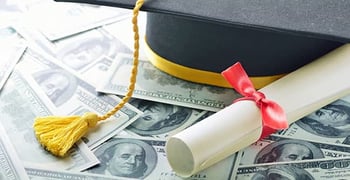 Our popular "How-To" series is for those who seek to improve their subprime credit rating. Our articles follow strict
editorial guidelines
.
We all know in today's increasingly competitive workplace, you've got to have a college degree to succeed.
But with the cost of college tuition rising year after year, a four-year degree from a respected school can cost upward of $120,000 or more when all is said and done.
Being able to afford that kind of investment can be difficult under any circumstance, but it is made that much worse when you have bad credit.
Many parents with kids who are approaching college age have an additional burden thanks to our still struggling economy.
Even if they were diligent and invested in a college savings plan, some parents may have had to dip into those funds when their credit began to suffer.
Now with the college deadline looming, they're left with the question of how to pay for tuition when they have bad credit.
This short guide is intended to show you there are still ways to pay for college tuition even if you have less than perfect credit. These are some of the alternatives to high-interest student loans from predatory lenders seeking to take advantage of desperate parents.
1. Federal student aid
Stafford loans are government-sponsored student loans that are available to almost any college student, regardless of credit history or score.
A Stafford loan comes with a relatively low interest rate and can even be interest-free while a student is attending school.
Cumulative limits for Stafford loans are currently $31,000 for dependent students and $57,500 if a student is receiving no assistance from their family.
Perkins loans are another type of federal student loan intended for students with exceptional financial needs.
A student may qualify for a Perkins loan if their Expected Family Contribution (EFC) is below a certain percentage of the cost of attendance at a particular school.
PLUS loans are federal education loans made available by the Department of Education and are given to the parents or guardians of a qualified college student.
A PLUS loan does come with a requirement of no adverse credit history. However, an eligible endorser can effectively cosign for a PLUS loan on behalf of the family.
"Many programs help families that

have gone through tough economic times."
2. Grants and scholarships
A Pell grant is another federally-sponsored program intended for students who demonstrate a financial need.
A Pell grant is different from the Stafford and Perkins loan programs because the money is given without the need to repay it.
This program can be especially helpful for students from families that have a modest income and can show a clear financial need.
Federal Supplemental Educational Opportunity Grants (FSEOG) come from government funding but are administered by the school the student is attending.
This is another type of program that is need-based and is usually given to students from disadvantaged financial situations. The money given from this program also is not required to be repaid.
Scholarships come from many different sources, including the government, the college or trade school a student is attending or even private organizations.
Scholarships are typically merit-based and can be given for achievements in sports, music, academic accomplishment, association with a particular group and many other qualifications.
Bad credit typically does not have any bearing on receiving a scholarship.
3. State aid programs
Students looking for education aid should ask their school's financial aid office about state and federal programs.
Almost every state has student aid packages that include grants, scholarships, low-interest loans and other forms of financial assistance.
Some of the state-level student aid programs are intended for families with challenging financial situations and most will help even if you have bad credit.
Finding help to pay tuition when you have bad credit is not as difficult as it may seem. Many programs are intended to help families that have gone through tough economic times and are finding it difficult to afford tuition.
One of the first things you should do on this road to getting assistance with paying tuition is to fill out the Free Application for Federal Student Aid (FAFSA) and receive a Student Aid Report.
This SAR will help you to identify the programs that apply to you, and soon you'll be on your way.
Photo source: nrostatic.com