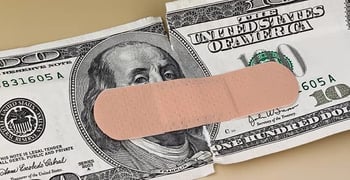 Experts share their tips and advice on BadCredit.org, with the goal of helping subprime consumers. Our articles follow strict
editorial guidelines
.
Most people struggle to pay off debt after a financial setback. If you're in debt because of a divorce, job loss, layoff or illness, it's easy to feel hopeless.
Living with debt is overwhelming, especially when you can't cover the bills. It can control your mind day and night, making you feel trapped and cringe every time the phone rings.
Everyone's had or will have a financial setback at some point, and no matter how hopeless you may feel, there are ways of digging yourself out and paying off debt.
After my husband's salary was slashed by 30 percent, thanks to two pay cuts, losing more than $40,000 on a home we sold at the bottom of the market and medical bills after the birth of my son, my husband and I were beyond overwhelmed with our debt.
He was the major breadwinner and I was earning money doing side jobs like sewing, eBay, virtual assistant work and blogging, but we didn't have enough to cover all the bills.
It wasn't excessive shopping that got us into our mess, but I still felt like a loser, even with thousands of other people in our same situation thanks to the recession.
Here are some things we learned in the process of digging our way out.
1. Don't get trapped in a no-win situation.
As tempting as quick fixes like payday loans and cash advances on the credit card may sound, don't go there. It will only exacerbate the problem.
2. Negotiate payment arrangements with your creditors.
Contact your creditors to see if you can adjust your payments or work out a payment schedule that will better fit your budget.
You will have to be firm with what you can afford to pay them and when, but they want your money. Most will work with you to help you get current on your bills and pay down your debt.
"Cutting needless expenses can

help you find money in the budget."
3. Cut back on every extra expense you don't need.
Every dollar you spend money on needs to be considered as to whether it is spent on a need or a want.
Example: You don't really need your smartphone and data package, you don't really need cable and you don't really need to eat out.
Cutting needless expenses can help you find money in the budget to apply to a better place.
4. Set aside some cash for emergencies.
Many financial planners recommend you have three to six months set aside for an emergency fund. It's great in theory, but when we were just getting started paying off our debt, it was too much to even consider.
We opted for the $1,000 to $3,000 range, which we were able to save up in a couple of months after cutting our expenses.
While saving for our emergency fund, we paid only the minimum on our debt and took advantage of all the coupons and deals we could find on the things we needed.
After our emergency fund was in place, we put every extra penny toward debt using the snowball method. We're still paying off our debt, but we have paid off more than $40,000 in two years.
I wouldn't have imagined we could make so much progress in such a short amount of time, but it's proof you can pay off your debt as long as you don't give up.
What tips do you have for digging your way out of debt?
Photo source: cashingloan.net.