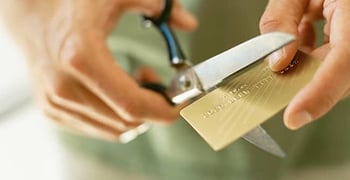 Experts share their tips and advice on BadCredit.org, with the goal of helping subprime consumers. Our articles follow strict
editorial guidelines
.
Do you have a rocky relationship with your credit? Is that troubled relationship keeping you from getting the things you want and need, like an affordable loan or mortgage?
Do you have a growing dependency on your credit cards? Do you wind up paying a high price for that dependency?
If so, it might be time for you and your credit to take a break.
After a long relationship with credit and the comfort of an easy, mindless swipe, it can be hard to get back into the cash scene.
You remember cash, right? Your very first fiscal relationships were probably with cash. You cherished those precious pennies, saving them diligently to buy what you wanted.
The truth is, credit cards may have made you feel comfortable, but they were giving you a false sense of security. By losing touch with the monetary value behind each swipe, you became more at risk of falling into a downward debt spiral.
By rekindling your relationship with cash, you can re-familiarize yourself with all the important financial lessons you learned early on.
These four steps will have you back on track for a better financial future.
1. Don't spend what you don't have

As a kid, you knew you could not go into a candy store and bring more stuff to the cashier than you had money to pay for.
As an adult, the temptations only become greater and the price tags are higher. Stay grounded in the reality of what you can afford by buying your necessities with cash.
You will know exactly how much you have left over to spend on wants, such as entertainment, vacations and other items.
Come to think of it, we've heard this somewhere before…
2. Spend consciously

Remember those early candy store days? You could not buy everything you wanted, so you painstakingly assessed all your options before determining the best value and how to get the most for your money.
With only $20 in hand, three days' worth of groceries will likely become a more attractive option than one meal at a restaurant.
3. Save

Piggy banks are fun. The joy of contributing to your wealth and the high of counting how much you have saved up does not end with childhood.
Do not discount any amount. Take pleasure in collecting every penny and building your stash of cash.
4. Plan

Remember how having one thing you desperately wanted to buy helped you spend less on impulse purchases of gumballs and more on filling up your piggy bank? You probably used to attack childhood goals with laser-like focus and determination.
Continue to set goals and apply your childhood resolve to them. Use the power of cash to help you. The physical entity will allow you to allocate your funds.
Separate cash into different envelopes based on different goals. You will not be able to buy until you have accumulated enough cash in each envelope. This means there is no longer an excuse for overspending!
After re-establishing these fundamental financial habits with cash, perhaps you and your credit can give it another go. After all, credit cards can leverage your purchasing power, build your credit and pay you with rewards, miles and cash back.
Make sure you have mastered the elementary basics first so you do not get pulled back into a destructive relationship.
Photo: www.torycapital.com