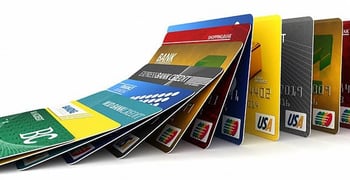 Experts share their tips and advice on BadCredit.org, with the goal of helping subprime consumers. Our articles follow strict
editorial guidelines
.
We all know how important it is to have good credit, and most of us know what we need to do to keep it that way. We get told constantly not to fall behind on our payments and don't charge too much on our credit cards.
But what if we find ourselves on the other side of that fence? Are there things we should avoid doing when we have bad credit? Yes!
There are some things we should avoid that are clear, like accumulating even more debt, but there are other things that are less obvious and that may even seem counterintuitive.
Check out this list of five things you shouldn't do when you have bad credit:
1. Closing credit cards
This is one of those counterintuitive actions I talked about. People think closing credit cards that have no balance on them improves their credit. In fact, the opposite is true.
By closing out a card that has an available credit line, you are reducing your overall credit limit, which in turn increases your total credit utilization, also known as your debt ratio.
The credit rating agencies base a large part of your score on this metric. If you left the card open, but put it in a drawer and never used it, the card will actually serve you better.
Instead, you could open a new credit card to improve your debt ratio. This may ding your credit score at first, but it'll be back to normal as long as you use your card responsibly.
2. Using credit repair services
Credit repair services are often the first thing people think of when they have bad credit. After all, these companies promise to fix your bad credit and get you back on the straight and narrow.
However, the unfortunate truth is many of them prey on the people who can least afford it. They often charge fees of up to $5000 to repair credit, when in fact they don't do anything you can't do for yourself.
They will offer to remove incorrect information from your credit report, but that's something everyone has a right to do under the Fair Credit Reporting Act.
Also, they will sometimes pay to have items removed that are valid — temporarily sending your credit score higher.
The problem is it almost always reappears on your credit report within a month or two because the creditor that reported the information in the first place will report it again.
However, not all credit repair services are created equal, and many will legitimately help you improve your credit profile.
"Avoid the temptation to apply for new loans

or credit cards when you have bad credit."
3. Applying for debt consolidation loans
Debt consolidation loans are another of those solutions that seem like a great idea until you take a closer look.
First off, debt consolidation does nothing to reduce the amount you owe. It also doesn't address the problem of how you got here in the first place.
Second, by getting a loan to pay off debt in a lump sum, many people have a sudden feeling of relief and often start running up debt again.
Finally, if you weren't able to pay your debts when they were spread out over a month, do you think you'll be able to make a single payment all at once for the same amount?
You could look into taking out a personal loan to help pay off your debts. However, this is only a good idea if the interest rate on the personal loan is lower than the average interest rate on your other debts, and if the minimum payments are manageable.
4. Paying less than you owe 
Debt forgiveness or paying less than the total amount you owe can also sound appealing, but don't be fooled.
If you do get a creditor to agree to this, the amount of debt that is reduced will appear on your credit report as an unpaid obligation. This can be even more damaging to your credit score and will likely stay there for seven years.
Don't confuse this with bankruptcy, which is an entirely different process. If you're not sure whether it's right for you, contact a firm that specializes in consumer bankruptcy.
5. Getting new loans or credit cards
Avoid the temptation to apply for any new loans or credit cards when you already have bad credit.
Every time you apply for one of these, it triggers a hard inquiry of your credit report. Even a few of these inquiries can trim valuable points off of your score — points you can't afford to lose.
If you're careful about following these five simple suggestions, you'll find yourself much better off. And by staying diligent and paying down your debt, you'll find you can improve your credit score slowly and all by yourself.
Photo source: imoney.my