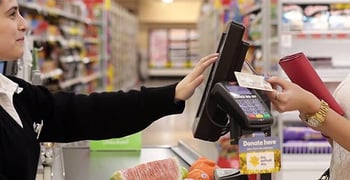 Experts share their tips and advice on BadCredit.org, with the goal of helping subprime consumers. Our articles follow strict
editorial guidelines
.
Are you paying for the mistakes of others? Make sure these mistakes aren't costing you by following these four simple steps.
1. Check your receipts

It's always good to keep an eye on the register as you're being rung up.
Mistakes happen. You could be charged for the wrong item when the code is entered manually. You could get one product scanned twice. There might be a discrepancy between the price advertised and the price at the register.
Look at your receipt before leaving just in case you missed something at check out. You don't want to notice it when you get home just to waste the time, energy and gas to go back to the store and fix it.
2. Check your credit card statements

Even if everything is correct on the receipt, there can always be errors in the processing of your credit card.
With online banking so accessible, it's good to get in the habit of checking your credit card statements every day just as you would check your email.
Not only will you be able to catch incorrect charges, but you'll be able to spot any fraudulent activity and report it quickly.
3. Check your paystubs

No one has more interest in you being paid what you're owed than you do.
Be sure all of your hours, overtime included, are accounted for. Your paycheck is just one of hundreds or thousands to your employer, so don't assume they'll notice or correct it. 
Speak up and follow up to make sure any discrepancies are addressed.
4. Check your credit reports

Your credit score, calculated from your three credit reports, qualifies you for credit offers, dictates the interest rates you pay on your loans and even affects your potential for future employment.
Don't let an error on a credit report go unchecked, which could hurt your credit score and cost you thousands of dollars.
According to the National Association of State Public Interest Research Groups, 79 percent of all credit reports contain some type of error, 25 percent of which are serious enough to deny an individual credit.
Make sure you don't become part of that statistic by checking each of your reports from Experian, Equifax and TransUnion once per year for accuracy. It'd be a good idea to check your credit score while you're at it.
 Photo source: adelaidenow.com.au