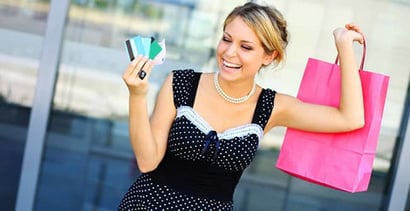 From big names to up-and-comers, BadCredit.org experts share their picks for the top resources in the personal finance industry.
Shopping is a great way to reward yourself for all the hard work you do, but it can also lead you down a treacherous financial path.
Our 10 Best Blogs for Shopaholics have been in your shoes and can help you get on the right track again.
Shopaholic No More
shopaholicnomore.com


Bragging Rights: stopping overshopping

From renowned psychologist Dr. April Lane Benson comes Shopaholic No More, a site staffed with finance experts who keep the content fresh and alive. Resources include audio books, articles, a full listing of links and coaching therapies that are known to be effective. Benson promises to share what she knows about why we spend the way we do and show us how control it.
Social Clout: 3,700+ followers
URL: http://www.shopaholicnomore.com/
L Bee and the Money Tree
lbeeandthemoneytree.com


Bragging Rights: positive self-worth. positive net worth.

This lauded blog follows Lauren Bowling, who became fascinated with personal finances after she made her way from broke actress to Wall Street guru. Topics include timely and useful information like the "5 Most Common Money Nightmares for Women" and "Do You Have to Be Rich to Be Creative?"
Social Clout: 2,062+ followers, 1,059+ likes
URL: http://lbeeandthemoneytree.com/
My Shopping Addiction
my-shopping-addiction.oxygen.com


Bragging Rights: an intimate look into addiction

From Oxygen comes My Shopping Addiction, a resource of information aimed at wise spending and tight planning. The blog is highly active in social media, with daily polls and updates tracking the latest in saving secrets. It's all based around a variety of personal stories, from an heiress who spends $30,000 a month, to a woman who only shops at dollar stores.
Social Clout: 1,751+ likes, 120+ followers
URL: http://my-shopping-addiction.oxygen.com/
My Broken Coin
mybrokencoin.com


Bragging Rights: breaking the mold

My Broken Coin is a peppy and hopeful blog from Aloysa, a young woman who immigrated from Lithuania. After discovering the American dream of credit cards, she fought her way back from debt and learned to live frugally at last. Posts like "The Sadistic Side of Santa" and "My Cheap Ass Broke Wedding" definitely put an enthusiastic spin on a serious subject.
Social Clout: 1,216+ followers, 580+ likes
URL: http://mybrokencoin.com/
According to Athena
accordingtoathena.com


Bragging Rights: being fabulous has no price tag

According to Athena is where the author charts her successful climb out of debt. She writes as someone not naturally inclined to budgeting but who is learning a passion for financing as a path to a healthier life. Our favorite part of the site? She infuses her content with inspirational musical videos.
Social Clout: 1,198+ followers, 418+ likes
URL: http://accordingtoathena.com/
From Shopping to Saving
fromshoppingtosaving.com


Bragging Rights: from a former shopaholic

Erika is a 25-year-old law student in California who quit her job as a contracts analyst for a Fortune 500 company to pursue her dreams. She's fought her way out of her debt, and as a recovering shopaholic, she writes about the challenges of learning to save and changing those all important spending patterns.
Social Clout: 1,129+ followers
URL: http://www.fromshoppingtosaving.com/
Shopping Detox
shoppingdetox.com

Bragging Rights: finding the fun in frugality

Annabelle started Shopping Detox as a way to challenge herself to get out of debt. She writes quirky articles, like how a French diet book ties into her financial outlook, and offers a journal-like collection of day-to-day experiences. Food, fashion and holidays are covered, with clear saving strategies and ways to party for less. Could you ask for more?
Social Clout: 719+ followers, 122+ likes
URL: http://www.shoppingdetox.com/
Recovering Shopaholic
recoveringshopaholic.com


Bragging Rights: trade your full closet for a full life
Recovering Shopaholic is where former professional shopper Debbie Roes chronicles her journey to better spending. She wants to help others like her who need to adjust their maladaptive buying behaviors. Her section on accountability follows her efforts as she urges others to also stick to a plan.
Social Clout: 197+ likes, 123+ followers
URL: http://recoveringshopaholic.com/
Shopaholics Anonymous
shopaholicsanonymous.org


Bragging Rights: from compulsive theft to hoarding

Shopaholics Anonymous offers a friendly and professional environment for help with being a compulsive shopper while also aiding in other impulse control issues. The blog is run by Terrence Shulman, founder of the Shulman Center. Content covers counseling programs and support group options, with an extensive video archive on many topics related to spending control.
URL: http://www.shopaholicsanonymous.org/
Confessions of a Recovering Shopaholic


Bragging Rights: southern hospitality at its best

Through photos and updates, blog author Lacey shares the progress of building her life. She may say she's joking about the recovering part, but there are hints she's putting aside much of her shopaholic ways throughout the blog. Bonus for the ladies: Look for Motivational Mondays and scoops on deals for jewelry and beauty supplies.
URL: http://davesayssellitall.blogspot.com/
Photo source: sheknows.com