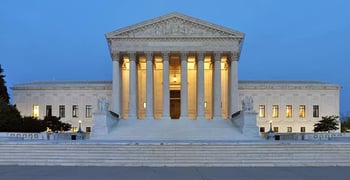 Experts share their tips and advice on BadCredit.org, with the goal of helping subprime consumers. Our articles follow strict
editorial guidelines
.
WASHINGTON, D.C. — The U.S. Supreme Court Tuesday ruled in favor of homeowners rescinding a mortgage due to the bank's failure to uphold the federal "truth in lending law."
The law states homeowners may back out of a mortgage as many as three years after the loan is made if the lender fails to make known various details, such as interest rates and additional charges.
In case No. 13-684, Jesinoski v. Countrywide, Larry and Cheryle Jesinoski of Eagan, Minnesota filed a claim regarding the $611,000 loan obtained from Countrywide Home Loans, Inc. (now owned by Bank of America) at the end of the three-year period. When the bank disputed the claim a year later, the Jesinoskis filed a lawsuit.
In the past, there had been a discrepancy over the point at which borrowers can legally back out of mortgages. Lenders say notice of intent to rescind does not suffice if the loaning bank contends the homeowners' claim. However, consumers' lawyers say mortgage companies have historically abused this law prior to the 2008 financial downfall.
Initially, a lower-court ruling fell in favor of Countrywide, so the Jesinoskis appealed that decision. In a 9-0 vote, the U.S. Supreme Court ruled in favor of the Jesinoskis.
Though this provision is typically used as a desperate measure by homeowners struggling financially, the law "leaves no doubt that rescission is effected when the borrower notifies the creditor of his intention to rescind," Justice Antonin Scalia wrote.
Need help with financing a home? Check out our affordable home loan options.
Photo credit: freespeechforpeople.org