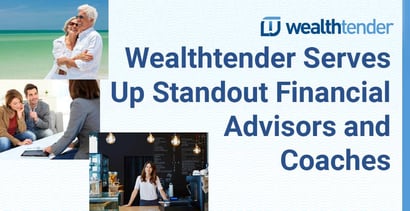 Experts share their tips and advice on BadCredit.org, with the goal of helping subprime consumers. Our articles follow strict
editorial guidelines
.
In a Nutshell: People seeking opinions on products and services will frequently read relevant reviews online. A recent regulatory change has increased the availability of online reviews of financial advisors and coaches. Wealthtender provides consumers with reviews and ratings of financial professionals. Consumers can search the site to find financial experts who specialize in topics of interest and read how other clients described their experience with a particular expert. Wealthtender also offers robust financial education resources that help people reach their financial goals.
Word-of-mouth endorsements are one of the most effective forms of advertising. We tend to trust recommendations from our friends and family more than a company's advertising. After all, most traditional advertising aims to persuade us to purchase a product or service.
Our friends and family are not standardly compensated for sharing their product or service recommendations with us. Thus, their words are imbued with a sense of authenticity and honesty.
Wealthtender is a website that serves as a one-stop shop for individuals seeking financial assistance. Its platform provides access to comprehensive listings and reviews of financial professionals.

Brian Thorp, who has worked within the financial services industry for 25 years, is the Founder and CEO of Wealthtender.
"The idea behind Wealthtender," Thorp said, "is to help people, regardless of their income or what stage of life they're in, find financial resources and assistance. We're democratizing financial information. Using a financial advisor isn't something that's only suitable for the wealthy. They can also be invaluable to those who are struggling to get out of debt."
Thorp's experience in the industry taught him that the practices of many financial advisors are exclusionary in that they only serve people with a certain amount of assets.
Thorp said Wealthtender features reviews of financial advisors who can help individuals learn how to plan to pay off their credit cards, start building credit, and save for their first home, children's college expenses, and retirement. Wealthtender also features reviews of financial coaches. 
"Our platform provides an opportunity for people to meet and learn about financial advisors and coaches," Thorp said. "We also offer access to free resources, including blogs and podcasts, for those interested in self-study. There's so much information out there that it can be intimidating. But once people start to learn, they feel more comfortable and confident."
Transparency Opens the Door to Education
The U.S. Securities and Exchange Commission (SEC) previously had a long-standing rule that prohibited financial advisors from asking their clients to write reviews of their services, Thorp said. In addition, financial advisors could not include customer reviews and testimonials in their marketing materials.
The SEC recently repealed that rule, paving the way for financial advisors to ask their clients for reviews. Wealthtender showcases reviews to help consumers understand how clients have assessed a particular financial advisor.
"The SEC originally put forth this rule back when John F. Kennedy was president," Thorp explained. "The rule effectively blocked consumers from learning about a financial advisor, because there just wasn't enough interest among consumers to write reviews without a prompt from their advisor. Now, consumers can research exactly what other clients are saying about their experience with a particular financial advisor."

The internet has long been a valuable resource for consumers looking to access reviews on various products and services. Some websites compile reviews of specific items, from restaurants and travel destinations to athletic shoes and podcasts.
The SEC has stipulated that specific requirements are necessary for a website to feature reviews of financial advisors. Wealthtender is the first SEC-compliant online financial advisor review platform, Thorp noted. 
"An advisor can't just go out to a platform like Yelp and ask for reviews," Thorp said. "Because those platforms weren't designed to incorporate the protections and disclosures the SEC is looking for. The SEC wants to ensure that every financial advisor review includes information regarding whether the reviewer is a current client of the advisor, and if they were compensated to write the review. Kudos to the SEC for mandating transparency."
Thorp said Wealthtender accommodates the SEC requirements from a regulatory standpoint, which ultimately is in the best interest of consumers. Transparency in reviews can help consumers make more informed decisions. 
Virtual Relationships Increase Specialization
A silver lining of the pandemic is that it increased people's comfort with video conferencing tools and interactions. People, restricted from face-to-face interactions, increasingly pivoted to online meetings and chats out of necessity. 
Thorp said financial advisors, coaches, and their clients all uniquely benefit from this development. Financial professionals no longer have to tailor their services to appeal to the needs of individuals who reside near their place of business. 
Having a much larger pool of online clients opens the door for financial advisors to specialize their services in areas of interest that align with their passions. 
"By offering their services nationally, financial advisors and coaches can really specialize in helping people with a specific problem or situation," Thorp said. "Clients benefit from this, too. Now they can go online and find somebody, who may be hundreds of miles away, who has the exact specialist knowledge and experience that is ideally suited for the client's particular situation."

Thorp advised individuals reading Wealthtender's reviews to pay attention not only to the ratings that users can assign to a financial advisor but also the words used in the review. Wealthtender's detailed reviews can signal whether a financial professional has experience in a niche topic of interest to the reader.
Wealthtender's reviews include financial coaches who advise both personal and business clients.
"We feature financial advisors who've gained special designations that are aimed at helping individuals manage specific issues, like student debt," Thorp shared. "They can leverage certain programs to best serve their clients. But we also have financial coaches for businesses. Small businesses can also struggle with managing capital and debt, and these coaches can help point them in the right direction."
Wealthtender Empowers Consumers to Build a Better Tomorrow
Wealthtender is free to use for consumers. Thorp said most financial professionals pay approximately $40 per month to be featured on the site. The monthly fee includes additional benefits related to marketing opportunities.
Wealthtender also provides educational resources for consumers, including links to financial blogs and guides to free and low-cost financial services.
Thorp said there are financial advisors that consumers should avoid, including those who seek to steer clients toward products that boost their commission regardless of how the product suits a client's needs.
According to Thorp, most advisors in the Wealthtender community are Certified Financial Planners who hold themselves to a high standard and look out for their client's best interests.
"Unfortunately, there are a lot of people that prey on the vulnerable and want to take advantage of individuals who are struggling financially," Thorp cautioned. "Anybody calling themselves a financial expert who's asking clients for money in advance — my advice to those clients is to run the other way."
Many financial advisors and coaches in the Wealthtender community offer a free introductory consultation. A consultation allows individuals to have a no-pressure conversation that helps them gauge their comfort with a prospective financial advisor or coach.
Thorp says Wealthtender features licensed financial advisors. Wealthtender conducts due diligence on financial coaches highlighted on the site to ensure they are experienced. According to Thorp, many financial coaches on Wealthtender have advanced designations, and client reviews help individuals determine coaches' trustworthiness.
"That's why we designed Wealthtender," he said. "It puts the consumer's best interests first and empowers them to make truly informed and educated financial professional hiring decisions."