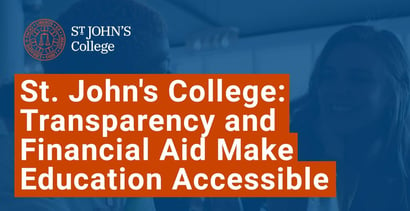 Experts share their tips and advice on BadCredit.org, with the goal of helping subprime consumers. Our articles follow strict
editorial guidelines
.
In a Nutshell: As the rising cost of higher education continues to outstrip the rate of inflation, financial aid packages skew toward loans that threaten to burden students with debt for years. St. John's College bucked that tradition by lowering tuition by 30% in 2018, and generous donor support for need-based aid makes its immersive Great Books curriculum more accessible. With campuses in Annapolis, Maryland, and Santa Fe, New Mexico, St. John's College provides one of the most affordable learning experiences at a top-50 liberal arts institution.
St. John's College was founded in Annapolis, Maryland, in 1696 and is the third oldest college in America after Harvard and William and Mary. It had a curriculum that aligned with many of those institutions for more than two centuries.
But in 1937, St. John's transformed itself into a premier liberal arts institution by challenging educational trends. As most colleges and universities increased academic specialization and lecture-based classes, St. John's developed its innovative Great Books curriculum.
The program allowed students to participate in small, discussion-based seminars instead of attending lectures. And students follow the same curriculum, one that is centered on interdisciplinary study of more than 200 seminal works in philosophy, literature, math and science, and classics.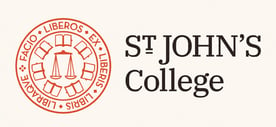 Today, St. John's operates a campus in Santa Fe, New Mexico, in addition to its original campus in Annapolis. Although its Great Books curriculum has changed since 1937, it continues to draw more than 1,000 students annually across its two campuses where they gain a perspective that emphasizes critical thinking and creative expression.
Benjamin Baum, Vice President of Enrollment at St. John's, said that even the college's math and science disciplines teach a fundamental understanding of the subjects, as students read original texts, not textbooks.
"When we study geometry, we read Euclid's writings," he said. "And when we study physics, we read Einstein's papers."
In 2018, St. John's continued its innovative path by reversing the trend toward increasing tuition at colleges and universities of all sizes. Responding to alumni feedback, the college reduced tuition by 30% and began a campaign to offer more cost transparency and aid opportunities through a generous support system.
"We try to show as transparently as possible what we do with tuition and financial aid to make the college more affordable," Baum said.
A Valuable and Affordable Education
The shift toward greater financial transparency resulted from a capital campaign during which the college reached out to alumni for support. The board and cabinet learned that some alumni considered St. John's too expensive to consider for their children.
"We decided to be particularly transparent about what we were doing to clarify that, for most people, even if they couldn't afford that lower tuition, there was financial aid to make St. John's affordable," Baum said.
All at once, tuition decreased from about $52,000 per year to $35,000. In 2022, St. John's raised tuition to $36,040 to account for rising costs — its first increase in nearly four years, and still well below the average for private liberal arts colleges. The college's website explains how it uses those funds, how they factor into the total cost of education, and what types of financial assistance are available.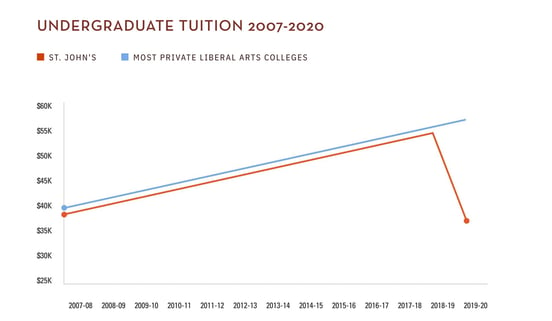 Thanks to the generous support of St. John's alumni, most assistance comes in the form of grants from the college. St. John's awards merit- and need-based scholarships and grants, and offers opportunities for work-study employment.
Students also apply for assistance through the federal student aid process. Many receive loan assistance, and 21% of St. John's students with exceptional financial need qualify for Federal Pell Grants.
While some students can afford the cost of a St. John's education without assistance, 85% of students receive some form of financial aid. Federal aid and internally generated support combine to ensure the most deserving students have a chance to compete for a place in one of the top liberal arts institutions in the US.
Read Classic Texts in Discussion-Based Seminars
Both St. John's campuses are residential communities, meaning all undergraduate students live on campus. The campus experience promotes camaraderie and facilitates creative exchange among students and faculty of diverse backgrounds.
"We're the kind of place where conversation matters, where being in-person matters," Baum said. "Students are having coffee with their faculty members in the classroom."
Although St. John's conducted virtual instruction during the COVID-19 shutdowns without resorting to asynchronous classes or prerecorded lectures, the in-person experience makes the college's Great Books curriculum shine. Students receive an authentic liberal arts education in the tradition of the ancient Greeks and the great humanist universities of the Renaissance. All classes have 20 or fewer students, and all St. John's students graduate with a Bachelor of Arts in Liberal Arts.
Students don't have majors in the modern sense. Common subject areas in the Great Books curriculum include classical studies and Greek, French, history, politics, law and economics, literature, math and the natural sciences, music and the arts, philosophy, theology, and psychology.
Watch on
The survey starts in ancient times and proceeds roughly chronologically to modern works. First-year students read about 35 authors, including Aristotle, Plato, and Homer. By senior year, they're reading US Supreme Court decisions, scientific works in quantum mechanics, and modernist poetry and prose.
St. John's students also study Greek. Although they read many Greek classics in translation during their first year, by the time they're ready to graduate, they're able to revisit those texts in their original language.
Immersion in these disparate subjects grounds students in the fundamentals of discussion and debate and encourages acceptance of opposing views. With its commitment to financial transparency, St. John's advocates for the value of a traditional liberal arts education.
"Our mission is to bring this kind of education — which you really can't get anywhere else — to the largest number of people we can," Baum said.
St. John's College Equips Students for a Changing World
St. John's commitment to liberal arts helps students learn the values and practices of the intellectual — skills they can carry forward regardless of their career choice. The college has produced many influential graduates, starting with Francis Scott Key, author of the poem that became the US national anthem.
Today, St. John's graduates are leaders in law, education, arts and media, business, public service, healthcare, and the STEM fields. A large majority of St. John's alums say their education was worth more than it cost and that it prepared them well for lifelong learning or success in graduate school.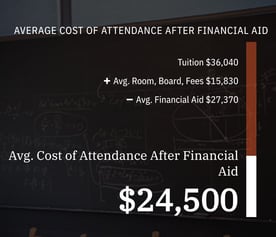 Because they comprise an international student body, St. John's students bring many different points of view to the classroom. Variety is a key to quality discussion and grounding in the liberal arts.
Socioeconomic diversity is an important marker of that commitment. St. John's received a substantial gift enabling it to create the Pritzker Pell Match, which matches Federal Pell Grants dollar for dollar. In addition, the Pritzker Promise Program provides underrepresented students with pre-orientation to help them acclimate to campus life before the semester begins.
And newly admitted St. John's students who are high school graduates or GED recipients and legal residents of New Mexico automatically receive an additional $11,040 New Mexico Grant, reducing their tuition even further.
Moving forward, St. John's promises a more diverse and productive student experience than ever. And it will continue to search for ways to keep costs down so ambitious students from all backgrounds and parts of the world gain a broadminded perspective of the liberal arts.
"Bringing a diverse community into our classroom is essential because the whole nature of what we do is discussing these texts," Baum said. "The different backgrounds and perspectives of the people in the classroom matter in that environment."