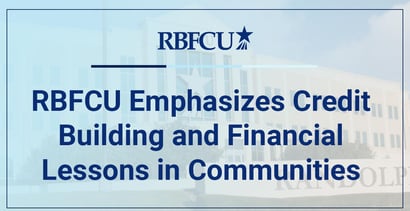 Experts share their tips and advice on BadCredit.org, with the goal of helping subprime consumers. Our articles follow strict
editorial guidelines
.
In a Nutshell: Randolph-Brooks Federal Credit Union goes beyond offering competitive and accessible financial services by supplementing accounts with its vast financial literacy resources. Members have access to a wealth of personal finance educational tools either online or through various physical workshops. The credit union's products help members build credit, and the lessons RBFCU offers teach them how to keep their credit scores from dropping. RBFCU is expanding its access to underserved communities and continues to grow the space. For these impressive efforts, we are recognizing RBFCU with our Editor's Choice™ Award for Community Commitment.
Texas is one of the most moved-to states in the country. People are flocking to Texas for its warm weather, job opportunities, lower property costs, and lack of state income tax. It's safe to say that business is booming in Texas.
For many of those transplants, Randolph-Brooks Federal Credit Union has become an invaluable resource. The credit union is the largest credit union in Texas and the ninth largest in the entire country. While it focuses on central regions of the state like San Antonio and Austin, the credit union does have branches throughout the state.


RBFCU has served Texas for 70 years. The credit union has grown to see the needs of more than 1 million members, and has $15.4 billion in assets. Those assets are a critical resource for RBFCU. As a credit union, RBFCU does not answer to shareholders or go for huge profits. It only answers to its members who are its owners.
RBFCU uses those assets to go into underserved areas and teach communities about available financial services that can help them. Members and nonmembers alike can access RBFCU's financial literacy courses online or by attending in-person lessons offered throughout the state.
The credit union's 2,100 employees in more than 60 branches in Texas are ready to help members get through any financial issues they are facing. RBFCU makes it easy to become a member. If you live, work, volunteer, belong to a community organization, or have a family member in the credit union, you are eligible to join.
"We've made tremendous strides," RBFCU Assistant Vice President of Communications and Public Relations Salvador Guerrero said. "Hopefully, we can turn this into a deeper dive and help out more underserved parts of the community over the next few years. We're really excited to open doors for folks."
Teaching Financial Literacy Through its Product Line
Any profits made from a credit union roll back into offering better services to its members. RBFCU is no exception to this rule. With all of its assets, RBFCU offers very accessible products with low interest rates to make them affordable to members.
When one member does not pay back a loan, it affects the entire community. RBFCU pairs its products with financial education for every situation. That way, members can keep enjoying products with low interest rates and minimal fees.
The credit union's Really Free Checking account is exactly what it sounds like, completely free of fees. There are no monthly maintenance fees or minimum balance fees. Members can receive their paychecks up to two days early through the account, and even receive free checks.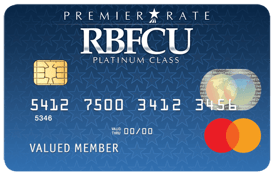 There are two personal credit cards available from RBFCU: one that focuses on lower interest rates, and another that earns 2% in cash back rewards. Members can get an interest rate as low as 7.95% from the credit union's Premier Rate card. Both cards feature 0% Introductory APR on balance transfers and cash advances, no foreign transaction fees, $0 fraud liability on unauthorized purchases, and $1 million in travel accident insurance.
For members who need help rebuilding their credit, RBFCU offers a credit builder loan. This loan is specifically designed to create a system for members to make easy monthly payments that reflect well on their credit. After applying for the loan, the funds are held in a savings account while the members make payments. The funds are available to use once the loan is paid off.
These products pair with lessons on the website on how to manage money properly and ways to make money in the accounts grow. That way members do not need to rely on credit building products because their credit scores will be high already. 
"We've pivoted to focus more on keeping credit scores high in the last couple of years," Guerrero said. "We do it through the financial literacy side, where they can work on their credit score and receive better overall financial health."
Seminars Educate Members and Nonmembers 
Teaching has always been at the core of RBFCU's values. The credit union's seminars have always been successful, reaching thousands of people every year with lessons that help create better financial situations. Just like every company in the world, RBFCU had to pivot to online and hybrid roles but made the transition well.
"I think we've done a fantastic job," Guerrero said. "We had to move into virtual financial education to try to reach students and our underserved communities via the internet and even phone calls."
Seminars cover different topics in a range of knowledge levels so everyone can learn something new. Its seminars go over specific services the credit union offers, including seminars on how to use a credit card, how to determine whether a credit card is necessary, and how to use a debit card.
RBFCU also puts together seminars for more advanced topics, including lessons on how to buy a house for the first time, or the credit union's most popular topic, how to pay for college.
"We do our best to prepare our communities for any kind of financial pitfalls that they can run into, whether that's because of the market, the pandemic, or financial crisis," Guerrero said. "We focus on maximizing our reach, and technology has definitely helped us out with that."
Many of those seminars are available online in a webinar version. While not as hands-on as in-person seminars, on-demand webinars work at a person's pace and can be accessed anywhere at any time. The webinars are open to anyone, members and nonmembers alike. RBFCU also has live webinars that mimic being in a physical seminar setting.
RBFCU looks forward to launching webinars with American Sign Language after seeing there was a need from community members with hearing disabilities. Webinars are also available in Spanish to appeal to as many people in the state as possible.
RBFCU: Focusing on Growth in Underserved Areas
RBFCU is continuing to grow just like its home state of Texas. The credit union has grown a lot in six years, almost doubling its asset size. It attributes this growth to a combination of the services, financial literacy lessons, and expansion in underserved communities the credit has accomplished.
RBFCU continues to open new branches in Texas to expand the reach of its services to members. The credit union's financial literacy team goes beyond the reaches of its branches to go out to specific schools and communities to teach them good financial habits.
The financial literacy team teaches children in schools about basic financial knowledge so they don't damage their credit score early in life. The credit union is within reach of 500,000 students, so the team speaks with as many classrooms as they can to prevent students from making mistakes that damage credit. The program this year is teaching fourth graders how to manage their money.
"It's a tremendous program that we launched this year," Guerrero said. "We've reached nearly 3,000 students in three months, which is a monumental feat for just a two person team on the road."
RBFCU partners with GreenPath as a way to receive credit counseling. RBFCU said thousands of members and nonmembers have used it, and the program helps build credit scores and put people in better overall financial health.
More than $10,000 is up for grabs every year for high school students looking for scholarships. RBFCU's Youth Ambassador Program chooses 15 students to go through a financial education boot camp. Students who complete the weeklong boot camp receive scholarships ranging from $250 to $1,000.
Local events that take place around the communities RBFCU's branches are in can expect a presence from the credit union, which sets up booths to provide financial education to those in attendance. The credit union's goal is to reach as many people as they can.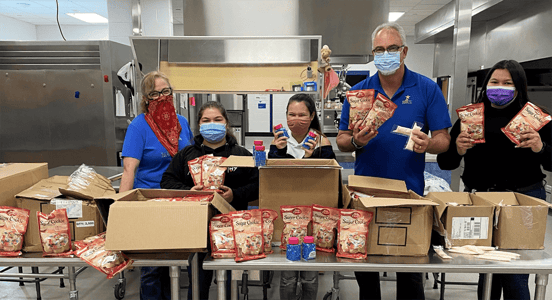 "With our growth comes the need for more financial education," Guerrero said. "Our focus over the next few years is figuring out how to ensure that we're within these communities and helping them out as much as possible."