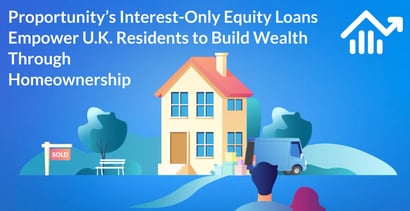 In a Nutshell: For many young, working-class people in the U.K., the dream of homeownership seems far off. But Proportunity helps those buyers by leveraging machine learning to accurately forecast the future value of properties, allowing consumers to find a home that will continue to build equity. Proportunity also offers access to interest-only loans that enable first-time buyers to purchase homes with more flexibility than they have with the government's Help-To-Buy program or shared ownership programs.
Property ownership is the primary means by which working-class individuals and families build wealth. However, that can be challenging in the U.K., where home prices have been steadily increasing, but income has not kept pace. And since banks want a down payment of around 15% to 20%, saving for that investment could take 10 years even in a dual-income household.
Add in the fact that prospective homebuyers can typically only borrow up to five times their salary for a mortgage, and consumers may be further limited in their search for a home.
"Primary residential real estate is the biggest wealth creator for people," said Stefan Rusu, Head of Business Development at Proportunity. "The equity appreciation you get on your main residence is tax-free. As we see now with a lot of baby boomers or people who are preparing to retire, it's also a good engine for pension wealth. It is a way to free up cash, downsize, and basically live a better life on a pension."

Proportunity is a homebuying solution that helps younger generations realize the dream of owning a home. Its machine-learning technology was initially developed as a tool to help banks, hedge funds, and real estate investors accurately value their portfolios.
But once Proportunity realized how powerful its tool was, the company decided to make it available to consumers alongside interest-only equity loans. Proportunity helps consumers accurately predict the future value of a home, allowing people to find properties that are likely to continue to appreciate.
It then provides access to loan opportunities that allow consumers to start building equity faster.
"We provide it as a free service so they can have access to the same analytical tools that a bank or hedge fund would have," Rusu said. "If it actually takes young, first-time buyers 10 years to raise the deposit, why not do something that will enable them to buy 10 years faster?"
AI Predicting Future Price Growth
Proportunity started as a property tech company incubated by Entrepreneur First. The startup used machine learning to forecast residential real estate values and offer an innovative, tech-based, B2B solution for property valuation and forecasting.
"Many banks, along with everybody involved in the real estate market are basing their valuations on historic data, and they look at present value, but they don't look at future growth in the residential real estate market," Rusu said. "They don't know how certain neighborhoods or properties are going to perform over the course of a mortgage."
Proportunity leverages data sources at both the micro and macro levels. For example, it draws on information about government regeneration programs, land registry data, and residential transactions dating back 25 years. It also incorporates information about the type of dwelling (e.g. a house or apartment), the home's characteristics, and the quality of the surrounding neighborhood.
Watch on
Proportunity's team of data scientists spent several years building a model that can process all of this information and use it to forecast home values.
"The whole data science team is pretty clever in all that they're doing, and they've been spending a lot of time refining this model to an extent that we are now pretty confident that our forecasts are very accurate over the next couple of years," Rusu said. "We can identify which areas and individual properties will outperform the average market growth and which areas are better than others to a quite granular level in the U.K."
Homebuyers Pay Monthly Only Interest on Loans
After helping first-time homebuyers find the right property, Proportunity offers interest-only equity loans. The terms depend on the personal circumstances of each buyer and, at closing, buyers will own the property rather than co-owning it with a fellow buyer. This deal is available for all Proportunity-eligible properties, both old and new construction.
"I would say we have products that are eligible for at least 80% of the market," Rusu said. "What we propose is you use us as a top-up deposit loan, which is anything between 10% to 25% of the property price, which is another mortgage. So you fundamentally have two mortgages on your purchase."
Proportunity's interest-only loan is linked to the value of the particular property. The borrower pays only interest each month instead of paying both interest and principal. When the buyer is ready to sell, refinance, or repay the loan on their own terms, they can buy out Proportunity's loan at the present value.
This is the real crux of Proportunity's machine learning component. It helps buyers find and purchase a home that will appreciate in value, earning them equity, and it ensures Proportunity will earn a profit from lending so it can continue helping people purchase their own homes and build personal wealth.
"If the property has gone up in value, you pay more. If the property has gone down in value, you pay less," Rusu said. "We're in the same boat with the consumer. We're in that together. If you buy a good-priced property at the beginning, we approve it, it's going to appreciate, and we both win."
Borrowers Avoid the Restrictions of Help-to-Buy and Shared Ownership Programs
Proportunity's interest-only equity loans are similar to the U.K .government's Help-To-Buy program. The latter, though, places certain limitations on borrowers and properties. Buyers cannot own other properties, and it caps the price on eligible homes.
Additionally, these homes must be newly built, which Rusu says are about 30% more expensive than buying a pre-existing home. Moreover, newly built homes won't appreciate at the same rate as comparable, old property in five years, meaning buyers are essentially wasting money while perfectly good houses sit empty.
"You shouldn't be forced to buy a new-built property if you want to get on the ladder," Rusu said.
Proportunity's offering also presents an alternative to shared ownership, a situation in which the buyer purchases a portion of a property from a U.K. housing association. Those programs are package deals, and are non-negotiable, and, as with Help-To-Buy, qualifying properties are often new construction. And, because residents are only partial owners, they lack autonomy in renovating and remodeling the homes. Buyers must also pay rent on the portion they don't own, meaning their costs will be higher — both initially and in the long run.
Shared ownership offers buyers the ability to staircase — buying an initial share in the property and then buying out the homeowner's association later on — but that situation also has its challenges, and additional costs. When purchasing a co-owner's shares, the buyer is no longer considered a first-time buyer — even if it is the first home they've ever bought — and so they must pay additional taxes.
Proportunity also presents an alternative to taking a loan from that venerable institution, your parents. That includes getting financial help from relatives to make a down payment.
"Bank of Mom and Dad, based on statistics, is the 10th largest lender in the U.K.," Rusu said. "To raise enough money to buy a home in the U.K. — if you're an average household with two incomes — it will take at least 10 years to put that aside if you don't have any help from Bank of Mom and Dad or some other source."
Proportunity: Helping Millennials Invest in Homeownership
Before your parents became your parents, they were people who could easily buy a home while they were still in their 20s. But today, due to rising home costs and stagnating income, millennials typically can't follow that same pattern.
"There is this 10-year gap between when our parents' generation got on the ladder and when we're getting on the ladder," Rusu said. "This has an impact over the whole consumer balance sheet."
That challenge is compounded by the fact that the government's Help-To-Buy program is coming to an end. It will begin winding down in 2021 and is due to close in 2023.
"This program has been running for a few years now. It helped a lot of people get on the ladder, as well as provided builders with business and helped them scale up," Rusu said. "We're not yet sure if this is going to be replaced with something else or not."
Regardless of whether the government launches a similar program, Proportunity's loans are poised as a desirable alternative for aspiring homebuyers. By taking advantage of these opportunities, new homebuyers can avoid the binds of co-ownership and loss of autonomy while avoiding paying more and then losing money immediately to depreciation. And millennials can get onto the property ladder with favorable terms and start building equity and financial stability through one of the most important purchases of their lives.
Advertiser Disclosure
BadCredit.org is a free online resource that offers valuable content and comparison services to users. To keep this resource 100% free for users, we receive advertising compensation from the financial products listed on this page. Along with key review factors, this compensation may impact how and where products appear on the page (including, for example, the order in which they appear). BadCredit.org does not include listings for all financial products.
Our Editorial Review Policy
Our site is committed to publishing independent, accurate content guided by strict editorial guidelines. Before articles and reviews are published on our site, they undergo a thorough review process performed by a team of independent editors and subject-matter experts to ensure the content's accuracy, timeliness, and impartiality. Our editorial team is separate and independent of our site's advertisers, and the opinions they express on our site are their own. To read more about our team members and their editorial backgrounds, please visit our site's About page.