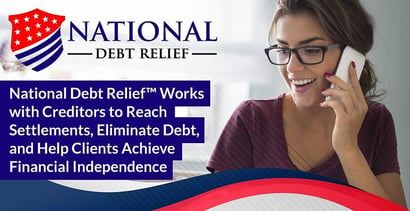 In a Nutshell: When debt becomes an unbearable burden, consumers often turn to consolidation companies or bankruptcy. For consumers who don't qualify for the former and want to avoid the latter, the National Debt Relief debt settlement program represents an effective middle ground. Certified debt specialists consult with each National Debt Relief client to evaluate their financial situation and develop a plan to resolve their debt efficiently. And National Debt Relief maintains relationships with many creditors so it can negotiate settlements that often save consumers money.
Whether it's from credit card spending, student loans, or medical emergencies, many consumers face tens of thousands of dollars in debt and struggle to regain their financial independence. While their situations may share similarities, each circumstance is unique — and the struggles are real.
That's why National Debt Relief invited some of its clients to share their stories with the world in the summer of 2018.
"You spend a day with clients who tell their stories in front of a camera, and you get to meet them, and it's very emotional," said Grant Eckert, Chief Marketing Officer at National Debt Relief. "It's rewarding to meet our clients firsthand and hear about the various circumstances. It's someone who tried to open a business that didn't work out. It's someone who took on too much credit card debt. It's a single parent trying to keep up with two or three jobs and manage all the expenses associated with having a child."
As one of the largest, most reputable debt settlement companies in the U.S., National Debt Relief helps people resolve the circumstances that leave them facing more debt than they can manage. The company, which operates in 41 states, negotiates settlements with creditors to help clients eliminate burdensome debt, achieve financial independence, and gain the skills necessary to avoid the same problems.
After nearly a decade in business, the organization has earned thousands of five-star reviews on Trustpilot and an A+ rating from the Better Business Bureau.
"In the early days, we put a lot of systems in place that helped facilitate an ideal client experience. We built the right technology, systems, and a consumer experience that delivered at every point," Eckert said. "We also instilled transparency, honesty, and communication — and being forthcoming with the upsides and downsides of debt settlements."
Debt Settlement Presents an Attractive Alternative to Consolidation and Bankruptcy
When facing overwhelming debt, many consumers assume they have few options. The most obvious is simply to pay down the debt they owe. But according to Eckert that is easier said than done.
"Most consumers are over-leveraged and have taken on too much debt," he said. "Sometimes a life event or series of life events got them into a situation where they're in over their head. Making big payments to pay down debt isn't realistic."
Another option is taking out a debt consolidation loan. These loans allow borrowers to pay off the money they owe while gaining more favorable repayment conditions liked fixed payments, fixed terms, and lower interest rates. However, this solution may not be available to every consumer.
"Most consumers won't qualify for a debt consolidation loan or they won't qualify for enough of a loan to consolidate all of their debt into something they can afford and pay off," Eckert said.
Watch on
The last resort for consumers is filing for bankruptcy. While this solution can eliminate their debt, it has long-term repercussions on consumers' creditworthiness, which can prevent them from qualifying for future loans and other financial products.
"What the average consumer doesn't know is that there's a fourth option: debt settlement, negotiation, and resolution — the category we're 100% committed to," Eckert said. "In the grand spectrum, we fit in right between debt consolidation loans and bankruptcy."
Consumers who qualify for a settlement through National Debt Relief typically carry more than $10,000 worth of unsecured debt accrued through credit cards, medical bills, personal loans, collections accounts, or private student loans. According to Eckert, the average client typically has $20,000 to $30,000 worth of debt across various accounts. For consumers who lack the means to make more than minimum payments on their bills — or those who have fallen behind and can no longer meet their monthly dues — National Debt Relief offers a path to resolving debt and regaining financial well-being.
Trained Specialists Craft Plans for Clients' Unique Needs
When consumers contact National Debt Relief, they connect with a debt specialist who is trained in-house and certified by a third party to ensure they deliver quality service to each client.
"All of our specialists are certified by the International Association of Professional Debt Arbitrators," Eckert said. "They go through in-depth training for four weeks, and they must pass a series of internal exams. Once they complete that process and become certified debt specialists, they can work with consumers."
Debt specialists conduct an initial consultation with each caller which allows them to understand his or her individual needs. By learning what motivated potential clients to call National Debt Relief, the specialist can present relevant options and discuss their financial and life goals.
"We can bring the consumer and the creditor together and try to negotiate a settlement that makes sense for everybody. We take our reputation seriously, and we're trying to help the client get out of a bad situation and get on the path toward financial independence." — Grant Eckert, Chief Marketing Officer at National Debt Relief
"Sometimes, it's consumers who've made minimum payments against their credit cards," Eckert said. "They have high-interest credit cards and they've gotten to a point where they've maxed them out. They're often living paycheck to paycheck and have no available income to put toward the principal balance."
That sometimes leads them to a point where they're paying back up to $1,000 per month in minimum payments, with most of it going toward interest.
If someone is a good candidate for debt settlement, National Debt Relief conducts a soft credit pull. This provides the debt specialist with a more complete picture of their current financial situation without impacting their credit score. Based on that information, the specialist helps them build a personalized budget or refers them to a solution that better suits their circumstances.
"If we're not the best option, it's incumbent on us to share that and point them in the right direction," Eckert said. "Our bread and butter is identifying whether a person is a good fit for us, and, if so, helping them on the path to getting out of debt."
Clients Can Eliminate Debt in Fewer than Four Years While Saving Thousands of Dollars
National Debt Relief provides clients with customized settlement programs to help them get out of debt in two to four years. For the average client carrying around $30,000 of debt, the process takes about 30 months. Clients typically pay $0.50 on the dollar to their creditors and $0.21 on the dollar to National Debt Relief. Totaling $15,000 and $6,300, respectively, the average client saves nearly $10,000, and pays no fees until the debt is completely settled.
"Clients only pay fees to National Debt Relief when we successfully resolve their debt. It's strictly a performance-based program," Eckert said. "What distinguishes us from everybody else is our promise to consumers that we will work with them to help them get out of debt."
National Debt Relief's process relies on a data-driven back end. This system prioritizes clients' creditors to maximize savings in the shortest period of time, helping them pay off debt rapidly — and at the minimum expense. This compromise benefits both consumers and creditors; consumers get out from under crippling debt, and creditors receive much of the money they're owed — rather than none, as they would with bankruptcy.
"We can bring the consumer and the creditor together and try to negotiate a settlement that makes sense for everybody," Eckert said. "We take our reputation seriously, and we're trying to help the client get out of a bad situation and get on the path toward financial independence."
Education Helps Consumers Achieve Financial Independence
National Debt Relief has worked with clients who have found themselves in debt for nearly every imaginable reason. And the company has tried to help them all achieve a fresh start.
"There are literally thousands of unique stories where people found themselves in these tough situations with really no way out. And then they reached out to us," Eckert said. "At first, a lot of them said it seemed too good to be true. But it takes work, and it takes a commitment from both sides."
There are two parts to National Debt Relief's work. The first is helping clients settle their debts quickly and efficiently. The second half is providing relevant educational content to help consumers better manage their finances and avoid debt. To bolster that component, National Debt Relief is expanding its financial literacy program and client portal so consumers can see how they're performing in the settlement program and what they can expect.
"We're optimizing that portal experience to include more content and functionality that will provide insight into where they are in the program," Eckert said. "The portal provides insights into how to get through the program faster, what to expect next, and gives them financial literacy content."
National Debt Relief offers a personalized, effective solution for consumers who are struggling to pay down debt, don't qualify for a consolidation loan, and need an alternative to bankruptcy. Through debt settlement, borrowers can eliminate debt quickly and efficiently while learning how to manage their money and avoid debt.
"We want to be a one-stop shop to help all clients gain the financial independence they seek," Eckert said.
Advertiser Disclosure
BadCredit.org is a free online resource that offers valuable content and comparison services to users. To keep this resource 100% free for users, we receive advertising compensation from the financial products listed on this page. Along with key review factors, this compensation may impact how and where products appear on the page (including, for example, the order in which they appear). BadCredit.org does not include listings for all financial products.
Our Editorial Review Policy
Our site is committed to publishing independent, accurate content guided by strict editorial guidelines. Before articles and reviews are published on our site, they undergo a thorough review process performed by a team of independent editors and subject-matter experts to ensure the content's accuracy, timeliness, and impartiality. Our editorial team is separate and independent of our site's advertisers, and the opinions they express on our site are their own. To read more about our team members and their editorial backgrounds, please visit our site's About page.