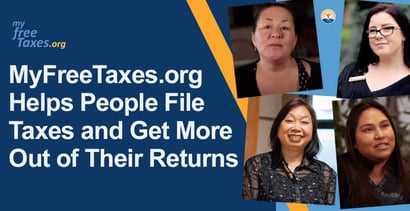 Experts share their tips and advice on BadCredit.org, with the goal of helping subprime consumers. Our articles follow strict
editorial guidelines
.
In a Nutshell: MyFreeTaxes.org is a free tax filing site run by United Ways of California. The site helps people in California file their taxes for free with the goal of maximizing tax returns. Through the site, people can choose from three free filing options — which include in-person help, virtual help, or self-filing. The organization's website also offers guides, tutorials, and videos that help educate people on the tax filing process.
Tax season is stressful for everybody in America, no matter your income level. Tax filers face tons of complicated forms and boxes to check. And every number needs to be exact to ensure you avoid those pesky IRS penalty fees.
Every year, people spend hundreds of dollars to have a tax preparer do their return. However, even paid preparers can make mistakes. According to a report from Cal Policy lab, 92% of CalFresh enrollees who failed to get the California Earned Income Tax Credit had hired a preparer. Those mistakes lead to missing out on huge tax returns, which can be devastating for the many households living paycheck to paycheck.
"This is why we want to make services like VITA (Volunteer Income Tax Assistance) available to more people," said Mandy Nand, the Economic Mobility Program Manager of United Ways of California, which runs MyFreeTaxes.org. "VITA volunteers are certified and trained by the IRS. They are trained to access every single tax credit you qualify for, ensuring that you maximize your refund."
In 2022, United Way partners across California helped save $27 million in preparer fees. That's $27 million that went back into people's pockets, rather than to a paid preparer. One of the people they helped was Cindy, a single mother in Northern California. Cindy worked full-time as a medical receptionist, but still struggled to support herself and her three daughters. This left Cindy unable to secure affordable housing–a situation far too many working Californians face–which meant Cindy and her family had to go to a homeless shelter.
Cindy was able to use MyFreeTaxes.org to find a VITA site near her. After completing her return, she received the best news she'd heard in a while. The government was returning $14,000 to Cindy. That money represents shelter, food, and most importantly, a future for her family.

"$14,000 can do a lot for Cindy and her three daughters," said Mandy Nand "They got into stable housing, and she was able to get a car, so she could get to her job every day. That amount of money really changes your life."
"We know the best way to get families out of poverty is by getting cash into their pocket," Nand continued. "It's life-changing money. This isn't just a couple hundred dollars, a lot of these families are getting $10,000 or more back into their pocket."
According to United Ways California's Real Cost Measure report, nearly 1 in 3 California households do not make enough money to meet their basic needs. Of those households, 97% have at least one working adult.
"This means that just because you have job security, it doesn't necessarily mean that you have financial security," says Nand.
Even with a working adult in the household, families can fall into the same trap that Cindy did. Tax returns can play a critical role in determining whether a family keeps their home.
Offering Three Different Filing Options
MyFreeTaxes.org believes people should not have to pay a preparer to do their taxes correctly. The website offers three different tax filing options to provide Californians the most flexibility in doing their taxes.
MyFreeTaxes.org's self-service tax filing has no income limits and is a great option for those who want to do their taxes on their own. Even if you're a first-time self-filer, MyFreeTaxes.org has guides and videos that help walk people through the self-filing process. These videos are available in English, Spanish, and ASL.

MyFreeTaxes.org's File With Virtual Help option connects VITA volunteers with tax filers to help them do their taxes online. Filers upload documents, and the volunteer looks over them and helps them complete their return.
The website's most popular option is the in-person help it offers. Tax filers can schedule appointments with United Way partners across California to get personalized help from an IRS-certified VITA volunteer.
"In-person help is our most common option because we work with you. We have partners all across the state that can help you file your taxes for free. Some even have different languages available, or can help you complete your ITIN application," Nand said. "We really don't want people paying tax preparers to get their taxes done. We want people to know that this money belongs to you, you earned this money. It's money that we don't want you to give to somebody else – you deserve 100% of that refund."
Guiding Families Before and After the Process
MyFreeTaxes.org offers a wide range of resources to help people during the tax filing process. Since virtual filing and self-filing are available to everyone, these resources can be accessed by filers across the US and not just by Californians.
There are also materials in the Resource Hub that are helpful to anyone, regardless of the state they live in. These include a tax prep checklist, a tax terminology guide, an ITIN guide as well as guides that feature step-by-step instructions on online tax filing.
Watch on
Even after the tax filing process, there are a variety of ways that United Ways California is helping families become financially stable. This includes helping people better understand what public benefits they qualify for.
They can start this process anonymously by texting the word BENEFITS to 211211. In just five minutes people will be screened for 18 different public benefits including SNAP, CalFresh, and MediCal.
The organization's tools can also help people get affordable health insurance, SNAP benefits, and access to other government programs. MyFreeTaxes.org will also help people open a checking account and help undocumented students apply for college.
Calling for Volunteers to Help the Operation
MyFreeTaxes.org's biggest challenge is recruiting volunteers who want to help people. VITA services are only available as long as there are volunteers there to serve them. The organization said that come March, there won't be a lot of available volunteers, and families will have to go with other routes when it comes to filing taxes.
Unfortunately, barriers like language and access to broadband internet make it difficult for people to access MyFreeTaxes.org's other services like self-filing or virtual help. This usually leads to families paying for a tax preparer even though they qualify for free tax prep.

"We are always recruiting more VITA volunteers," says Nand. "They play a critical role in helping us help people access free tax preparation services. The best part is, they don't need to have extensive tax experience to help."
United Way volunteers receive IRS certification and go through IRS training so they understand tax forms. There are checks and balances to help verify information at different levels throughout the filing process to limit mistakes.
MyFreeTaxes.org has nearly two dozen partners that go into communities to do tax prep and education and outreach work. The partners work in specific neighborhoods to help them prepare for tax season early.
"We help connect people with partners across the state. People can volunteer in person or virtually —depending on what they prefer. All they have to do to get started is text the word VOLUNTEER to 211211."
The organization said it recruits volunteers around August and September, so they can receive hands-on training from the VITA tax site. MyFreeTaxes.org is also looking for virtual volunteers for their File With Virtual Help option. These volunteers do not need to be tax experts to help out.
MyFreeTaxes.org said its biggest goal is to get more people to volunteer and to have more community organizations aligned with the work United Way does.
Things to Keep In Mind This Year
To eliminate the bottlenecks that happen late in the tax season, the website recommends preparing and filing early. The organization recommends that you begin gathering your documents in December and January, so you can start the filing process before the mad rush in March.
That is especially important for those who want to go to an in-person VITA site. Appointments are more readily available early in the year and are likely to fill up by mid-March.
Most importantly, don't let misconceptions stop you from filing your taxes and getting credits that belong to you. Even those without a filing requirement are encouraged to file their taxes. Tax credits like the Earned Income Tax Credit, California Earned Income Tax Credit and Child Tax Credit only require $1 in earned income. So you don't have to make a lot to qualify.
"There's a United Way in every county in California," Nand said. "There are people out there that can help you and assist you whenever you have questions, or you're feeling unsure about the process."