Experts share their tips and advice on BadCredit.org, with the goal of helping subprime consumers. Our articles follow strict
editorial guidelines
.
In a Nutshell: The McCoy College of Business at Texas State University wants undergraduate and graduate students to know they have a place at an institution that considers their diverse needs. Each year, McCoy awards more than $500,000 in scholarships — many of which incorporate a financial component — to worthy students. McCoy scholarships also acknowledge nontraditional degree paths, and awardees often establish lasting professional relationships with donors. Plus, the BOSS scholarship portal at Texas State requires prospective students to submit a single application for more than 100 McCoy opportunities. McCoy College is an exemplary business education institution committed to preparing new generations for leadership.
Attending a top business college or graduate school may seem a distant prospect for students who, for different reasons, follow a nontypical path toward higher education — even when they know they have the talent and maturity to succeed.
While plenty of business-minded students routinely progress from high school to college and even a graduate degree, those with nontraditional resumes or slightly less than stellar (but still excellent) academic records may consider themselves underqualified.
Moreover, higher education is an investment with an uncertain outcome. Many prospective business students who face financial obstacles may lack the confidence to take on a student loan.
Obstacles to higher education (psychological and otherwise) relegate many deserving individuals to status-quo lifestyles. But when high-performing, ambitious students consider what the McCoy College of Business at Texas State University has to offer, many feel the team and teachers there have known them all along.


That's because McCoy College, housed on Texas State's main campus in the beautiful city of San Marcos, is building a business-school experience that acknowledges and respects the diverse paths to higher education and career building that degree-seeking students are on.
It offers convenient access to more than 100 scholarships through Texas State's Bobcat Online Scholarship System (BOSS) to help supplement or replace financial aid. It seeks deserving students with the highest career aspirations and potential to join its community of leaders.
Part of the school's commitment to incoming students is opening a Student Success Center in Fall 2023 as a nexus for community and professional preparation at McCoy.
"Our purpose is to prepare the students of Texas and beyond for successful careers in the marketplace," said Dr. David Wierschem, McCoy's Associate Dean for Undergraduate Programs. "The new center will focus on career services and advising, academic success, and professional development to cover the entire student lifecycle."
BOSS Takes the Guesswork Out of Scholarships
BOSS is Texas State's creative solution to a common problem in higher education: the lack of awareness among student applicants about how much financial support is available. McCoy College intends to use BOSS to find a deserving student for every scholarship dollar the school's generous donor community generates. All McCoy scholarships pass through the portal.
"BOSS makes it easy to find opportunities targeted to specific high schools, cities, and counties," Dr. Wierschem said. "For fall, we're disbursing about 180 awards to students totaling more than $500,000."
McCoy is primarily an in-state institution, but out-of-state and international cohorts are growing, with Texas State making a concerted effort to attract international students. McCoy's Dean, Dr. Sanjay Ramchander, was raised in Hyderabad, India. McCoy strives to offer students from all walks of life financial opportunities made possible through donors and endowments.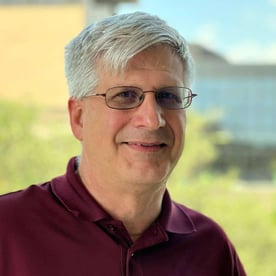 The point of offering a scholarship is to reward and encourage academic success, but about 40% of McCoy scholarships incorporate a financial component. One targets mothers with business-school aspirations. Several scholarships are military-focused to support former active-duty servicemen and women or their family members.
Working with the dean and donors, McCoy seeks to broaden its scholarship opportunities to acknowledge and accommodate first-generation, first-time, and transfer students and those with diverse needs.
Applicants only input credentials through BOSS once, and the system automatically matches them with every scholarship they qualify for. Dr. Wierschem said the number of scholarships McCoy offers continues to grow, expanding the school's outreach beyond its environs. Texas is a surprisingly diverse state, and Texas State's demographics mirror that of Texas.
"We'll always have merit awards to support outstanding scholars, but we also recognize many students work or have other responsibilities," Dr. Wierschem said. "We want to provide opportunities across the student spectrum."
Build Relationships and Mentorships with Donors
One scholarship specifically supports students with grades below a certain threshold. It's a testament to McCoy's recognition that the elements of success in business may arise through measures other than grades.
So much success in education and career depends on networking and relationship building. McCoy's approach to scholarships reinforces the fundamentals of community building through relationships and mentorships with peers, instructors, and donors. The idea is that whenever professionals gather and communicate best practices, the resulting synergies benefit them and society.
That reinforcement starts during the scholarship process through thank-you notes the school requires recipients to write to donors. Recipients also attend an awards ceremony with faculty and donors.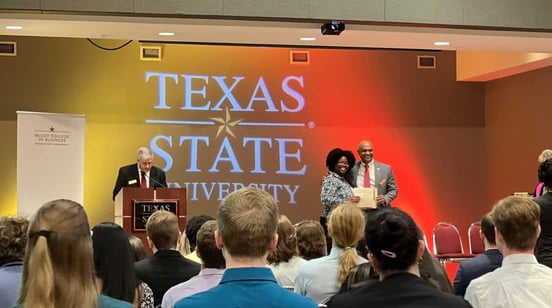 It's a key component of McCoy's approach to student success that recipients show appreciation to those who have provided their opportunity. These priceless networking opportunities reward the student for responsibly and honorably representing the financial donor during the scholarship term.
The ceremony has inspired numerous networking relationships between students and the donors who make their trajectories possible. Many donors are very interested in meeting the students they're helping.
"They'll take them to lunch, stay in contact with them, and sometimes become mentors," Dr. Wierschem said. "It's always great to see those kinds of relationships built."
The ceremony celebrates recipients awarded in the primary awarding period at the beginning of the school year. McCoy also revisits scholarship awards twice yearly to account for recipients who decided not to attend Texas State or have departed. Some automatically renewable scholarships require a yearly reapplication to ensure thank-you notes go out. Automatically renewable scholarships comprise about 20% of the total at McCoy.
"Our donors expect us to serve and benefit students," Dr. Wierschem said. "It's not as easy as some may think to ensure each award has a recipient, but that's always our goal."
McCoy College: A Success-Focused Student Experience
How higher education students handle the ensuing weeks and months in class, researching, and living in the community depends on their skills and resources when they arrive. The opening of the Student Success Center in Fall 2023 signals a greater resolve at McCoy to provide opportunities for students to thrive beyond the campus experience.
The center will encourage collaboration among students, faculty, staff, alums, employers, and industry partners. The center's staff will guide students through the first-year academic transition to career placement and beyond. Dr. Wierschem said he expects workshops offered through the center will have a beneficial impact on student success.
"Many students get into business because they want to make a lot of money, but they don't realize the expectations," he said. "If they're not appropriately prepared to put in the effort, that doesn't bode well for their success."
McCoy's undergraduate business marketing program ranks first in the nation for flexible admissions, according to Intelligent.com. That outlet ranks the school's graduate business marketing program ninth in the nation. McCoy's undergraduate GPA stands at number one among part-time MBA programs in Texas, according to U.S. News & World Report, which also ranks the program 17th in the nation among Hispanic-serving institutions.
About 4,500 students, including 500 graduate students, call McCoy home in a given school year. The Student Success Center aims to accelerate student preparation for academic and career success and a lifetime of leadership and achievement.
The Center is the school's latest effort to ensure student success. Tools and resources offered through the university specifically aimed at student financial success include Bobcat Gold, which offers financial education, coaching, and a student loan portal. In addition, McCoy plans to offer a first-semester introduction to business course for all incoming majors and interested non-majors who want to learn the fundamentals and whether they fit a business career.
"Personal finance is business finance — business finance just has more zeroes," Dr. Wierschem said. "Anything we can do to help our students make better financial decisions will help them succeed even further."