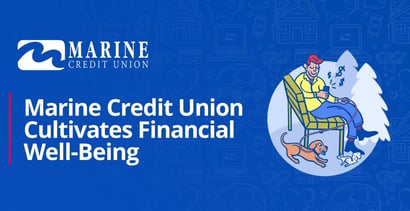 In a Nutshell: Home and auto loans are often out of reach for consumers with low credit scores and little savings. But Marine Credit Union prides itself on helping those underserved populations by teaching them financial skills and delivering valuable products and services. One of its most popular products is the Get Credit loan, which allows members to build savings alongside their credit scores, opening the door to more financial products. Its Finding Home program provides counseling to help members improve their finances and credit standing so they can qualify for homeownership.
Katye and Josh Sargent couldn't qualify for a home loan because they had no savings and little control over their personal finances. They were always behind on their bills, had difficulty budgeting, and their credit scores reflected those issues. For them, the goal of homeownership seemed far out of reach.
But they found some much-needed help at Marine Credit Union. With a bit of assistance and support through Marine Credit Union's philanthropic arm, the MCU Foundation, the Sargents got their financial affairs in order and sketched a road map to buying their own home. Through careful budgeting, they set aside a little money each month and eventually saved enough to qualify for a loan and finally cross the threshold to their new home.
Marine Credit Union operates 19 branch offices in Wisconsin and Iowa and holds $962 million in assets. The oldest credit union in its charter, formed by postal workers in Eau Claire, Wisconsin, dates back to 1931, and its name comes from the Mercury Marine Boaters Credit Union.
These institutions, and all the other credit unions under the Mercury charter, come from diverse backgrounds, and their collective mission is to serve a broad cross-section of the population, particularly those — like Katye and Josh — who have been excluded from the traditional financial system.


"That's what our background's built on — serving the underserved. Even now, as we've become a community chartered credit union, we view that as why we exist," said Adam Keer, Chief Experience Officer at Marine Credit Union.
Marine Credit Union aims to find new ways to grow that benefit both its members and the communities it serves. That includes providing valuable products and services, building financial literacy, and delivering them in efficient ways.
"That's what we're passionate about — improving digital delivery of products and services and financial literacy," Keer said. "That's a significant part of our strategic plan."
Its offerings can help members strengthen their financial situations. Marine Credit Union also conducts philanthropic and volunteer work to ensure individuals and communities have access to the resources they need.
"We spent a lot of time crafting and refining our mission statement, and I think a lot of times that is an economic exercise for companies," Keer said. "Our mission is to advance the lives of people from a place of financial need to a life of ownership and giving back in our communities. That's the real call to action: to advance their lives."
Get Credit Program Helps Members Improve Financial Health and Independence
One example of Marine Credit Union's commitment to serving members and communities is its Get Credit product — a fully digital loan.
Members can provide the necessary information and receive assistance to develop a budget that incorporates savings without ever setting foot in a branch office.
That budget determines the amount of the loan. By making regular payments, members fund a Certificate of Deposit. And the holder can access those funds when the 12-month term is up.
"We've always had a desire to help more people than most banks and credit unions," Keer said. "But in the past couple years, we've said, 'How can we get more aggressive in helping people we, for risk reasons, had to say no to in the past?'
Marine Credit Union reports positive payments on the account to credit bureaus, which can help improve credit scores. Typically, 73% of members see improvement within three months, with an 11-point average increase in credit scores. When the loan matures, a Marine Credit Union representative reaches out to the member with some positive encouragement on their progress.
"Unfortunately, they usually only hear from a lot of financials when they fall behind," Keer said. "We have people reach out and say, 'Hey, you did it. Great job.' That's something we want to enhance and maybe do more of, but that's a big part of the positive encouragement people need."
That personal contact and encouragement help reinforce saving discipline and establish long-lasting, positive financial habits that will benefit members for the rest of their lives.
Consolidation Loans Prioritize Ownership and Equity
Marine Credit Union's most common types of loans are its consolidation loans. And they present an opportunity for the credit union to connect with members, learn more about their goals, and devise ways to help them.
"We always are looking at opportunities to help people get out of debt more quickly," Keer said. "If they're making the minimum payments, we can put that on a term loan and get the debt paid off. And sometimes, it's a tough conversation about how this only works if you're committed to not just running that debt back up again — which we don't control. But we do control the fact that we're willing to have that conversation with our members."
That conversation can have a profound impact on member finances. For example, one loan issued in October 2020 helped a member save $1,200 in monthly payments. To achieve that, Marine Credit Union set up a mortgage consolidation loan and rolled in that member's high-rate unsecured debt. Even with the debt included, the member can pay off the home five years earlier than on the existing schedule.
"It's just the nature of the way we structure things," Keer said. "We aren't interested in packing debt on. We want to make sure we have the right plan for that member."
Marine Credit Union helps members in the short term and the long term by helping them build ownership and equity in property.
"We're balancing this with making sure people are going to end up in the right spot at the end," Keer said. "If you get a 10-year old car, we're not going to do a five-year loan on that. What's going to happen in year four when that car breaks down on you? We're passionate about making sure there's a path to get people to building ownership and equity."
Finding Home Program Prepares First-Time Homebuyers
Marine Credit Union helps members achieve ownership and equity through its Finding Home program. Keer described this as the homeownership version of Get Credit, and it operates through the institution's philanthropic arm, the Marine Credit Union Foundation.
Unlike Get Credit, Finding Home is non-digital. It is instead a very personal and intensive experience. It begins with 12 to 18 months of counseling for members who currently don't qualify for a home loan — even through Marine Credit Union.
Watch on
"We do tend to be more liberal in our approval standards, but there are people we can't help. For those people, we refer them to this program," Keer said. "Over a 12-to-18-month period, they go through intensive counseling sessions with assignments and homework and regular check-ins. That program has helped 11 families become homeowners. People who were not eligible for ownership before eliminated $65,000 in debt, not through consolidation. People paying down collections is part of the program. The average credit score of people in that program has gone up 86 points."
Some members can attend a session or two, receive the professional guidance they need, make some tweaks to their budgets and habits, and quickly become eligible for a loan on the secondary market. But those who complete the full program not only qualify for loans but will have those loans guaranteed by the foundation.
"We guarantee this person's ready to be a homeowner," Keer said.
Marine Credit Union: Building Stronger Communities through Philanthropic Work
For members, the culmination of the Finding Home Program is moving into their dream home. And the Marine Credit Union staff will be there to lend a hand, just as they have been throughout the process. Sometimes, they even help members unpack trucks and move boxes and furniture into their new homes.
"That's a pretty cool ritual I love to experience," Keer said. "To really have our staff see the impact firsthand."
That act is emblematic of Marine Credit Union's philosophy that giving back to the community starts with its staff. The institution encourages employee volunteerism by providing eight hours of paid time off annually to supplement its efforts.
"That's on us to encourage them to go out in the communities," Keer said.
Employees can also make charitable donations through payroll deductions. Each can choose the cause they wish to support, and the money is donated through the Marine Credit Union Foundation.
"That foundation is focused on financial literacy in our communities and also to keep our staff giving," Keer said. "The foundation allows Marine Credit Union employees to select the causes they're passionate about. Our employees are directly involved in deciding where those funds will go in the communities. Things like Humane Society and whatever our staff is passionate about, we're passionate about."
That passion leads to many ideas about how Marine Credit Union can further aid its members and their communities. As of October 2020, Marine Credit Union has lots of projects in the brainstorming stage. One of its major focuses is enhancing products that will establish positive behaviors and lead to better financial outcomes.
Uncertain financial and economic times present an opportunity to rethink products and services, ensuring it always puts member needs first.
Advertiser Disclosure
BadCredit.org is a free online resource that offers valuable content and comparison services to users. To keep this resource 100% free for users, we receive advertising compensation from the financial products listed on this page. Along with key review factors, this compensation may impact how and where products appear on the page (including, for example, the order in which they appear). BadCredit.org does not include listings for all financial products.
Our Editorial Review Policy
Our site is committed to publishing independent, accurate content guided by strict editorial guidelines. Before articles and reviews are published on our site, they undergo a thorough review process performed by a team of independent editors and subject-matter experts to ensure the content's accuracy, timeliness, and impartiality. Our editorial team is separate and independent of our site's advertisers, and the opinions they express on our site are their own. To read more about our team members and their editorial backgrounds, please visit our site's About page.