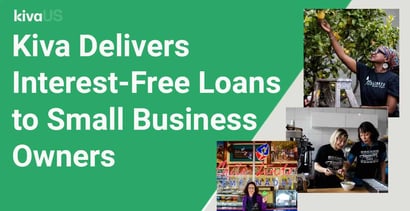 Experts share their tips and advice on BadCredit.org, with the goal of helping subprime consumers. Our articles follow strict
editorial guidelines
.
In a Nutshell: If something sounds too good to be true, then it probably is. Securing a loan with a 0% interest rate and no fees sounds too good to be true for many small businesses. But there's a reason the first sentence of this paragraph contains the word "probably." Kiva uses crowd-lending to link small business owners in the U.S. — who otherwise would not have access to capital — with 0% interest and fee-free financing. Individual lenders and institutional partners fund loans secured through Kiva. Kiva measures its impact by how much it increases borrowers' confidence and business outcomes.
Launching a new business can be a challenging endeavor. A business must be profitable and sustainable for it to survive and grow. Entrepreneurs need to be mindful of issues that can impact their business and flexible enough to address any surprises they encounter along the way. 
Many small business owners require outside capital to help finance their fledgling operations. If a business owner can't secure adequate financing at the outset, the business may fail before it even has a chance to get started.
Kiva is an international nonprofit organization that connects small businesses with microfinancing solutions. Natalia Ibarra is the U.S. Partnerships Manager for Kiva's U.S. program, which started in 2011.

"Kiva was one of the first crowdfunding platforms," Ibarra said. "Our mission is to provide access to capital and affordable financing options to historically marginalized communities. Kiva's really trying to be the first rung of the capital ladder. Our loans are credit-building loans, and we provide interest-free loans with no fees, including late fees."
Ibarra said 30 to 40% of U.S. entrepreneurs lack access to affordable capital. She defined historically marginalized communities in the U.S. as including women, minorities, immigrants, and credit-invisible individuals. The National Credit Union Administration defines credit-invisible people as "consumers whose documented credit history is so limited that they don't have credit scores or their credit scores are not based on a complete history of debt repayment."
Entrepreneurs applying for loans through Kiva can select to opt-in to Kiva's business credit reporting feature, which reports their loan activity to Experian and Dun & Bradstreet, Ibarra said.
"We provide small business owners with a positive financing experience so folks can increase their confidence when it comes to their business," Ibarra said. "Financing can also increase their business outcomes so that they're eligible for larger loans in the future."
Kiva Strives to be the Most Patient Form of Capital Available
Kiva processes thousands of loans each week, Ibarra said. Approximately 70% of Kiva's portfolio comprises small business owners who identify as Black, indigenous, or people of color, said Ibarra. Two-thirds of Kiva's loan recipients are women.
Ibarra said another two-thirds of its portfolio are start-up businesses or businesses that are in their first year of operation.
"The loans we provide access to may not only be someone's first access to financing, but it might also be someone's first journey into entrepreneurship," Ibarra said. "And Kiva, for a number of reasons, is a very appetizing option for them. Because we have zero-percent interest and no fees, it's a less risky way for entrepreneurs to access capital."
Ibarra said the population that Kiva serves is generally more vulnerable to predatory lending, which influences how Kiva manages its collection process.

"Kiva strives to be the most patient type of capital out there," Ibarra explained. "Throughout our process, we want to make sure we're not overburdening anybody. We're very empathetic when it comes to collections. If a business fails, and its owner suddenly has no income, Kiva wants that borrower to prioritize their needs and the needs of their family first."
Kiva believes in social underwriting, a practice that springs from the notion of lending circles. Ibarra said the organization hones in on the idea that, if a business owner's community or customers are willing to lend directly to a business owner, then that business owner has built creditworthiness within the community it operates.
"It's really about having folks vouch on your behalf in the event that you don't have the business revenue, years in business, or credit score to vouch for yourself," Ibarra said.
Hubs Guide Borrowers Toward Success 
Kiva works with community partners and financial inclusion experts who can provide small business owners with technical assistance services and introduce potential borrowers to Kiva. The organization also advises borrowers to work with economic development professionals, who can provide support and help small business owners establish community relationships.
Kiva hosts a network of partners called Kiva hubs that consist of various constituents who are invested in the success of small business owners in their community. Kiva hub participants include business accelerators, city governments, community development financial institutions (CDFIs), and technical assistance providers. 
"There are so many state or federally-funded programs that don't reach all the way down to the communities that they may ultimately want to service," Ibarra said. "Hubs are experts in their community and can link entrepreneurs to funding and other benefits — such as accelerator programs that can provide educational assistance, one-on-one budgeting guidance, or tips to kick-start a new business's operations."

Kiva recently partnered with a third-party impact-measurement organization that conducted Kiva's first thorough impact survey. Kiva assesses its impact on two fronts: 1) Is it producing loans that are going into the hands of Kiva's target demographic? and 2) Does it understand how its loans improved a borrower's situation?
"Business confidence is something we know comes up a lot in marginalized communities," Ibarra said. "We want to make sure we understand where we sit among the folks that are accessing our loans and make sure that their stress levels are decreasing. We're also looking for post-loan outcomes. We learned that 70% of our borrowers reported an improvement in not only their business confidence but in their business income."
Lenders Make a Difference in Entrepreneur Journeys
Kiva provides access to loans that range from $1,000 to $15,000, but there is no limit to the number of times borrowers can apply for a loan through Kiva. Ibarra said the lenders that fund the loans Kiva works with fall into one of two categories. 
The first category includes individual lenders who are passionate about financial inclusion and want to have a stake in an entrepreneur's journey. The second category is composed of institutional partners that match contributions received on Kiva's website. Kiva counts Umpqua Bank and the Coca-Cola Foundation among its lenders.
Ibarra said 300 to 400 people fund each loan Kiva links borrowers to in the U.S. 
"Of those hundreds of lenders, the applicant might personally know 10 or 20 of them," Ibarra said. "And that really is the beauty of Kiva — being so global and having so many millions of lenders that are committed to our cause."
Individuals interested in applying for a loan through Kiva fill out an application to provide their business financial details and create their loan profile. During the loan profile stage of the application, the prospective borrower can upload a photo of themselves and their business. There's also a section for entrepreneurs to tell their personal and business stories and describe how they intend to use the loan.
Once approved, borrowers can send progress updates to those that funded their loan. Borrowers can also market their businesses to lenders and send them coupons and promotional offers for their products and services. Ibarra said this is a promising avenue for small business owners to showcase their business and potentially gain new customers.
"Since 2020, we've seen increased interest in our services among the demographic we serve," Ibarra said. "We've grown since then, and we're very excited to continue our mission."