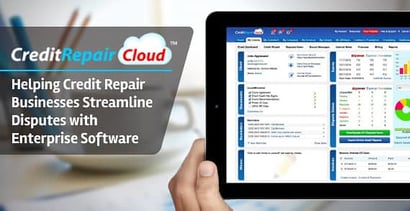 In a Nutshell: In 2012, a decade after creating the world's first credit repair software, Daniel Rosen created a tool for credit repair businesses in Credit Repair Cloud. The cloud-based system can be accessed from any device, which makes it easy to launch, run, manage, and grow a recurring-revenue credit repair business.
Daniel Rosen's life took an unexpected turn when a banking error sent his credit score plummeting.
The bank accidentally reported that the second mortgage he took out on his home was equal to his first mortgage, appearing as though he was much more in debt than he really was. Daniel was able to get the bank to fix the clerical error pretty quickly, but the mistake had a domino effect on his finances, shooting his credit cards up to over 30-percent APR.
Throughout the process of appealing the credit bureaus to get his card rates back down, he became increasingly frustrated that there wasn't a better way than Post-its to keep track of everyone he spoke with and all the details regarding the steps he had to take to repair his credit.
In 2002, Daniel released the world's first credit repair software, Credit-Aid Software, which he developed to help other average Joes who might find themselves in a similar nightmarish credit situation as he did.
A decade and lots of demand later, Daniel brought an extension to market—Credit Repair Cloud—to help professionals, such as mortgage brokers and financial agents, assist clients seeking a solution to their credit problems.
A 2012 Federal Trade Commission study reported one in four people had errors on their credit report, regardless of their score, and while Daniel caught the culprit that caused his problem, most people don't monitor their credit closely enough to do so.
What began as a personal undertaking has helped millions of people to clean up their scores and has become the enterprise solution that now powers most of the credit repair industry.
Credit Repair Cloud—A One-Stop Shop for Credit Repair
It's been almost 15 years since he developed his first piece of software aimed at helping individuals improve their credit, and Daniel has grown his company from a one-man show to a developer-heavy team of 14 to ensure Credit Repair Cloud stays at the forefront of technological advancements.
Credit Repair Cloud emerged in 2012 as an enterprise solution for credit repair businesses. After the wild success of Credit-Aid Software, Daniel received requests for a version to help tax professionals, mortgage brokers, and other financial professionals help repair their clients' credit.

The first cloud-based software of its kind, Credit Repair Cloud imports client's credit reports from all three bureaus and automatically analyzes them to highlight the problem areas to focus on. It even tracks all of that content until a dispute is either approved or denied.
It automates your business with tools to manage your client database, track account updates, and auto-fill dispute letters from its extensive library. Credit Repair Cloud also allows clients to log in to a secure portal stylized with your branding, logo, and company information, where they can learn more about credit and participate in the process.
Credit Repair Cloud also has tools to streamline your sales, to manage your affiliates, to collect automated credit card payments from your clients, and best of all, it can integrate with over 500 popular cloud applications like SalesForce.com, ZOHO, and more.
"The software forces you to be organized and guides you the whole way." said Daniel. "It reduces the work to less than five minutes per month per client." Plus, there are free guides to help you learn and grow your credit repair business, including a "Sample Client" to help you test different functions of the software.
Professionals using Credit Repair Cloud are able to see all the next steps and the status of each action taken in order to stay on top of every dispute thanks to the extremely clean and thoughtful design.
In addition to the tracking and notification systems, Credit Repair Cloud boasts a database of over 100 letters you can use for disputes. Even better, the software helps complete the letter for you with a few clicks. Daniel's YouTube demonstration clocks this task at 34 seconds from start to finish using Credit Repair Cloud, when sorting through credit reports for errors and typing up all the details manually could take much longer.
The Original Brainchild: Credit-Aid Software for Individuals
The software that launched Credit Repair Cloud began as a way for Daniel to manage his own credit repair process. When he debuted Credit-Aid Software in 2002, it was the first system geared toward helping individuals and homeowners take control of the credit repair process.
Once people are successful in repairing their credit individually though, Daniel said they often go on to launch a side gig to help other people with credit problems.
"Here's what happens," Daniel started, "people learn about how credit works, how to repair it, and once they solve their issues, a lightbulb goes off as they realize they can launch a profitable business built around credit repair."
Know the Credit Reporting System to Help Your Client
Fixing credit is mostly about understanding the system, Daniel stressed, so you know what you can and can't dispute.
"It's about looking at the credit report and identifying the errors," said Daniel. "There's almost always errors, which will come off immediately, but it is also possible to have accurate items removed."
This is because many banks and creditors keep sloppy records – or none at all. You can demand proof, on behalf of your client, that an account exists and to ask for the original signatures on the necessary documents.
Daniel outlined some key aspects of credit disputes that he learned doing it himself:
The Fair Credit Reporting Act gives individuals the right to dispute any item on their credit report. If that item cannot be verified, it must be removed, which is the basis of all credit repair.
Gather the necessary identifying documents from your client, such as a government-issued photo ID and a utility bill in their name to ensure speedy replies.
Start with smaller disputes, such as actual clerical errors, and keep your disputes limited to one or two per month, or your claims may be denied for being frivolous.
Credit bureaus have 30 days to respond to disputes, so be patient and understanding if they are able to produce factual records.
Scrutinize each credit reports carefully to make sure credit limits are being reported properly as some banks will intentionally omit the credit limit from the report making it appear as though your client is always maxing out their credit.
While it may not be possible to remove a court record like a bankruptcy, you can definitely remove the delinquent balances that should have been wiped away in the bankruptcy (creditors often don't remove those balances until they are asked to do so).
If the credit bureau reports that a negative item has been "verified," you have a right to demand proof of verification, such as your client's signature accepting responsibility for the debt. In many cases, those records do not exist and the item must be removed.
"Very often they do not have the proper records," Daniel explained the process of requesting details from the bank or creditor. "And very often they break laws when it goes to collections."
All of which makes it more likely you can get something removed from your client's credit report, even if it is accurate. The software Daniel developed helps keep track of all these moving parts so you never miss a beat.
Keeping Credit Repair Simple
Daniel's team of programmers work to add new features to Credit Repair Cloud daily.
The newest item his team has been working on is an automatic credit reports import and analyzation tool that's tied to the credit report providers. The automation will allow more real time actions and responses.
Most countries in the world have adopted America's same credit bureau system, since it creates so much revenue for banks. As a result, Credit Repair Cloud is seeing people all over the world starting credit repair businesses with the software.
"Credit Repair is not only good karma, because it truly helps people, but it is also very profitable," said Daniel. "We have customers on our platform who manage thousands of clients and generate millions of dollars in revenue, so we designed Credit Repair Cloud as an easy way to grow and scale your own recurring-revenue business."
Watch on
With roots as a solution to allow individuals to effectively dispute credit reporting errors, Credit Repair Cloud has grown to be a full-service, cloud-based enterprise ready tool for businesses helping repair client credit issues. Daniel's personal struggle to remove his credit history errors led to the creation of jobs for his 14 employees and the creation and optimization of credit repair companies across the country.
As for Daniel, he is just excited to see the positive changes people are making by taking control of the mysterious credit report – from individuals fixing their own credit history to entrepreneurs who are assisting with their client's credit repair.
Visit CreditRepairCloud.com for a free consultation and for free guides on starting a credit repair business.
Advertiser Disclosure
BadCredit.org is a free online resource that offers valuable content and comparison services to users. To keep this resource 100% free for users, we receive advertising compensation from the financial products listed on this page. Along with key review factors, this compensation may impact how and where products appear on the page (including, for example, the order in which they appear). BadCredit.org does not include listings for all financial products.
Our Editorial Review Policy
Our site is committed to publishing independent, accurate content guided by strict editorial guidelines. Before articles and reviews are published on our site, they undergo a thorough review process performed by a team of independent editors and subject-matter experts to ensure the content's accuracy, timeliness, and impartiality. Our editorial team is separate and independent of our site's advertisers, and the opinions they express on our site are their own. To read more about our team members and their editorial backgrounds, please visit our site's About page.