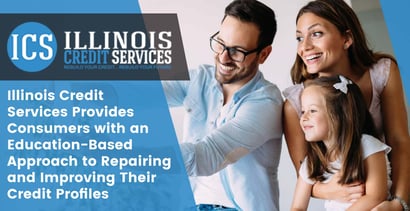 In a Nutshell: Most Americans aren't familiar with the intricacies of credit reporting and scoring, but what they don't know can hurt them. Illinois Credit Services specializes in helping consumers in the Midwest learn about credit and fix errors in their credit histories. In addition to repair services, the company provides educational resources, including its blog and FAQ pages that feature a wealth of free information. By understanding the ins and outs of credit, consumers can equip themselves to manage and improve their scores and gain greater control over their financial situations.
Jim Droske was fresh out of college in 1990 when he began his professional career as the director of finance at a large car dealership. He stayed with the business until 2002 and then decided to transition into the mortgage industry. He remained in the industry for the next eight years, three of which he spent as the owner of his own mortgage company.
But in both sectors, he noticed an unsettling pattern.
"The common denominator was that many people still didn't know how credit worked — even loan officers. People assume that the person pulling their credit report understands it, and that wasn't the case," said Droske, who is now President of Illinois Credit Services. "So I started diving in and learning it. I wanted to help people understand it because there's no education in our society, for the most part, about how credit works."


Droske founded Illinois Credit Services in 2009 with two purposes. The first was to help people repair their bad credit, which can negatively impact their ability to qualify for mortgages, auto loans, insurance, and even employment. Illinois Credit Services' other mission was to teach consumers how credit works and how it can affect their overall financial situation.
The company takes an educational approach to help clients achieve those credit repair goals. It provides many services prevalent in the industry but strives to set itself apart by working toward the goal that each client understands how the process works and the actions taken regarding their credit profile.
"We try to be more transparent and start with education. There's nothing really tricky about credit repair," Droske said. "While the whole credit system is very complex, it's all based on laws and systems and processes. There's nothing magic about it. It's about understanding how the process works, and we explain that to people."
Illinois Credit Services doesn't promise specific results or outcomes. Instead, the company works within federal regulations to remove all erroneous and inaccurate information from client credit reports, which could improve their scores.
Along the way, it provides the knowledge consumers need to understand their credit and improve their financial futures.
Understanding Credit is the First Step Toward Improvement
The first step in repairing bad credit is to know how it functions. Scores are primarily based on reports compiled by the three big agencies: Experian, Equifax, and TransUnion. Although each determines scores in a unique way, they all gather information from collection agencies, lenders, credit card companies, and public records. They use that data to produce a credit profile and sell these reports to anyone legally entitled to the information they contain.
It's important to note that a credit report is not a credit score. A credit report is, instead, the basis of a credit score — but consumers don't have just a single credit score. Many different scores can be calculated based on an individual's information, and each score serves a singular purpose.
"None of the scores are wrong. They're all just opinions based on algorithms designed for a specific purpose. There's only one that matters, and it's the one that you need for whatever you're trying to buy at that moment," Droske said. "If you're trying to get a mortgage, it doesn't matter what the automobile score is, and it doesn't matter what your credit card statement says your FICO score is."
Watch on
Another critical point is that credit scores are not a grade of past performance. Instead, they predict the consumer's future repayment behavior — specifically, a FICO score predicts the likelihood that he or she will become 90 days (or more) delinquent on any credit obligation within the next 24 months. Knowing this helps lenders make educated evaluations of a borrower's risk.
Finally, consumers must remember that all of the information in their credit report comes from third parties, and mistakes can happen during reporting and recording. In 1970, the federal government passed the Fair Credit Reporting Act, which provides consumers the right to correct inaccuracies in credit reporting. This legislation grants every person the ability to ask questions about their credit report and dispute incorrect information.
Although the burden of proof is on the reporter, it is nonetheless the consumer's responsibility to review their credit history and raise red flags on questionable information. Illinois Credit Services helps consumers understand, review, and contest this information to work toward a more accurate credit report and improved credit scores.
ICS Assists Clients Throughout the Repair Process
The first step toward credit repair is requesting an enrollment packet on the Illinois Credit Services website. It then delivers an enrollment packet via DocuSign, which may be completed on a smartphone or other device. Once that packet is submitted, a representative verifies enrollment, answers questions, and collects any additional information.
The next step is obtaining copies of all three credit reports and supplying them to Illinois Credit Services, which analyzes the information. It identifies every item that negatively impacts the consumer's credit profile and compiles them into a dispute disclosure. The client may then select each item that is erroneous, unverifiable, or outdated — all of which can be disputed.
Illinois Credit Services prepares a personalized plan to repair each client's credit. This could include sending validation letters or cease-and-desist letters to debt collectors when applicable. There are no upfront fees. Within 14 days, it drafts and mails letters to the credit bureaus or creditors to dispute incorrect information.
Those companies are legally obligated to conduct internal investigations and respond to the client within 30 days. Illinois Credit Services reviews all communications provided by the client that they receive from the bureaus and creditors as well as the updated credit reports and, if necessary, files additional disputes.
Clients pay no up-front fees, and Illinois Credit Services does not charge per dispute; flat fees cover all services rendered. For online enrollment through its website, the service costs $139 for the first 14 days and $99 per month afterward. Adding a second person's credit reports costs an additional $50 for the first 14 days and another $50 per month thereafter.
Clients pay month to month, and Illinois Credit Services does not charge cancellation fees. That means consumers can cancel the service whenever they're satisfied with the improvement in their credit profile.
Educational Resources Empower Consumers to Take Control of Their Finances
Education is at the heart of Illinois Credit Services' mission. Clients learn about credit through their interactions with the company's representatives as well as access to additional information through a variety of channels. Clients can check their dispute status at any time via the company's online portal, and clients can contact the processing team to get answers to questions that may arise.
Illinois Credit Services also guides consumers on building good credit beyond improving it through the repair process. It supplies additional information and news through its website and blog.
Its FAQ page addresses concerns about the credit repair process such as costs, results, selecting a service, and how credit repair works, among other topics. Although it is meant primarily to help consumers orient themselves when considering credit repair services, its explanations also furnish useful information about credit reporting, scoring, and related topics.
The Illinois Credit Services blog features a mix of text and audio content. It covers topics related to credit and credit repair, including managing and raising your credit score, the impact of your credit profile on other areas of life, and how to protect yourself from identity theft and fraud.
These resources are particularly useful to consumers considering credit repair or actively seeking to find a credit repair service. They also provide an accessible way for concerned consumers to find information on improving and managing their credit.
ICS Emphasizes Attention and Active Management
When Droske realized just how rampant the lack of credit knowledge was, he decided to do something about it. And since he founded Illinois Credit Services, he's been on a mission to educate consumers about their credit history and how it can affect their future.
Illinois Credit Services is a client-focused company, and representatives contact clients every two to three weeks to check in.
And for all consumers — whether they're seeking credit repair services or not — Droske has one key piece of advice:
"The best thing that anybody can do is not to ignore their credit," he said. "Credit is a ride we're all stuck on. We can't get off of it. It's either going to help us, or it's going to hurt us. Get your credit in control as early as possible; then it's there for you when you need it."
But before you can maintain or improve your credit score, you have to understand how the process works. With that knowledge, consumers can better control their situations and work to establish a strong financial foundation for the future.
Advertiser Disclosure
BadCredit.org is a free online resource that offers valuable content and comparison services to users. To keep this resource 100% free for users, we receive advertising compensation from the financial products listed on this page. Along with key review factors, this compensation may impact how and where products appear on the page (including, for example, the order in which they appear). BadCredit.org does not include listings for all financial products.
Our Editorial Review Policy
Our site is committed to publishing independent, accurate content guided by strict editorial guidelines. Before articles and reviews are published on our site, they undergo a thorough review process performed by a team of independent editors and subject-matter experts to ensure the content's accuracy, timeliness, and impartiality. Our editorial team is separate and independent of our site's advertisers, and the opinions they express on our site are their own. To read more about our team members and their editorial backgrounds, please visit our site's About page.