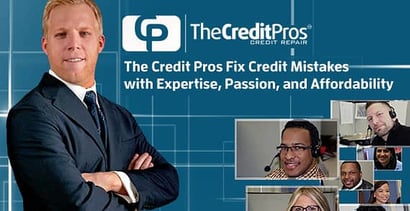 In a Nutshell: The Credit Pros is in the business of credit repair for individuals and businesses. With one-on-one consultations and a pay-per-deletion model, these services personalize assistance for anyone seeking to rid themselves of mistakes on their credit report. The company's president and founder, Jason Kaplan, knows that bad credit isn't always the fault of the consumer, and so he works the system to right credit wrongs for his clients. The Credit Pros team is passionate about getting you financially fit to take on the world.
The morning sun peeks over the New York City skyline as Jason Kaplan heads to work, newspaper tucked under his arm. While on the train from Manhattan to Newark, he buries his head in today's newspaper.
More often than not, he finds financial problems splashed across the headlines. He reads stories about how Americans are struggling to build or improve credit and how it's taking a toll on the overall economy. Credit-related issues abound because the system is tedious, arduous, and not made for consumers to handle easily.
In his credit repair business and his daily commute, Jason sees how credit problems can burden everyday people — sometimes through no fault of their own.
After his 20-minute train ride, he goes to work fired up to fight back on behalf of those neglected by an unfeeling system.
"It's very important to me, with my law background, to be an advocate for someone who is unable to get something accomplished," he says. "And especially being an advocate for someone who is being wronged in an obvious way with incorrect, outdated, or erroneous information on a credit report."
This drive spurred him to found The Credit Pros in February 2009. Ever growing, his business repairs credit errors for customers in 45 states. With affordable plans, his service encourages financial well-being for everyone.
Filling a Need, Jason Began Using the Law to Fix Credit
Jason is the founder, President, and Corporate Counsel of The Credit Pros, but once he was just a lawyer partnering with a real-estate agent in Florida to fill a building with tenants.
"Damon and I were in the real-estate business," Jason says, "and we couldn't get the loans closed for our buyers."
Rolling up his lawyer sleeves, he decided to take on this obstacle himself. He figured out what credit mistakes were standing in the way of his buyers and helped with fixes so that they could get a loan.
Through word of mouth, more people soon started coming to this dynamic duo for credit help. "The people came calling," he says with a laugh. After a few different requests for consultations and assistance, the pair realized they had an opportunity to truly make a difference in the lives of average Americans.
"We put a couple ads on Craigslist, and that's what turned into our lifelong endeavor," he recalls. The business began from a need to close deals but ended up on a mission to educate and assist. "It was absolute necessity," he says about those early days.
From a two-man team, The Credit Pros has expanded to about 55 employees today. Continuing to grow every single day, this team never stops working hard to get clients into good financial shape.
"It all just completely grew organically," the founder comments. He traces the beginning to popular demand, saying, "It was the voice of the people."
Proactive and Reactive: a Two-Way Street Toward Greater Financial Fitness
The Credit Pros recognized the prevalence of credit issues and resolved to make a program that was affordable and useful.
Within four days of signing up, clients will be taken through a one-on-one consultation and credit audit. An account representative sits down with clients and goes over the credit report line by line, explaining what each item means and what they can do to fix it. This in-depth analysis is greatly helpful to anyone mystified by the credit world.
Such a personalized credit assessment caters to the different needs, educational levels, and goals of individuals. However, the Credit Pros also take a broad approach, educating people on what credit is, how it can affect them, and what the credit repair team can do to help.
"We block out about 45 minutes of time for each consultation," Jason tells us. "If someone keeps their mind open to it, the breadth of knowledge in my office is tremendous."
In a two-tiered approach, credit experts offer proactive tips to change scores (even things the client can do on their own) as well as reactive measures that use the law to challenge negative items. Credit scores then go up through a combination of responsible client behavior and aggressive credit repair actions taken by the company.
This program is not a credit cleanse that totally fixes your credit score overnight. Jason talks about resetting expectations on how the credit system works and just how much can be done in the short-term.
The Credit Pros helps clients make reasonable goals that can be reached and worked toward through particular actions by the client and the credit-repair program.
Upfront Payment and Flexible Service, Guaranteed to Work
By law, credit repair organizations cannot charge for services until after they've been rendered. Most companies translate this into a monthly payment system that lassos customers into a fixed rate, no matter what services they actually receive.
The Credit Pros strive to be more flexible than that, with a unique payment plan. For all services, clients pay a one-time fee and then an additional fee for every item deletion the team is able to make.
"We only bill them for items that get deleted off the credit report. That's it."
Aside from the consultation fee, clients can choose from a pay-per-deletion model, or pay a flat fee for an unlimited amount of items challenged.
Every 30 to 45 days, a team member will get in touch to share the progress being made on the credit report. While this approach is more labor-intensive for the team, it's much more convenient for the customer.
The Credit Pros choose to operate on a pay-per-deletion model because it helps customers who are already sensitive about their finances. Jason isn't in business to take advantage of these people, but get them out of their troubles.
"My clients will see results in the first month or so," he promises. "If they don't see items coming off their credit reports in the first 90 days, then I'm going to give them their money back."
He's adamant about running an affordable service that's effective and trustworthy. The money-back guarantee isn't there to simply pay lip service to customer satisfaction. It's there to ensure that a customer's faith in the The Credit Pros isn't misplaced.
"I'm happy to give money back if ever the circumstance presents itself," Jason says.
Additional Features Assist, Bolster, and Educate Clients
From its services to its website, The Credit Pros makes help always available. A Live Chat function is accessible 24/7 online. In the Client Portal, clients can also look at their credit reports, make changes, and upload relevant documentation. The system is completely transparent and easily navigated.
An online learning center engages clients in the process. Jason says a wealth of information is made available "to make sure that [our clients] are getting as much involvement as they can out of our system — rather than just sitting there and twiddling their thumbs."
On The Credit Pros blog, a range of credit topics cover a robust variety of needs. Credit issues are diluted down into layman's terms with concrete examples showing how credit issues relate to everyday life.
"The resources of information is dramatic and extensive over all items," he says, "because if someone has a bad credit score it's usually a symptom of a larger problem that they have."
Going beyond typical credit repair services, The Credit Pros also offers credit assistance for businesses in need of credit or funding.
The Credit Pros team even helps get businesses to creditworthiness with step-by-step actions. "[The program] walks you through those steps, and ideal actions you want to take," Jason says.
Even basic steps like having a business email makes a difference when applying for credit. This team has the expertise to give proper advisements and suggestions.
In all aspects of its business, the Credit Pros removes the frustration and confusion from credit repair, addressing the client's credit report with experience, patience, and dedication. This team creates a seamless process rife with knowledgeable advice and educative information about credit.
Founders Focus on Customer Support from Start to Finish
"My favorite thing is dealing with my clients every day," Jason says. He knows how vulnerable some people can be to a system that wasn't built for them, and he values his team's ability to make change for the better.
"The way the system is set up — the American consumer is not the customer for credit bureaus," he says. "We're not the customer, we're the product, unfortunately. Their customers are banks, lenders, and creditors."
Bureaus and collectors are required to work with consumers by law, but the law doesn't demand that the system be easy and user-friendly. That's why The Credit Pros steps in to deal with the intricate, time-consuming process on behalf of their customers.
Oftentimes, it's more than a simple matter of financial health, because credit mistakes negatively affect the self-esteem and stress levels of individuals. It's all the worse when it isn't even their fault. The Credit Pros treats its customers with respect and rids them of the shame of bad credit.
"Mistakes are going to happen, but the process is not built to be easy to fix those," the founder says. "So they need an advocate like me."
Final Thoughts
Jason Kaplan certainly got into the credit repair business for the right reasons. "I like helping people," he says. "I like seeing victory."
Victory to him is engaging, informing, and assisting people so that they walk away satisfied and able to tackle the financial world themselves. Victory is the client becoming a credit pro too.
Whether it be lack of discipline or knowledge, Jason aims at the root of credit problems. The credit report is just the symptom, he maintains. "I want to give them medicine to fix the problem itself."
The Credit Pros repair credit but also educate and advise clients along the way. Through consultations, proactive solutions, and time-tested experience dealing with the system, this service gets you back up on your feet.
"Through the process, if they engage themselves, they can leave my program, not only with the credit improvements that they wanted, but with the ability to be financially fit."
Advertiser Disclosure
BadCredit.org is a free online resource that offers valuable content and comparison services to users. To keep this resource 100% free for users, we receive advertising compensation from the financial products listed on this page. Along with key review factors, this compensation may impact how and where products appear on the page (including, for example, the order in which they appear). BadCredit.org does not include listings for all financial products.
Our Editorial Review Policy
Our site is committed to publishing independent, accurate content guided by strict editorial guidelines. Before articles and reviews are published on our site, they undergo a thorough review process performed by a team of independent editors and subject-matter experts to ensure the content's accuracy, timeliness, and impartiality. Our editorial team is separate and independent of our site's advertisers, and the opinions they express on our site are their own. To read more about our team members and their editorial backgrounds, please visit our site's About page.