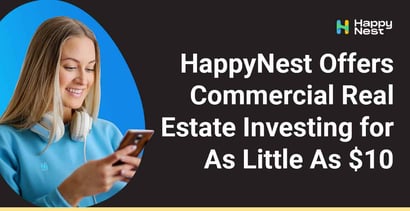 Experts share their tips and advice on BadCredit.org, with the goal of helping subprime consumers. Our articles follow strict
editorial guidelines
.
In a Nutshell: As the real estate investment marketplace evolves through digital transformation, HappyNest helps everyday consumers get involved for as little as a $10 investment. HappyNest focuses its portfolio on commercial real estate with financially strong single tenants to deliver a balance of stable cash distributions and asset appreciation. The HappyNest app includes a roundup feature to automatically invest loose change from card transactions. Founded by a military veteran, HappyNest welcomes new investors, including veterans, who may feel unsure about participating by emphasizing financial education beyond investing to all aspects of money management.
Investing is more accessible to everyday consumers than ever, with apps and platforms frequently entering the market and news bubbling up about investment crazes such as crypto, NFTs, and meme stocks. For folks interested in getting in on the ground floor with investing, there's so much choice that it's hard to figure out which opportunities are sound and which are too good to be true.
After all, it's one thing for a professional investor or broker to perform the necessary due diligence to experiment with new products and strategies on behalf of wealthy clients. It's quite another for an average person, perhaps someone with a family and home to protect, to find a path to wealth building through investment.
But if you know anything about the power of compound interest, you understand the potential financial benefits of investing. Although the stock market historically performs well, building a diversified portfolio with alternative instruments in addition to stocks is the soundest strategy to stabilize your returns and protect your assets.

That makes HappyNest an ideal platform for new investors because it focuses on commercial real estate, the most prevalent alternative investment instrument.
Investors place as little as $10 into HappyNest's real estate investment trust (commonly known as a REIT), composed of commercial properties carefully selected to stand the test of time. The team concentrates on commercial properties leased to creditworthy tenants — companies with excellent financial outlooks, solid balance sheets, and great management.
Since its launch in 2020, HappyNest has paid investors a 6% annual dividend. Co-Founder and CEO Jesse Prince said HappyNest is for people who forgo the get-rich-quick mentality and take a longer-term view of wealth building.
"We're not a stock you trade in and out of," Prince said. "The best way to benefit from compound interest is to contribute to your portfolio and reinvest your dividends continuously."
Welcoming New and Inexperienced Investors
Prince chose the REIT strategy for HappyNest because the firm, not the investor, is responsible for performing the due diligence to bring new properties into the fold. That removes much of the analysis paralysis that can prevent potential investors from getting started.
Prince said he takes a quality-over-yield approach to underwrite potential new properties conservatively. And he puts an independent team of directors with a fiduciary responsibility to investors in charge of admitting them into the portfolio.

Prince said there are many opportunities in the market for people to invest in individual assets. He said because HappyNest's target audience is new and inexperienced investors, it's far better to make professionals responsible for portfolio quality than for households to take on that task.
"Our directors are disinterested parties compensated if the fund does well," Prince said. "We take a super-conservative approach and typically either or exceed our projections."
Real estate ranges from apartments and single-family homes to the Empire State Building, and HappyNest's decision to concentrate on commercial properties plays into that strategy. Although the firm focuses on properties with solid single tenants, it has diversified into a few multifamily properties in growth markets.
But unlike many other platforms, HappyNest steadfastly avoids offering single-family homes because Prince said he considers recent investor moves into the single-family market antithetical to the American Dream of homeownership.
"There are a lot of companies out there that will sell you an investment in single-family homes," Prince said. "But institutional investing in single-family homes pushes that American Dream further out of reach, so we focus exclusively on commercial real estate and avoid the single-family market altogether."
Prince said he is proud to tap into a network of industry professionals, many from his days as a real estate student at New York University, who bring solid properties to his attention. They're happy to work with him.
"If you stand by your word and do the right thing, that opens doors," Prince said. "If you're good to people, they're typically good to you and will expose you to opportunities."
Learn and Grow as a Market and Money Manager
That values-based approach first manifested during Prince's military career. He graduated from West Point in 2004 and served six years on active duty, including two combat tours in Iraq, where he commanded 120 soldiers.
"I'm proud to say I brought all those guys home," Prince said.
But like many former military members, Prince was at a loss financially when he left the service. He had grown used to receiving a paycheck on the first and 15th of the month while the army took care of housing and food. He was frequently out in the field, so he didn't spend much money.
"I didn't know what I was doing with my finances other than collecting a paycheck," Prince said.

He decided to move into real estate after seeing friends succeed with it. After he received his master's in real estate finance from New York University, he landed with an investment firm, but serving the wealthy wasn't in his DNA.
HappyNest arose as Prince's concerted effort to bring the benefits of investing to individuals and households where wealth building was considerably more challenging. Prince decided to set the minimum investment amount at $10 because there was a point in his history where that was all he had to spend.
Prince's history of learning and grinding to lift himself informs HappyNest's commitment to financial education. HappyNest's learning portal covers real estate investing fundamentals, personal finance, and current economic trends to give those new to investing context to understand the HappyNest value proposition. Users who join the HappyNest mailing list receive Prince's Definitive Guide to Investing in Real Estate.
But Prince cautions new investors to do their homework and make their choices independently.
"It's our responsibility to provide accurate and educational information," Prince said. "But don't listen to someone like me — learn the fundamentals to understand which opportunities are awesome and which aren't."
Value-Driven Investments to Achieve Financial Goals
It should go without saying that HappyNest takes security extremely seriously. But in an age where data breaches and losses are endemic, it's vital to acknowledge HappyNest's use of bank-level 256-bit SSL encryption and trusted third-party providers to handle application connections.
HappyNest also maintains an ironclad commitment to customer support, allowing users to speak directly with live investor advocates. Copious online resources and email support round out the platform's support offering. Transparency and respect for the trust investors place in HappyNest result in excellent customer satisfaction and growing investor involvement.
The platform also offers prominent customer convenience features, including auto-investments and a round-up feature that links a credit or debit card and invests loose change generated during transactions.
With a lockout period of six months, HappyNest isn't for real estate flippers or others looking for quick returns. Although nothing is certain in investing, these customer convenience features mesh with HappyNest's goal to provide new and inexperienced investors with a secure platform designed to produce reasonable returns over time.
2023 has been a year of downturns in commercial real estate, and Prince said it's an excellent time to find value in the asset class, and that's what his team is busy doing. He said it's times like these, with inflation and higher interest rates reinforcing downturns inspired by changing work patterns, that produce future investment heroes. In other words, now's the time to put funds to work so HappyNest can go out there and find that value.
Prince hopes veterans like himself will come to the platform. He understands the financial and other challenges returning veterans face and wants HappyNest to be a source of help. HappyNest has a social impact goal of donating 10% of profits to support mental health services for veterans and eradicate veteran homelessness.
"In transitioning to civilian life, some of them are experiencing the same things I did, and I'm going to try to help them avoid that," Prince said.