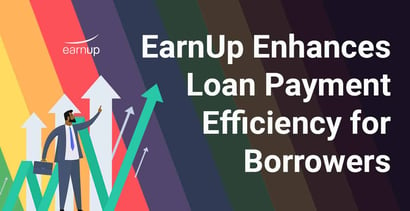 Experts share their tips and advice on BadCredit.org, with the goal of helping subprime consumers. Our articles follow strict
editorial guidelines
.
In a Nutshell: Many American homeowners may feel saddled with interest that compounds over years and decades, costing them far more than the loan's principal. For a decade, EarnUp has offered tools that help borrowers pay off their loans more quickly and with less interest in the last decade of the term. While the company focuses primarily on decreasing consumer mortgage debt, it has also developed products to help efficiently pay down other debt, including student loans, credit cards, and auto loans. 
In recent years, the cost of everything from food to mortgage payments have been punishing for many Americans. Some 32% of American consumers — more than a year ago — say they run out of money between every paycheck, according to Nadim Homsany, CEO and Co-Founder of the loan repayment company EarnUp. This is even more likely to be true for women and minority populations. 
"Over the past year, 43% of employees have depleted more than half of their savings, with 29% completely depleting all of their savings," he told us. 

As cash-strapped Americans look for ways to lower expenses, more homeowners turn to EarnUp to realize long-term savings. 
The company's value proposition is that "the power of three builds equity." Many Americans receive a paycheck every two weeks, which comes out to three paychecks over two months in a year. EarnUp's Payday to Payday® Auto Accelerator program allows them to easily leverage those paychecks to pay down their loans more quickly. 
The financial challenges of the last few years have spurred the company to develop new partnerships with banks, employers, and individuals to encourage more people to use EarnUp. Most clients use the service for mortgage loans, but they can also pay back auto loans, credit cards, and student loans using the company's tools. 
EarnUp partners with service-oriented financial lenders and institutions to provide borrowers with solutions to personal debt. 
Market Volatility Boosted Social Commitment 
EarnUp has had a socially oriented mission since its launch, but the market volatility in the wake of the pandemic has encouraged the company to double down on its commitment.
Specifically, the COVID-19 shutdowns played a significant role in the ability of Americans to pay their mortgages. By late summer and fall 2020, somewhere around 10% of borrowers were in forbearance, Homsany said. This figure included some of EarnUp's clients, and the company wanted to help. 
"We are a double bottom line business, which means that we believe you can make a social impact and money at the same time. So, not only do we have a group of terrific VCs invest in us, we also have a number of nonprofits that have invested in us as well," he told us. 
That year, EarnUp was approached by one of its non-profit partners with a proposal to distribute money to people who were having difficulty making payments on their homes. Eventually, the company was able to distribute $150,000 to clients who were struggling to keep up with their mortgage payments. 

After a temporary rebound, the market became even more unpredictable in 2022 and 2023. If a family were to buy a new home this year, for instance, they would pay a 6% interest rate on a 30-year mortgage — much higher than the home loan rates offered during the pandemic. 
Using EarnUp products, they could save $110,000 in interest over those three decades. 
The company said it wants more homeowners to know about its products,which is why EarnUp has sought out partner organizations that will also benefit from referring borrowers to the company's repayment tools. 
EarnUp Offers Peace of Mind for Borrowers 
Consumers with low credit scores may feel they're misunderstood by society, but this is a stigma Homsany wants to disrupt. 
"There's a belief that people miss payments on their loans because they don't have the money to make those payments, or that they are incapable. I've heard people use the word deadbeat, and that's simply not true," he said. 
The problem, he argues, is that the traditional financial services ecosystem has not met clients' needs. For instance, Homsany said that when he tried to pay off his mortgage early, he discovered his payments were going toward future interest payments, rather than to pay down the principal. 
Watch on
"It turns out that the structure of the system is broken. They're using old technology systems that are, in some cases, from the '70s and '80s. And they're using antiquated banking systems as well, which were built in the 1970s and 1980s," he told us in 2021. 
These outdated systems are prompting many customers to turn to fintech tools like EarnUp that meet customers where they are. Homsany said he believes simplifying financial health can ensure clients will make payments reliably. 
While some financial institutions may focus on educating consumers about how to save and boost credit, too many customers fall into old habits, especially if they find what they're learning complex or difficult. 
Instead, users don't have to do much work to understand how to use EarnUp's  product; they simply have to link to the bank where their paychecks are deposited. 
"If you're knocking down enough of your mortgage interest, you can actually send your kid to college. You don't have to choose between this asset that could be a retirement asset, and also helping build generational wealth through education. Why would you not?" asked Homsany. 
Helping Users Improve Credit Scores and Build Wealth
Over the years, EarnUp has focused primarily on building B2B relationships with organizations that can then recommend their services to customers. But in recent years, the company has also expanded its direct-to-consumer offerings. 
For instance, potential clients can access the company's website and enroll in EarnUp products without consulting a financial institution. 
"If a client wants to know if they can save money on their loan, they can use the savings calculator. You plug those numbers in, and if it sounds interesting, all you need to do is make sure your money's in your account whenever you get paid. That's it. We take care of the rest," Homsany told us. 
Clients are also motivated by the credit-boosting value they can get from EarnUp. Some people's credit scores can diminish simply because they are making their monthly loan payments. The company, in turn, takes money out of clients' paychecks first so they have enough money to pay each month. Automation also ensures each payment is made on time. 
EarnUp has partnered with Experian to provide users with their credit scores as part of their monthly service. This allows clients to see how regular loan repayments boost their credit scores. 
More importantly, users commit to EarnUp when they discover how much they can save over the loan's lifetime. As the interest on their loan payments decrease, users can save more for retirement and feel less strapped by the amount they're earning each month.
"Sometimes, it feels like the system is purposely going after people. That's what it felt like to me when I had problems paying my loans. But if you can find the right tools out there to unbreak the system or navigate the system, then you can find a path to financial wellness and success," Homsany told us.