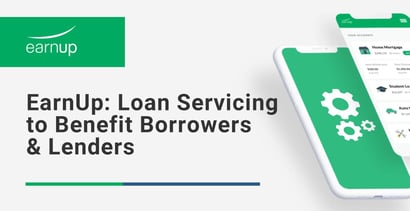 In a Nutshell: When Nadim Homsany took a deep dive into the world of mortgages, he realized the industry was built on antiquated technology and banking structures from the 1970s and 1980s. Homsany, along with Matthew Cooper, created EarnUp as a modern-day answer to the outdated systems. EarnUp helps homeowners stay on track with their mortgages and even helps them accelerate their loans so they can pay them off sooner. The platform also benefits loan servicers by helping them anticipate forthcoming issues borrowers may have. And it helps them identify when services such as a refinance may be beneficial for the customer so the loan services can recapture that client rather than see them go to another lender.
When Nadim Homsany's parents moved to the U.S. from the Middle East, they were looking to create a better life for their son and to pursue the American dream.
Homsany said his parents bought their first house in New Jersey in 1986 and are very proud of the life they have created for their family in the U.S.

"If you go to my mom and dad today and say, 'Hey, Mom, Dad, congratulations, you live the American Dream,' they will wholeheartedly agree," Homsany said. "It's quite emotional for my dad. He sends us an email every year to mark the anniversary of his arrival in the United States, which is pretty cool."
Several years ago, Homsany discovered that his parents — after paying their mortgage for nearly 30 years — still had more than 20 years to go before they owned their home outright.
"What happened to them to turn this 30-year journey into effectively a 50-year mortgage?" Homsany asked. "I did a bit of an investigation to try to understand what happened, and there were a bunch of mistakes they made along the way that the system enables people to make because those mistakes benefit the system."
Homsany, who has a background in engineering, finance, and law, sought to avoid those same missteps when he purchased his first home, he said. But after about six months of paying an extra $100 a month toward his mortgage, he discovered that all the extra cash was going toward future interest rather than the principal.
These experiences are what led Homsany and his business partner Matthew Cooper to create EarnUp. The fintech platform helps mortgage borrowers pay on time and in the most cost-effective manner while simultaneously benefitting lenders by helping borrowers stay on track.
Helping to Build a Modern Financial Services System That Works for Everybody
Homsany was disheartened, to say the least, when he discovered that his extra mortgage payments were going toward future interest payments.
"Here I was trying to shorten the term of the loan, and they were just thinking that, out of the goodness of my heart, I was just trying to pay their fees earlier," he said. "That didn't jibe with me."
Homsany said he initially thought this situation revealed that the lenders were essentially bad people who were just trying to make money off him. He soon learned that that wasn't the case and that the problems ran deeper than that.
"It turns out that the structure of the system is broken," he said. "They're using old technology systems that are, in some cases, from the '70s and '80s. And they're using antiquated banking systems as well, which were built in the '70s and '80s."
Homsany thought that, if someone like himself, with degrees from Rutgers University and Harvard Law School, could struggle to understand these complex systems, then the average person must be facing even more challenging financial situations when it comes to mortgages.
EarnUp seeks to change all that.
"We are a mission-driven business," Homsany said. "And we're known as a double bottom line business. The mission is to help build a financial services system that works for everybody, and help 200 million Americans get out of the $20 trillion worth of debt they owe."
The double bottom line Homsany mentioned refers to EarnUp's goal to earn a profit while also doing social good, he said.
"Supporting the financial health of your customers is why we do what we do," according to EarnUp. "We bridge the information gap between the mortgage industry and borrowers to help mitigate risk, reduce operational costs, improve loan performance, and increase retention and recapture."
The GetAhead Platform Helps Borrowers Accelerate Their Loan Payoff
GetAhead is EarnUp's primary enterprise product aimed at helping homeowners better understand and manage their mortgages.
"About 70% of Americans live paycheck to paycheck," Homsany said. "And 90% of Americans are getting paid weekly, daily, every other week, or twice a month. If you're living from payday to payday and you have to pay a mortgage payment at the end of the month, it's a struggle to do that."
EarnUp helps to ease this burden.
"We take money from the customer's bank account in a prorated amount on the day that they get paid," Homsany said. "What ends up happening is they make their payment on time, and we're able to reduce delinquencies by 20%."
This also helps loan servicers because, due to 2008's Dodd-Frank Act, the cost of managing a delinquency has increased by 500%, he explained.
Watch on
"Ultimately, the customer wins because they're now getting ahead on their mortgage," Homsany said.
And, if the borrower's financial situation changes, EarnUp can easily work with him or her to keep things running smoothly.
"Something changed this month? No problem," according to the company. "You can adjust your payment schedule any time. Pause, edit, or reschedule payments to fit your life. Resume whenever you're ready."
By using EarnUp's solutions, borrowers can accelerate their loan and avoid the pitfalls and challenges that Homsany and his parents faced in their own mortgages.
Homsany said that part of EarnUp's strategy is based on behavioral psychology.
"We line up the payments with the paycheck," he said. "So if you're getting paid every two weeks, you do have two months of the year where you are getting that extra pay period. In many ways, it's almost like auto-budgeting in a sense."
The customer is used to the same amount coming out of each paycheck, so when that third payday comes up, the customer barely notices that it's gone. But EarnUp can use it to help the customer pay ahead on the mortgage.
Loan Servicers Can Anticipate Borrowers' Needs
EarnUp's value proposition is not only appealing to borrowers, but servicers stand to benefit from the company's platform as well.
The company helps loan servicers anticipate the needs of borrowers as well as any challenges that may potentially arise.
"Using the data we collect, we're able to tell ahead of time whether a customer is eligible for a refinance," Homsany said. "It's not all instances, but in many instances, refinancing your home is a benefit to the customer."
EarnUp helps loan servicers recapture the loan before it can be refinanced elsewhere.
This is just one of many benefits loan servicers can gain through EarnUp.
"Increase rate of successful payments through improved borrower awareness of loan status and requirements," according to the company. "Reduce call center and mailing costs with digitized borrower communications."
EarnUp also helps servicers mitigate risk and boost returns.
"The GetAhead Dashboard can help increase loan performance by providing real-time data and visibility into a borrower's portfolio; income, debt, credit, employment, and borrower trends," according to the company. "This additional layer of transparency impacts asset valuation accuracy and can positively affect both borrowers and investors."
The platform helps servicers increase loan volume by boosting operational efficiency, and rich data helps them know when to intervene to help customers find a solution to financial challenges that may impact the loan.
Servicers can also depend on EarnUp's customer service team to further save valuable time and resources.
"EarnUp's customer service specialists in the U.S., Mexico, and Costa Rica are armed to ensure payments are made on time," according to the company.
With its innovative fintech platform and mission to help build a better financial services system for all, both borrowers and loan servicers stand to benefit from using EarnUp.
Advertiser Disclosure
BadCredit.org is a free online resource that offers valuable content and comparison services to users. To keep this resource 100% free for users, we receive advertising compensation from the financial products listed on this page. Along with key review factors, this compensation may impact how and where products appear on the page (including, for example, the order in which they appear). BadCredit.org does not include listings for all financial products.
Our Editorial Review Policy
Our site is committed to publishing independent, accurate content guided by strict editorial guidelines. Before articles and reviews are published on our site, they undergo a thorough review process performed by a team of independent editors and subject-matter experts to ensure the content's accuracy, timeliness, and impartiality. Our editorial team is separate and independent of our site's advertisers, and the opinions they express on our site are their own. To read more about our team members and their editorial backgrounds, please visit our site's About page.