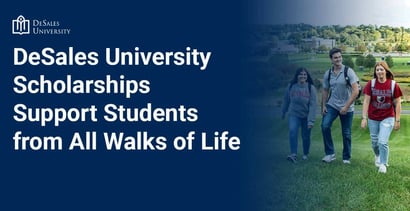 Experts share their tips and advice on BadCredit.org, with the goal of helping subprime consumers. Our articles follow strict
editorial guidelines
.
In a Nutshell: Some say the value of a college education depends on what you put into it. Others remember the special teachers in their lives and seek to inspire others to learn. That's the mission at DeSales University, based near Allentown in Pennsylvania's Lehigh Valley. The few thousand deserving students accepted at DeSales form a community based on mutual nurturance and support. That includes financial support as a top priority, with most students drawing on generous scholarships, including the Leadership Scholarship, which rewards success beyond the classroom. DeSales is a place where faculty, staff, donors, and the community work hand in hand with students to help them shine.
Prospective higher education students often have the general perception that private schools like DeSales University must be exclusive. But that only depends on how you define the term.
DeSales, a Catholic research institution located in the Lehigh Valley of Pennsylvania near the city of Allentown, combines a deep commitment to transformative learning through liberal arts and professional studies with the warm and welcoming atmosphere of inclusiveness.
Faculty and staff work as colleagues across disciplines to ensure a welcoming and nurturing learning environment for every student. Faculty maintain a deep passion for teaching as fundamental to student betterment.

Community is integral to the experience. Established in 1965 by the Oblates of St. Francis de Sales, a congregation of Catholic priests and brothers dedicated to education, parish work, and foreign missions, DeSales attracts students with strong track records in community service who expect to continue those commitments.
It works the other way when it comes to financing a DeSales education. Financial aid and resource office staff work in concert to offer students personal attention based on cost transparency to match each individual with a feasible financial package.
That includes copious scholarship opportunities that can significantly alleviate the uncertainty and financial burden of taking out a student loan. Scholarships help produce the diverse student body that makes DeSales what it is. The DeSales Leadership Scholarship, for example, offers a full ride to high-performing students with phenomenal records outside the classroom.
It all adds up to an exemplary higher education experience, said Derrick Wetzel, Associate Vice President for Enrollment Management at DeSales and a DeSales alum.
"We bring in students who are great kids, and we try to make them better," Wetzel said. "DeSales helps students prepare for their careers but also to be great citizens."
Preparing Students for Success in School and Beyond
The focus on liberal arts as the cornerstone of a well-rounded education comes with robust, nationally known professional studies programs that attract students from all over.
Close to 1,800 total traditional undergraduate students attend DeSales University. Nighttime and graduate students bring the total student population to about 3,000. Majors range from accounting to TV and film and include the stalwarts of liberal arts and the professions.
The Medical Studies to Physician Assistant program is a five-year course built to accelerate students toward their desired career objectives. Graduates of DeSales' top-ranked nursing programs often receive signing bonuses to join hospitals in the Lehigh Valley, known for its concentration of healthcare facilities. Acting and directing in musical theater attracts students from the New York/New Jersey area.

The latter is a prime path students take in and out of DeSales. Many students from small Catholic high schools in the Northeast gravitate to the university.
Increasingly, however, students arrive from diverse US states and from abroad to participate in flagship programs or receive elite opportunities their outstanding academic and personal achievements afford. That includes first-generation students and students without financial means. Keeping with the school's strong Catholic identity and heritage, all have a place at DeSales.
One student from Ethiopia received a full-tuition Leadership Scholarship and graduated with honors. The student lived with a host family while he attended school.
"Be who you are, and be that well — I can say as a former student that we try to live that motto in everything we do," Wetzel said. "We teach the practicalities of employment and career success, but we interweave our mission to help students be better students of life through the entire curriculum."
Leadership Scholarship Rewards Success Beyond the Classroom
DeSales offers the best facilities and location and an environment conducive to excellence. But the most enduring aspect of its standing as a learning institution comes in interpersonal details that aren't so apparent.
Some students can fund their DeSales experience entirely with family finances and depart having had little interaction with financial aid and resource office staff. But most have an intimate connection with those teams and come to be known by name.
"Through financial aid and scholarships, we've always looked at DeSales through the lens of affordability and how we can educate prospective students on all the resources we have to offer," Wetzel said.

The two main merit-based opportunities are the Presidential and Trustee scholarships  that carry awards of $18,000 to $26,000 annually. Scholarships reward and encourage students matriculating from those Catholic schools in the Northeast mentioned earlier. Exceptional students from the local Diocese of Allentown receive a $5,000 scholarship.
In addition, all DeSales alums, including Wetzel, can award a $1,000 Heritage Scholarship to a deserving incoming student.
Students can stack external scholarships with these and other school-based opportunities, financial aid, awards, and loans. A DeSales staff person is always ready to provide the proper assistance and consultation to help students and prospects take a step forward.
The centerpiece of the DeSales approach to scholarships is the full-ride Leadership Scholarship, a full-tuition award recognizing rare human qualities of community in the tradition of St. Francis de Sales.
About 500 applicants submit brief essays on a leadership trait each year, choosing among the characteristics of courage, humanity, justice, temperance, wisdom, and transcendence. Thirty applicants receive in-person interviews, and scholarships go out to six worthy individuals.
"It opens the gate for first-generation and developing students where a substantial financial aid package based on merit wouldn't meet the need," Wetzel said. "It allows us to see students from a different lens and provides funding for students who ordinarily wouldn't get a full ride."
Committed to Broadening Access for High Performers
Hailemichael Geiger, the Ethiopian Leadership Scholarship recipient, was a homeless shoe shiner whose mother had passed away. Geiger's father placed Geiger and his sisters in an orphanage, where Geiger began his academic journey leading to DeSales.
Another Leadership Scholarship recipient, Boy Scout member Michael Heck, worked with his Eagle Scout advisor to design and win public funding for a system to build dry fire hydrants (unpressurized pipes installed in ponds or lakes) to help fight fires in places standard hydrants can't reach.
"Michael may or may not have been selected for a merit-based scholarship during the admissions review process," Wetzel said. "However, the leadership essay brought his leadership experience to light, making him an eventual full-tuition scholarship winner."
Wetzel said students like Geiger and Heck invariably match the DeSales mission. Most DeSales students continue high school patterns and volunteer locally during their university experience.
Wetzel, who assumed part of the cost of attending DeSales, emphasized the school's financial counseling and commitment to cost transparency. While some competing institutions seem to hide bottom-line cost figures in website details, DeSales puts costs up front and then works hard to build the next great class.
The market for the private-school, liberal-arts-based professional learning experience DeSales exemplifies is evolving globally. But DeSales is at the forefront of a broader approach to recruitment that mirrors its already universal approach to learning.
Students emerge from DeSales prepared to assume leadership and move the debate forward in whatever career and personal pathway they choose. For that, Wetzel thanks the generous DeSales donor community, which expects much and receives much in return.
"We have an engaged and involved alumni base, and they want to do more," Wetzel said.