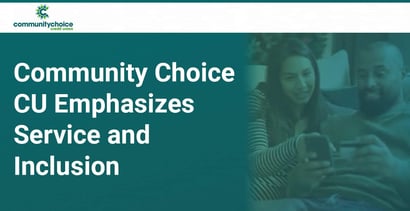 Experts share their tips and advice on BadCredit.org, with the goal of helping subprime consumers. Our articles follow strict
editorial guidelines
.
In a Nutshell: Michigan-based Community Choice Credit Union has a legacy of community commitment stretching back to the Great Depression, but it hasn't rested on its laurels. Investing in technology and employee training has enabled it to expand its service offerings and grow organically as well as through mergers and acquisitions. It has reached out to new business sectors, service areas, and employees with a message of fairness. And it continues to offer a personal touch to members, celebrating milestones and building creative new ways to help them reach their goals.
A lot has changed since the precursor to Michigan-based Community Choice Credit Union started in a residential home at the height of the Great Depression in 1935. The institution is much larger than it was then, when the original members each placed $5 into a bowl that anyone could borrow from.
Today's Community Choice is a full-service institution serving more than 118,000 members as of 2022, with that number slated to rise in 2023. It operates 24 member centers in Michigan and managed more than $1.52 billion in assets in 2022.

Many members outside its home base qualify for membership by contributing to the Community Choice Foundation, the credit union's charitable arm. As a leader in community giving, the foundation facilitates scholarships for college, trade school, and continuing education, backpack giveaway events to make education more accessible and successful for students, and other charitable causes.
Business Development Manager Toros Bardakjian said Community Choice's growth occurred through mergers and acquisitions, as well as expansion of lines of business and product offerings resulting in organic growth.
"Other boards of directors have concluded that to be successful and serve their stakeholders in the right way, they had to find another credit union doing it well and merge with them," Bardakjian said. "We've invested millions in processes and technology, including our app and website."
An example is Targets, an app feature that enables users to set savings goals and fund them through automatic transfers. In effect, the app hides the savings goal from the user, so saving becomes second nature. Almost without trying, members realize their goals.
"Six months after we started that, a bigger competitor told me about a similar program they were creating," Bardakjian said. "That tells me we're way ahead of the curve when it comes to technology and what members actually want."
Ahead of the Curve in Technology and Member Services
The Community Choice Foundation supports many charitable organizations and dedicates more than 10,000 hours annually in volunteer service.
The Community Choice app's Target feature works because of clever design and because many frontline staff at Community Choice are trained and certified as financial counselors. They stand ready to assist members in imagining the possibilities and seeing through to fruition.

For example, Bardakjian said one member worked with him regarding a challenge relating to her son, who always asked her for $20 here and there to use as spending money. She felt guilty denying him but realized it hampered her effort to establish a safety net for the future.
They started with a reasonable goal of saving $750 through the Targets app feature. The member set up an automatic transfer to place the $20 she always gave her son into savings.
"She quickly reached her goal without even realizing it," Bardakjian said. "It also motivated her son to do what he needed to get his extra spending money by picking up a part-time job. So it was a win-win all the way around."
After the member hit her goal, she and Bardakjian high-fived and then got back to work, increasing the goal to $1,500. Bardakjian said it was important to celebrate that success because she hit a milestone and needed that motivation and encouragement.
That's just one example of the benefits of Community Choice's financial counselor certification initiative. More than 115 team members have gone through the program.
"A lot of institutions say they give advice and welcome questions, but this takes it further," Bardakjian said. "Not only are we giving advice, we also give you the resources to hold you accountable — if that's what you're looking for. "
Reaching Out to Cannabis Businesses and Employees
Another way Community Choice grows is by seeking new business opportunities that align with values of fairness. With Michigan recently liberalizing cannabis laws, Community Choice has applied its process and tech prowess to offering ways to protect cannabis-related businesses.
An experienced business and compliance team works with cannabis-related businesses. Community Choice has partnered with transport companies to provide secure cash pickup and drop-off, which includes customized transport and deposit services, smart vaults, cash bags, night drop, and armored vehicles.
The credit union also offers specialized services, including e-banking, mobile banking, e-statements, e-deposits, and e-pay, and a full suite of cash management services for businesses such as wire modules, ACH, and a dozen other services to save members time and prevent fraud and losses.

The service also meets compliance needs under the federal Bank Secrecy Act, which requires extra due diligence. Partnerships with software providers give the credit union the tools it needs to accomplish this on behalf of member businesses.
"We have built an entire department to create the best on-boarding experience and provide on-going support to the Cannabis Industry Businesses," Bardakjian said. "We have the resources, such as armored car service, award-winning online and mobile banking technology, and an experienced compliance team, to help make the process easier."
If the tracking data doesn't match the financials, Community Choice alerts the business to reconcile the difference. This provides them with real-time balancing that prevents non-compliance and saves business from potential fines. This monitoring is a true value-added benefit for cannabis businesses, Bardakjian said.
Community Choice also reaches out to employees of cannabis-related businesses, including workers located in South Florida, where Community Choice has an initiative to include them as members. Because of its foundation-related membership requirement, the credit union serves members nationwide.
Bardakjian is currently based in South Florida. He said many financial institutions deny credit to cannabis industry employees because the regulatory gray area the industry exists in means they don't classify their earnings as legal income. Many also experience total account shutdowns, locking them out of financial advancement, rentals, and mortgages.
"As regular consumers, they should not be treated differently," Bardakjian said. "I want to get the word out here in Florida that I can help them get a checking account, a debit card, and use their income to get them the credit cards, auto loans, mortgages — whatever they need."
Going Above and Beyond to Offer a Second Chance
It's a growing part of the members-serving-members ethos at Community Choice whose membership encompasses consumers from all walks of life. The institution's credit card program incorporates the Community Choice World Mastercard, which offers 1.5% cash back on all purchases with no annual fees.
But it also includes a secured card to help members with low or no credit build or restart from scratch. A point of emphasis for Bardakjian is that the credit union loves giving new members second chances to achieve a healthier financial lifestyle.
For example, one member reached out in need of a fresh start with budgeting and building a better credit score after emerging from bankruptcy. Community Choice helped the member build her score from 544 to 707 through the secured card program, starting with a $500 deposit and methodically building from there.
Along the way, team members coached her on credit utilization and even helped her lower her auto insurance bill as her credit score improved.
"We take pride in these minute details through our financial counselor program," Bardakjian said. "If you want to put in the effort and work, we can get you there."
The Community Choice app contains simulation tools to help members visualize the outcome of their dedication and experiment with various scenarios for financial success. In times of economic crisis, the credit union is always ready with skip-a-pay programs and dedicated loan offerings to help members weather downturns. Team members act as community educators, frequently participating in financial fairs at area schools to help students learn the ropes of financial responsibility.
Finally, as a not-for-profit member-owned financial institution, the credit union also reinvests profits in members through the GetBigReward$ program, which pays members who qualify based on easy-to-reach criteria $12 a month.
The program also pays back members a 10% interest rebate on interest they paid through the year on most consumer loans.
"We're paying them right into their checking account to do business with us," Bardakjian said.