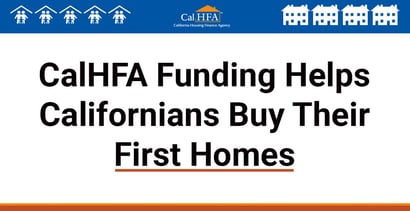 Experts share their tips and advice on BadCredit.org, with the goal of helping subprime consumers. Our articles follow strict
editorial guidelines
.
In a Nutshell: The California Housing Finance Agency (CalHFA) aims to help make buying a starter home more affordable. The agency can provide up to 10% of the purchase price as a forgivable loan for qualified buyers and also help them make a down payment. A new program is set to provide 20% of the home purchase price for a right to a portion of the proceeds once the house sells. And CalHFA only partners with reputable lenders that go through rigorous financial certification to ensure buyers experience a safe and secure process.
The Game of Life is a classic board game that walks players through life's major milestones to achieve the most success possible. Those milestones include securing a first job, getting married, having kids, and buying your first home.
Unfortunately, fulfilling the dream of buying a home has become more challenging in the real world. Following the pandemic, housing prices remain high while interest rates continue to rise.
In California, the median home price is up more than 20% since the start of the COVID-19 pandemic. While there are signs the housing market is beginning to cool, that dynamic also coincides with federal fund rates rising from near 0% to more than 3%.
The California Housing Finance Agency has been helping homebuyers for nearly 50 years, but its role today may be more important than ever. The agency is tasked with helping first-time homebuyers secure a down payment for a home they would otherwise not be able to afford.

One program, the Forgivable Equity Builder Loan, provides 10% of the home's purchase price to the buyer in the form of a forgivable loan. The state will forgive the loan after five years if the buyer lives in the home for the full five years.
Another program launching soon will see CalHFA provide up to 20% of the home's purchase price in exchange for equity in the home. When the homebuyer sells the property, the state will use a portion of the proceeds to fund future homebuyers.
That approach aims to open up homeownership to low- and middle-income families in new ways. Now, families can look into buying a home in areas normally associated with a high cost of living.
"We've done loans in high-cost counties, including in San Francisco and Marin County," said Eric Johnson, CalHFA's Information Officer. "These are the high cost Bay Area counties we were targeting. This program exists to help people afford their own homes. We see it's working and we are really happy with it."
Making Housing Accessible in High-Cost Areas
Housing experts in California saw a hole in the market where people who wanted to buy a home and could make the monthly payments, but didn't have a down payment readily available. 
The state looked to create a solution while working with the private loan industry to make sure they weren't taking business away from private lenders.
All of CalHFA's programs require buyers to take a homebuyer education course to prepare buyers for homeownership. The courses are available online for a fee and take about six hours to complete.
Home equity is one way families build intergenerational wealth. CalHFA's Forgivable Equity Builder Loan gives first-time homebuyers the help they need to make their down payment.
The program incentivizes people to buy their first home. The Forgivable Equity Builder Loan is a loan on top of the mortgage on the home. Those who qualify for the program and follow the guidelines will have the loan forgiven in five years.
CalHFA designed the program for low-to-middle-income families. Income qualifications change depending on the county where the home is located.
"When somebody decides they want the Forgivable Equity Builder Loan, they talk to one of our approved lenders," Johnson said. "That lender looks at their income and credit scores to make sure they qualify. Then we look at their income to make sure they aren't above our limits."
Building a New Program to Offer 20% Down Payments
CalHFA worked hard to figure out how to get first-time homebuyers into houses they can afford. The solution it came up with is the Dream For All program, which will allow CalHFA to provide shared-appreciation loans to help low- and moderate-income first-time homebuyers achieve homeownership. 
The agency puts up 20% of the home's purchase price in exchange for a slice of the proceeds when the home sells in the future.
"Say if someone buys a home for $500,000 and many years later, they sell it for $700,000," Johnson said. "That's a $200,000 increase in equity. In exchange for a 20% down payment, we're going to take up to 20% of the appreciation of the loan, and then recycle that to use for the next round of homebuyers."

The program is set to launch in early 2023 while the agency works with the community and lenders to make sure the program works for both buyers and lenders. Interested buyers can sign up for the agency's newsletter to be the first to get more information when the program goes live.
CalHFA's new programs work alongside the agency's MyHome Assistance Program, which provides a deferred payment loan toward the cost of the home.
The state will lend up to 3.5% of the home's purchase price, and homeowners don't need to make payments until the owner sells or refinances the home. The program brings monthly payments down over the duration of the mortgage.
Matching Homebuyers with Reputable Lenders
The California Housing Finance Agency prides itself on helping real people every day. The agency said its loan programs set families up for success – starting with putting them in their own home.
CalHFA helped a single mom looking to buy a house while working two jobs. She found a real estate agent and loan officer on her own. Unfortunately, the loan officer told her she needed $10,000 more upfront to buy the home she wanted.
The single mom worked 13-hour shifts for six months to save up $12,000. After going back to the loan officer, they told her she qualified for the new Forgivable Equity Builder Loan, which hadn't existed six months earlier.
The woman took the $12,000 she had saved and paid off her car and eliminated more debt. Now, she lives in a nice house with her son.
"She's got this really nice home, and it's a great place for her and her son," Johnson said. "I was sitting on her back patio interviewing her, and I had to tell her to hold on a second because I started to cry. It's such a great story and it's exactly the way the programs are supposed to work."
CalHFA actively seeks out loan officers and brokers who will help people sign up for its loan programs. The agency sends its workers to lenders to check them out and make sure they're reputable before partnering with them.
After verifying the lenders, loan officers can go through regular, extensive training to refresh them on changing policies and regulations. CalHFA said it has a good partnership with loan officers who work to get people into their first homes. 
"They're willing to put in that time and extra work," Johnson said. "It's a long-term process. Once they get into the mindset of working towards a long-term goal, that's when things start happening."