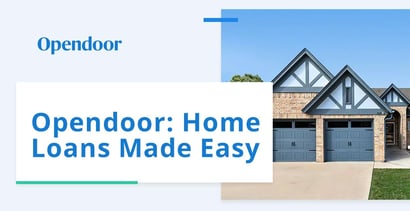 Experts share their tips and advice on BadCredit.org, with the goal of helping subprime consumers. Our articles follow strict
editorial guidelines
.
In a Nutshell: Buying or selling a home is often a daunting, if not downright frustrating, experience. Although these actions are often rewarded in the end, reaching the finish line may seem impossible at times. Thankfully, Opendoor offers a modern, convenient way to buy, sell, or finance homes. The company takes these tedious and outdated real estate processes and turns them into an all-in-one digital experience. With Opendoor, buying or selling a home has never been more convenient for consumers across the U.S. And Opendoor Home Loans delivers convenience and savings to people looking to purchase a home or refinance their current home.
Anybody who has ever purchased a home or looked into purchasing a home likely knows that the process can be laborious and often exasperating. Applying for and being approved for a home loan is exciting, but it's just one of many steps in what can be a long process.
And while refinancing may be slightly less stressful, it is still a very detailed process in itself.

A lot of the aggravations that can accompany buying a house are often around these lengthy processes that involve lots of paperwork, signatures, and dense legal language.
Similarly, selling your current home on the market comes with its fair share of frustrations, as well.
Whether you're buying, selling, or refinancing, navigating the real estate world as a nonexpert can be daunting. One source of these challenges is that so many different stakeholders are involved and are communicating very important information to each other. As the consumer in the middle, keeping up with it all can feel like you've taken on a new part-time job.
The market is rooted in long-standing traditions that at times can seem laborious and even unnecessary in today's fast-paced, digital world.
Thankfully, companies like Opendoor are seeking to change this with a modern take on home loans and refinancing.
We recently chatted with Opendoor's General Manager of Home Loans Nadia Aziz to learn more about the company's background, how it works, and the value of homeownership.
An All-In-One Digital Real Estate Experience
Aziz said that, in 2014, Opendoor Co-Founder and CEO Eric Wu recognized the need to simplify the age-old home buying process. While in college, Wu had bought and sold homes and was familiar with how difficult the process was.
"Buying and selling a home, an act central to the U.S. economy and ingrained in the American Dream, was entirely too stressful, expensive, and manual," Wu wrote in an article on the Opendoor website. "I saw that it was inaccessible for millions of people."
Opendoor was founded with the mission to empower everyone with the freedom to move, according to the company.
"The traditional real estate process typically involves multiple steps, and at Opendoor, we are streamlining the entire process — helping people buy, sell and finance their home in one seamless experience," Aziz said.
Opendoor has transformed the traditional real estate process into an all-in-one digital experience.
Some of the key features of the company's services include selling to Opendoor, buying with Opendoor, and Opendoor Home Loans, Aziz said.
"With Opendoor, sellers can request an offer on their home, receive an all-cash offer, and close on their timeline," she explained.
And buying with Opendoor is also much more convenient.
"Customers looking to buy a home can search and tour homes and start an offer on the Opendoor app," Aziz said. "We offer buyers safer ways to visit homes amidst the COVID-19 pandemic virtually or in-person, ensuring there's only one buyer inside a home at a time."
And most recently the company introduced cash-backed offers, giving Opendoor buyers a competitive edge in today's hot market by backing their offers with all-cash. According to Opendoor's data, buyers who made offers with Opendoor's cash-backed offer program already have an average acceptance rate 50% higher than regular offers made without our cash backing.
Aziz said Opendoor also values customer feedback to help the process become even more convenient for customers in the future.
"Opendoor's process provides an opportunity for every customer to share feedback, and some of our favorite stories demonstrate how our efforts empower customers to move," she said.
One example is from an Opendoor Home Loans customer, Manan Pathak, Aziz said. Pathak sold his home to Opendoor the year prior, so he was familiar with the company. With interest rates reaching historic lows this year, he turned to Opendoor Home Loans to refinance his second home in Texas.
"[Their] rates beat out any other companies I spoke to," Pathak said. "I was impressed with how transparent and fast the process was to refinance my home."
Another example is from Cynthia Cacho, a retiree from Texas. She and her husband found their vacation home through Opendoor and were able to finance with Opendoor Home Loans. She said, "It was so easy, like one-stop shopping! No headaches or stress, great customer service on all ends! Now we have our vacation house to enjoy!"
Opendoor Home Loans Simplifies the World of Mortgages and Refinancing
"In 2019, we launched Opendoor Home Loans," Aziz said. "Navigating the complex world of mortgages, interest rates, and financing fees is often where people struggle."
With Opendoor Home Loans, the company provides its customers with flexibility, simplicity, and speed with competitive interest rates, an on-time closing guarantee on your home purchase loan, and no lender fees, she said.
"By offering hybrid closings, we allow customers to review and sign the majority of their closing documents online, minimizing the interaction with a notary at the time of closing," Aziz said.
Customers using Opendoor Home Loans can also save over $3,600 in fees, according to the company.
"We streamline the financing process so you don't pay application, origination, underwriting, or processing fees. Plus, when you finance with Opendoor Home Loans you'll get up to $1,000 towards your home purchase loan." — Opendoor
Opendoor Home Loans also offers low down payment options — as little as 3% down — to make it easier for customers to finance their next home.
The company promises to close each loan on schedule or they will pay the customer $100 per day toward closing costs.
"Lower your payments, take out cash, or own your home sooner with historic low rates. Get approved fast and close in as little as 15 days," according to Opendoor Home Loans.
Opendoor Home Loans also takes some of the guesswork out of understanding how much home a customer can realistically afford.
"When you're searching for the perfect home, it helps to know how much you can borrow," according to the company. "We'll help you get prequalified in a few taps, so you can understand your price range without impacting your credit."
Changing Trends and the Value of Homeownership
Opendoor recently published a National Real Estate and Consumer Trend Report, that provides an in-depth look at today's modern consumer, behaviors of home buyers and sellers, and how the pandemic has affected their decision to move, Aziz said.
"Across three generations (baby boomers, Generation X, and millennials), we found that COVID-19 is driving people across generations to move," she said. "Across millennials and Gen X, the biggest reason for buying a new home was lifestyle changes caused by COVID-19."
Additionally, digital tools are on the rise — 75% of homebuyers reported that they would be likely to consider buying a home through a company that helps consumers control more of the process with digital tools, according to the report.
The report also identified a difference in down payments.
"When it comes to actually purchasing their dream home, 35% of baby boomers are far more likely to put down 26% or more on their next home, compared to 11% of millennials and 14% of Gen X, who said they'd put down less," Aziz said.
And when it comes to saving for a home purchase, only 54% of baby boomers report that they need to save for a downpayment, which is far fewer than the 82% of Gen Xers and 93% of millennials who report needing to save up before dishing out that much cash, she said.
Aziz also spoke to the value of owning a home.
"Generally speaking, property tends to appreciate in value over time. Rather than opting to rent, young families can establish equity by buying a home early on," she said.
In addition to helping young families and first-time homebuyers understand available incentives, a lender can help aspiring homeowners establish a budget and understand which type of mortgage and length of a loan is right for them and their lifestyle or financial goals, Aziz said.
"We will continue to make it easier for consumers to buy, sell, or trade-in a home," she said. "We are investing heavily in technology and operational excellence to provide the best experience at the lowest cost for customers."