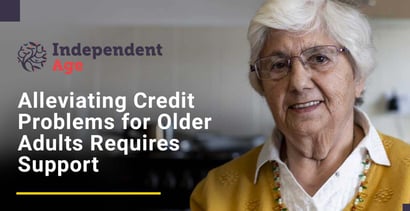 In a Nutshell: People often imagine retirement as a time of leisure and relaxation. But for many older adults in the UK, it can be a time of financial difficulty — and even poverty. Independent Age is working to change that dynamic through a combination of direct support and advocacy. It helps people secure essential benefits and also works to expand and improve them. The organization researches quality of life issues for people living on the poverty line, which has changed significantly during the COVID-19 pandemic. In the wake of the pandemic, Independent Age continues its primary mission while adapting to the emerging needs of older people.
Older people who live on a fixed income can typically meet regular expenses, but unexpected bills may quickly disrupt their financial situation. For example, sudden home repairs or medical bills are bound to happen, and the best people can do is prepare.
But what happens when the government suddenly demands money back?
One woman in the UK found herself in that situation. The state claimed that she'd been overpaid by some £23,000 — a significant amount of money — and tried to reclaim the funds. To her advantage, she worked with Independent Age, a charity that offers support and advocacy for people over 65.
"Our advisors went through the whole process," said Simon Hewett-Avison, Director of Services at Independent Age. "We put in an appeal based on what we've seen, and we managed to get that decision overturned. She was grateful because that would have put her into a very serious financial situation."


Independent Age aims to address and help alleviate poverty among older people in the UK. It provides emotional support during trying times and direct support to help people claim benefits and improve their income to achieve a higher level of financial security.
The organization also serves as an advocate for changes to the pension system. It can often circumvent the need for direct intervention by working to change systemic problems and fixing them before they start.
Those issues have become increasingly common over the last several years. Although poverty in the UK is decreasing, in general, it is increasing among older people. That is a clear sign that change is necessary.
"Obviously, the most important thing is for us to make sure people don't end up in that position in the first place," Hewett-Avison said. "We do think that the government should take some of the onus on raising the uptake, particularly around things like pension credit. But it should also reassess the state pension, pension age, and look at support for people in later life in poverty."
Support and Advocacy Address Issues at All Levels
Independent Age offers direct, practical, and accessible support through its free telephone helpline. It helps people understand their income and expenditures, and investigate whether they're entitled to benefits they aren't receiving. If so, they can rectify that situation, and put more money into people's bank accounts, so they don't have to rely on credit or loans.
"We'll go through a full benefits check with individuals that come to us with money as one of their primary concerns," Hewett-Avison said. "We've had some lovely stories where we've uncovered lots of unclaimed entitlements and backdated payments as well. We've also had other aspects where the Department of Work and Pensions is perhaps challenging people's claims."
Another significant component of Independent Age's practical work is trying to address the source of the problems. That may involve advocating for systemic changes to reduce the number of individual issues that crop up.
One of those efforts has been a campaign, running since 2019, calling on the government to raise the uptake of pension credit. Currently, it's at 64%, and Independent Age has been investigating the benefits of increasing that number to 100%. As it turns out, the financial benefits may extend beyond older people to the government as a whole.
"We found that the three in 10 older people that are currently in poverty will be lifted out of poverty if we raise that from 64% to 100%," Hewett-Avison said. "If we did have 100% uptake of pension credit, that would save in the region of about £4 billion from government spending on health and care."
Pension Credit is a Gateway to Other Savings
In terms of pension benefits, how much income is necessary to ensure financial stability? The answer, as with all income streams, is as much as possible.
But older people may not be aware of all the benefits they're entitled to. Part of Independent Age's work is helping people realize their eligibility and claim all that's due to them. Just as importantly, it helps them understand the importance of claiming them.
"We hear stories that people just think, 'Oh, well, it's only going to be a couple of pounds a month extra,' but actually, that pension credit is a gateway benefit to lots of other potential benefits as well," Hewett-Avison said. "It's a gateway benefit that can bring other sorts of savings and income into a person's life."
Watch on
In addition to helping people claim what's due to them, Independent Age also starts conversations about the nature of benefits. With people working more hours during their prime labor years and many working past the traditional retirement age, the benefits system must change to keep pace.
Hewett-Avison said that pension benefit reform wouldn't be a silver bullet that cures those problems. But increasing the uptake from 64% to 100% would help a significant number of people improve their lifestyles after retirement.
"A lot of the age-related benefits have been in existence for quite some time," Hewett-Avison said. "So it probably is time for a bit of a radical rethink around some of this stuff."
Research Provides Insight into Pressing Issues
Independent Age commissions research into the causes of poverty later in life so it can better advocate for pension benefit reform. The organization can devise and promote more adequate solutions by understanding the factors that bring about financial difficulty.
"Our working assumption is that a lot of people don't get to 65 and then become poor. The drivers of poverty start much earlier in life," Hewett-Avison said. "So what is it we can do further upstream? And how do we understand how to lift people out of poverty?"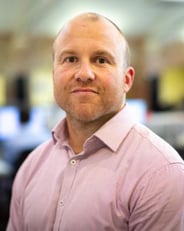 Another critical area of research is looking at the quality of life in older age, including how people manage to live on incomes below the poverty line. That situation may require them to choose between running the heat to keep their homes warm or buying enough food to stay healthy.
That has been especially prominent since early 2020, when the COVID-19 pandemic began. Older people are more susceptible to severe complications from the virus, and so they spent even more time at home. That often meant higher utility bills and delivery fees for items they would usually purchase at retail locations.
During the COVID-19 pandemic, Independent Age adopted new approaches to pursue its mission of helping individuals in those situations. One step it took was to furnish grants to small, community-based organizations to provide targeted relief that matched the needs in their communities.
"We distributed about £3.3 million to local community organizations over the last 18 months. That's opened up different gateways for us and new avenues to reach more diverse populations," Hewett-Avison said. "They are far better positioned to reach and engage with those communities than we are. But we've got the information we've got the expertise to make sure we are reaching those in need and genuinely living in poverty."
Modern Conditions Require Solutions to Emerging Problems
Throughout the COVID-19 pandemic, Independent Age has focused on the health of older people — both physical and mental. Poverty and financial difficulty can have a negative emotional and psychological impact, and pandemic conditions — which bring fear, isolation, and uncertainty — amplify those dangers.
"The volunteers that work with us have done an amazing job through the pandemic, regularly calling people to check in and make sure they're doing okay," Hewett-Avison said. "People have deteriorated in terms of their mental health, their well-being, and their outlook on life. So we very much work on a case-by-case basis."
As soon as restrictions began to lift, Independent Age's team returned to in-person routines of making visits, delivering provisions, and offering encouragement and moral support. Part of that work was connecting people within communities so they could support each other during difficult times.
The team has had to get more creative in their approach to delivering support to balance the benefits with the health risks. One solution to the problem of emotional support was a grief and bereavement counseling hotline. In addition to providing an outlet for callers, it has also helped Independent Age gain more insight into the complex grieving process that the pandemic has put many people through.
"The normal grieving process has been altered," Hewett-Avison said. "People not being able to visit, and people not being able to say goodbye in the way that they would expect to. We're just learning more about that at the moment and looking at how we can support people in that area."
Advertiser Disclosure
BadCredit.org is a free online resource that offers valuable content and comparison services to users. To keep this resource 100% free for users, we receive advertising compensation from the financial products listed on this page. Along with key review factors, this compensation may impact how and where products appear on the page (including, for example, the order in which they appear). BadCredit.org does not include listings for all financial products.
Our Editorial Review Policy
Our site is committed to publishing independent, accurate content guided by strict editorial guidelines. Before articles and reviews are published on our site, they undergo a thorough review process performed by a team of independent editors and subject-matter experts to ensure the content's accuracy, timeliness, and impartiality. Our editorial team is separate and independent of our site's advertisers, and the opinions they express on our site are their own. To read more about our team members and their editorial backgrounds, please visit our site's About page.