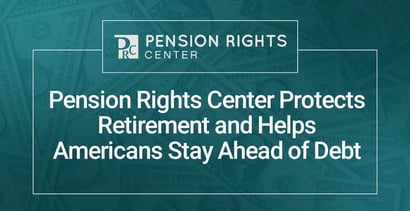 In a Nutshell: Pensions help supplement the Social Security income of millions of retirees each year and were supposed to be paid out in full when a worker reached retirement. However, many workers who are owed benefits have found them dramatically reduced, or denied altogether. The Pension Rights Center is a public policy advocacy group and consumer organization dedicated to protecting the retirement security and earned pension benefits of workers, and helping them avoid debt in retirement. The organization advocates for pension reform legislation and offers resources and access to free legal advice for anyone having problems accessing the benefits they deserve. The Center is also staying abreast of the shifting landscape as the country and employers navigate the COVID-19 pandemic.
Millions of Americans look forward to their retirement as the promised reward for a lifetime of hard work and sacrifice. Yet some find that promise broken, and their dreams of security in their golden years shattered through no fault of their own. Often, with little warning, the pensions they've earned and depended on have been denied or taken from them, and a debt spiral may seem unavoidable.
That was the case with Walt Overstreet, a 68-year-old retired ironworker from Hinkley, Ohio, whose pension was cut last year by 64% — from $2,400 a month to $869. Walt, who did back-breaking work building the Cleveland skyline largely to earn a pension he could count on in retirement, said that he and his wife Pat have been devastated by the cuts. Walt, who has health problems, is struggling to pay for mounting health care costs, care of his wife's elderly mother who lives with them, and pay a mortgage and other basic costs to get by.
As with many other pension recipients, Walt was the victim of the Multiemployer Pension Reform Act (MPRA) of 2014. MPRA allows trustees of certain financially troubled plans to cut earned benefits by as much as 70% as a way to ostensibly save troubled pension plans. However, Walt says these cuts are unprecedented, a breach of promise, and, because his body is worn out from years of hard labor, there is no way he can go back to work to make up the loss of income.
Many retirees turn to the Pension Rights Center for help in understanding their rights and options when it comes to pension benefit problems.
"The Pension Rights Center acts as a resource center for the Pension Counseling and Information Program (PCIP), which consists of six regional pension counseling projects funded by the U.S. Administration for Community Living, and private partners," said Emily Spreiser, Legal Program Director at the Pension Rights Center.
The regional pension counseling projects offer free legal assistance to individuals who need help understanding and enforcing their rights under both public and private pension and retirement savings plans, regardless of their age or income. They don't go to court but can refer people to attorneys who participate in the National Pension Lawyers Network.
"The six regional counseling projects serve individuals who live or work in 30 states around our nation," Spreiser said. "However, people who live in states not covered by a counseling project can find free help from government agencies, legal services attorneys, and nonprofit organizations through PensionHelp America, our online referral service."
PRC Plays an Important Role in Protecting Pension Benefits
Since it began in 1976, the Pension Rights Center has earned a reputation as one of the nation's premier consumer advocacy organizations. And it aims exclusively to protect and promote the retirement security of workers, retirees, and their families. Through its public policy activities, the center plays a leading role in identifying pension inequities and crafting and securing pension reforms.
"We're often the first to identify pension problems, propose solutions, and then advocate for the implementation of those solutions," said Karen Friedman, Executive Vice President and Policy Director with the Pension Rights Center. "Our goal is to develop and secure the implementation of policies that make retirement plans fairer, increase plan coverage, promote consumer protections, and preserve pensions for retirees."
The successes of the Pension Rights Center extend beyond policy changes and advocacy. The Center also works tirelessly for individuals and spouses trying to protect earned benefits. The counseling projects have secured benefits for clients in cases that involve a wide range of retirement issues.
Watch on
One common problem for women is collecting benefits that were granted in a divorce decree. They struggle to obtain them because the process of dividing retirement benefits at divorce is highly complex. In one case, Spreiser remembers, the former husband and his lawyer took intentional steps to make accessing benefits more difficult for his ex-spouse.
"The former husband received thousands of dollars in pension income every month while the project's client lived in a homeless shelter. The pension counseling project ultimately helped the client obtain her share of the retirement income, and the client could then afford a place to live," Spreiser said.
Another common issue PCIP clients face is known as recoupment. This occurs when plans mistakenly overpay retirees and then demand the money back, sometimes decades later and with interest. The retirees have no way of knowing they were being overpaid because it was the plan's responsibility to calculate the benefit. They were in debt without even being aware.
"In many of these cases, pension counseling attorneys have negotiated with the company to get it to suspend recoupment efforts against their clients," Spreiser said.
Millions of Americans are Concerned About Pension Security
According to the Bureau of Labor Statistics, 21% of all workers in the U.S. participate in a pension program. That number includes 12% of private sector workers and 76% of government workers at the state and local level. The median private pension amount received is just over $9,000 a year, while the median government pension amount is just over $22,000 a year. Those numbers include many workers who have earned only partial benefits.
A Consumer Reports study found that the health of America's defined-benefit pension plans is less than encouraging. Around 80% of the 29,000 private sector plans are underfunded by a total of $740 billion. State and local public employee plans were in an even deeper hole at nearly $1 trillion.
Pension plan cuts, such as those allowed under the MPRA mentioned earlier, mean millions of workers will not receive the benefits they thought they would. This situation makes public awareness more important than ever.
Friedman said the Pension Rights Center plays a significant role in keeping the public informed.
"For more than four decades, the Pension Rights Center has been the go-to source for the media, policymakers, and the public for straightforward information on retirement income issues. Our public education initiatives typically arise in response to concerns raised by individuals who contact the Center," she said.
The Center's website, including its Learn the Issues section, has a trove of information — from posts on recent court cases to spotlight coverage of legislation and regulations — that keeps readers informed on issues affecting pensions, and ultimately helps them stay ahead of debt.
Working to Advance Reforms Through Advocacy
The list of pension policy changes attributed to the Pension Rights Center's advocacy is extensive and inspiring. The organization spearheaded initiatives, including the Retirement Equity Act of 1984, formed the Coalition to Restore Retirement Security, and confronted Congress on the practice of offloading pensions to private insurance companies.
The Center has been at the forefront of positive change for the millions of Americans who have spent their careers relying on their pensions, only to have them reduced or revoked.
"The Pension Rights Center spurred the enactment of major pension reform provisions in six federal laws that expand protections for older Americans and widowed and divorced spouses." — Karen Friedman, Executive Vice President and Policy Director with the Pension Rights Center
The Center is working to promote legislative solutions that help people like Walt Overstreet and others who face pension cuts, to establish a Lost Plan registry to help people find a pension plan when the company has moved or merged, and to develop fair solutions when pension plans accidentally overpay individuals and then come back years later to demand harsh repayments.
"The Pension Rights Center spurred the enactment of major pension reform provisions in six federal laws that expand protections for older Americans and widowed and divorced spouses," Friedman said.
In its mission to enhance protections, the Pension Rights Center has prepared a framework called the Consumer Agenda for Retirement Security, through which it works to develop new types of retirement plans, preserve retirees' pensions, and advocate for more laws that protect workers rights.
And, as with so many other areas, the state of pensions and potential pension legislation has been impacted by the COVID-19 pandemic. The Pension Rights Center is following these actions closely, including how relief measures can put pensions at risk. Visit the Pension Rights Center blog for the latest info on these important and evolving issues.
The Pension Rights Center is working to shore up a crumbling system as more Americans retire, the retirement savings rates of workers are at historically low levels, and consumer debt is on the rise. Through regional counseling programs, access to free legal advice, and advocacy for change on a legislative level, the Center hopes to save a critical financial safety net for future generations.
Advertiser Disclosure
BadCredit.org is a free online resource that offers valuable content and comparison services to users. To keep this resource 100% free for users, we receive advertising compensation from the financial products listed on this page. Along with key review factors, this compensation may impact how and where products appear on the page (including, for example, the order in which they appear). BadCredit.org does not include listings for all financial products.
Our Editorial Review Policy
Our site is committed to publishing independent, accurate content guided by strict editorial guidelines. Before articles and reviews are published on our site, they undergo a thorough review process performed by a team of independent editors and subject-matter experts to ensure the content's accuracy, timeliness, and impartiality. Our editorial team is separate and independent of our site's advertisers, and the opinions they express on our site are their own. To read more about our team members and their editorial backgrounds, please visit our site's About page.