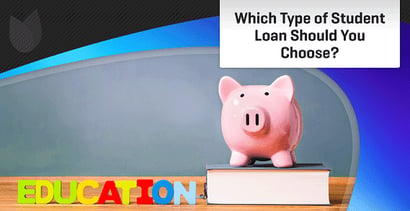 With tuition prices on the rise and the job market continuing to favor applicants with a college education, there are very few students who are still on the fence about whether or not they will need to explore student loans. And many have already taken the plunge.
According to the most recent figures, about 44 million people in the United States carry student loan debt — owing over $1.4 trillion — with the average borrower owing $30,100.
The real question prospective students need to consider at this point is which type of student loan to choose. It's important for college-bound students and their families to fully understand the different types of loans available and how to determine which are best for their personal and professional goals and how these different loan types can affect their financial future.
Federal vs. Personal Loans | Types of Federal Loans | Types of Personal Loans |
Credit Repair | How to Choose
Federal vs. Personal Student Loans
The two major options available for student loans in the United States are Federal (backed by the government), and Personal (private lender-backed) loans.
As the name indicates, Federal student loans are offered by the federal government, using taxpayer dollars as a means of investing in the quality of the nation's future workforce. To support this goal, federal student loans offer a number of advantages over personal loans, including the relative ease with which students can qualify for them. However, that doesn't mean there are no drawbacks to consider.
Personal student loans are offered through private lending institutions including both large, national banks and smaller hometown lenders. These types of loans may often be referred to as alternative student loans because they make up a small portion of the overall student loan debt, but, in some circumstances, they make more sense than federal loans when looking at the big picture.
Here's a breakdown of the various loan options available under these two main categories and how you can decide which is best for you.
Types of Federal Student Loans
There are six different types of federal student loans (one of which recently expired and may or may not be reintroduced as an option in the future.) Each type has its own unique interest rates, payment terms, and qualification requirements, but they all share the following important benefits:
Interest rates tend to be lower than what's available privately, and they are always fixed (rather than variable, as personal student loans can be).
There is generally no need for credit checks or cosigners.
They often offer flexible payment plans and loan forgiveness programs, both of which are rarely available through private lenders.
If you have multiple federal loans, consolidation is an option that can lower the monthly payment and extend the repayment terms.
It may be easier to have your paid interest on a federal loan deducted from your taxes (though private loan interest can also be eligible for tax deduction).
If it sounds like a federal student loan may be right for you, continue reading to learn more about each type of federal student loan to find the right one for you (or your student).
Perkins Loans
The Federal Perkins Loan program officially expired September 30, 2017, and has not yet been renewed. Whether or not it gets reintroduced into the federal student loan program is up to the lawmakers.
The Federal Perkins Loan program was designed to assist independent students from low-income families who are pursuing graduate, post-graduate, or professional degrees and can demonstrate extreme financial need. It featured:
5% interest*
No loan fee
Maximum loan: $5,500 for undergraduates; $8,000 for graduates
The key benefit inherent in the Perkins Loan is that, if the school accepted this loan type, they agreed to cover accrued interest the entire time the student was enrolled. This benefit could be limited, however, by individual schools' budgets and the number of Perkins Loan borrowers enrolled at any given time.
Subsidized Stafford Loans (Direct Subsidized Federal Loans)
The federal Stafford Loans program is available to applicants who can demonstrate financial need. The amount each student qualifies to receive is negotiated between the government and the school, with the college generally notifying the student of the amount in their college award letter. Features of these loans include:
3.76% interest for undergraduates; 5.31% interest for postgraduates*
Loan fee: 1.069%
Maximum loan: $12,500 for undergraduates; $20,500 for graduates
In the subsidized version of the Federal Stafford Loan, the Department of Education agrees to cover the cost of accrued interest during the student's enrollment period.
Unsubsidized Stafford Loans (Direct Unsubsidized Federal Loans)
Unlike the subsidized version of the Federal Stafford Loan, in this case, the student is responsible for all interest accrued, both during and after enrollment, even if the loan is in forbearance or deferment. The interest compounds as well, meaning it is added to the principal, raising the cost of interest over time. These loans typically have:
3.76% interest for undergraduates; 5.31% interest for postgraduates*
Loan fee: 1.069%
Maximum loan: $12,500 for undergraduates; $20,500 for graduates
The unsubsidized Stafford Loan has almost no qualification requirements beyond being enrolled in school for more than a half-time schedule. So, nearly anyone can receive this loan.
Direct PLUS Loans
Unlike Perkins or Stafford loans, federal PLUS loans do require a credit check and can be denied based on poor credit. Applicants with poor credit scores or a poorly established credit history can improve their chances of approval by having an endorser or co-signer with better credit included on the application. These loans have:
6.31% interest*
Loan fee: 4.276%
Maximum loan: Cost of attendance (minus any other financial aid)
One of the key perks of obtaining a PLUS loan (beyond it's "full ride" coverage) is the fact that payments do not begin coming due until six months after the student's graduation, offering an opportunity for new graduates to locate work and establish themselves to some extent before needing to take on the responsibility of repayment.
Parent PLUS Loans
While most of the details of the Parent PLUS loan are identical to the Direct version, this loan is designed for a student's parents to assist with expenses on the student's behalf. These loans feature:
6.31% interest*
Loan fee: 4.276%
Maximum loan: Cost of attendance (minus any other financial aid)
Repayment for a Parent PLUS loan begins immediately, rather than deferring until six months after graduation. However, parents can request a deferment during the application process.
Direct Consolidation Loans
All of the federal loans outlined above are eligible to be consolidated into a single loan following graduation. This can be convenient since it means one monthly payment to one lender. And, in some cases, it can result in a lower monthly payment and/or a longer repayment term. Common features include:
Interest is determined by the weighted average of all your loans*
No loan fee
No maximum loan amount
However, it's important to thoroughly research the terms of any consolidation loan being considered, because they're not all optimal for every borrower. It's especially important to investigate your options if you are considering seeking any sort of federal loan forgiveness, since consolidation may eliminate that possibility.
Types of Personal Student Loans
Unlike federal student loans, there are no regulated requirements and benefits tied to privately-funded student loans. While private lenders make an effort to make their products competitive, most will actually recommend seeing what's available through the federal plans first since they can't offer most of the protections the government provides.
The main reason personal loans should be part of your decision-making process is the opportunity for private lenders to customize each loan product to your personal situation. Federal loan terms are basically set in stone, but personal loan terms can be customized based on your credit history and/or that of a co-signer, customer history with the bank, and numerous other factors.
Personal Education Loans (In-School Loans)
Personal education loans are available through most lenders. They range from conventional personal loans to highly-specialized products customized directly to the needs of a student. They are available as direct loans (to the student themselves, usually with a cosigner's guarantee) or as parent loans to cover education expenses on the student's behalf.
Because they're free to arrange more flexible terms than the government, personal education loan providers have developed a wide range of options as they compete for this business.
In some cases, options that used to be unique to federal student loans have become available, such as payment deferment until after graduation. In other cases, borrowers are offered negotiable terms designed to limit payments while enrolled and make up the difference following graduation.
The key to choosing the best personal student loan option is to do your homework. Speak to a number of different lenders and don't be afraid to ask for what you want and need. The worst they can say is "no," and you may be surprised by what they're willing to do for you.
Student Loan Refinancing and Consolidation
Another benefit stemming from the flexibility of personal student loan options is the fact that many lenders offer consolidation and refinancing options that can include both federal and personal student loans into the same loan. The federal consolidation options can only include federal loans, so if you've obtained a mix of funding including private loans, they may not work for you.
Like the federal consolidation option, however, it's vital to dig deep into the details of any refinancing or consolidation loan terms and make sure you're effectively weighing the short-term and long-term pros and cons to make a fully informed decision.
For instance, unless your interest rate is significantly reduced, the only way to obtain a lower monthly payment is to extend the length of your loan. As appealing as lower monthly payments may be, the longer you take to repay your loan, the more it will cost you in interest fees.
Credit Repair as an Option
If this information is coming to you "too little, too late" because you're already saddled with a heavy student debt burden, don't assume your situation is beyond hope. You can work with a credit repair company to fix the situation one step at a time and make sure you're taking full advantage of the options the various student loan types make available.
Free online consultation
CreditRepair.com members saw over 8.6 million removals on their credit reports since 2012
Free access to your credit report summary
Three-step plan for checking, challenging and changing your credit report
Online tools to help clients track results
| Better Business Bureau | In Business Since | Monthly Cost | Reputation Score |
| --- | --- | --- | --- |
| See BBB Listing | 2012 | $69.95+ | 8/10 |
CreditRepair.com has two decades of credit repair experience under its belt and has helped countless consumers deal with problems on their credit report. And its simple, flat-rate pricing keeps things transparent for the consumer.
How to Choose the Best Student Loan Type for You
As you've probably guessed by now, there's no simple process to choose the very best combination of student loans for your personal needs. Every student is different, and the possible configurations of federal and student financial aid products are nearly endless. Most financial experts recommend seeking out financial aid in the following order:
Scholarships
Grants/Awards
Personal Gifts (from family/friends)
Personal Savings (a college fund)
Federal Student Loans
Personal Student Loans
This order leaves students with the lowest debt at, theoretically, the most favorable terms. Of course, as outlined above, the pros and cons of federal and personal loans warrant deep research.
If you handle this important decision responsibly, you can expect to look back on secondary education as a positive investment in a bright future. If you don't, it could end up being a costly mistake.
*Please note: Interest rates and other specific details regarding various loan products can become outdated quickly. While every effort has been made to provide accurate figures at the time of publication, we recommend researching current term details rather than relying solely on these figures.
Advertiser Disclosure
BadCredit.org is a free online resource that offers valuable content and comparison services to users. To keep this resource 100% free for users, we receive advertising compensation from the financial products listed on this page. Along with key review factors, this compensation may impact how and where products appear on the page (including, for example, the order in which they appear). BadCredit.org does not include listings for all financial products.
Our Editorial Review Policy
Our site is committed to publishing independent, accurate content guided by strict editorial guidelines. Before articles and reviews are published on our site, they undergo a thorough review process performed by a team of independent editors and subject-matter experts to ensure the content's accuracy, timeliness, and impartiality. Our editorial team is separate and independent of our site's advertisers, and the opinions they express on our site are their own. To read more about our team members and their editorial backgrounds, please visit our site's About page.