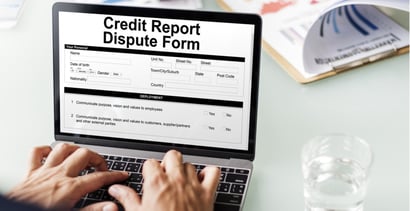 With about 20% of consumer credit reports marred by at least one error, it's a good idea to know about the best services for disputing credit.
The task of finding and fixing credit may seem daunting, but the credit repair services reviewed below can do the hard work for you at a reasonable price. By removing erroneous negative information from your credit file, these services can help your credit score recover and clear the way to a better lifestyle.
Best Overall | More Services | FAQs
Best Overall Service For Disputing Credit Reports
Lexington Law has long been our perennial favorite among credit repair services. You can access a wide array of services from its expert legal staff that includes accredited lawyers.
Founded in 2004, Lexington Law has the experience and knowledge to fix your credit reports by challenging, disputing, and removing mistakes that are lowering your credit score.
Most results of any credit repair law firm
Lexington Law Firm clients have seen more than 81 million removals from their credit reports since 2004
Get started today with a free online credit report consultation
Cancel anytime
| Better Business Bureau | In Business Since | Monthly Cost | Reputation Score |
| --- | --- | --- | --- |
| See BBB Listing | 2004 | $99.95+ | 8/10 |
Lexington Law allows you to tailor its support by offering you several service levels. All service levels actively engage the three major credit bureaus over questionable and unverifiable items on your credit reports. The company's results speak for themselves, with more than 10 million mistakes corrected on behalf of its clients.
More Credit Repair Services to Consider
Competition in the credit repair industry leads to better and more varied services, as exemplified by these three companies. Each has a highly credible reputation for successful results achieved over many years of service to the public.
Dozens of national credit repair and credit monitoring service providers are vying for your business, but these three earn our highest ratings:
Free online consultation
CreditRepair.com members saw more than 8.6 million removals from their credit reports since 2012
Free access to your credit report summary
Three-step plan for checking, challenging and changing your credit report
Online tools to help clients track results
| Better Business Bureau | In Business Since | Monthly Cost | Reputation Score |
| --- | --- | --- | --- |
| See BBB Listing | 2012 | $69.95+ | 8/10 |
Best-in-class support
In business since 1989
Rapid 35-day dispute cycle, tailored to your situation
90-day 100% money-back guarantee
Low $79 cost to get started, cancel or pause membership anytime
| Better Business Bureau | In Business Since | Monthly Cost | Reputation Score |
| --- | --- | --- | --- |
| A+ | 1989 | $79 | 9.5/10 |
Free online evaluation
One-on-one action plan with a certified FICO professional
24/7 Access to your online client portal
90-Day Money-Back Guarantee
| Better Business Bureau | In Business Since | Monthly Cost | Reputation Score |
| --- | --- | --- | --- |
| A+ | 2009 | $69+ | 7.5/10 |
Each company boasts special features that may be important to you, be it a top-quality mobile app, an unconditional guarantee of satisfaction, credit monitoring, or additional services beyond credit repair.
You can click on the START NOW links to find out more about each company before deciding which one to choose. All can deliver impressive results that justify their monthly subscription costs.
How Do I Dispute Something on My Credit Report?
By law, the major credit bureaus must offer consumers a convenient way to dispute questionable items on credit reports. If you're the do-it-yourself type, you can definitely challenge inaccuracies on your reports, although it will require some time and patience to perform comprehensive credit monitoring.
To begin with, you'll need a copy of each of your credit reports. You can get them for free at AnnualCreditReport.com, the single source authorized by federal law to provide a free credit report once a year from each major bureau.

Comb through each report to identify items you want to dispute, including unrecognized charges, unknown accounts, and unauthorized hard credit inquiries. Also, check out the federal government resources, such as the Federal Trade Commission and the Consumer Financial Protection Bureau, that explain how to dispute credit file information.
You can contact each of the three credit bureau websites (Experian, Equifax, and TransUnion) to initiate a dispute online or through the mail. You can also reach out to lenders and merchants directly to challenge erroneous information.
To begin a dispute online, set up an account with the credit reporting agency if you don't already have one. There will be a link allowing you to initiate a new investigation and enter the important facts, including:
Information about yourself, including each relevant credit account number.
The item under dispute, including the original source of the disputed information.
The type of and reason for the dispute.
Explanation of the dispute, including relevant supporting documents and other evidence to support your claim.
You may have to mail supporting information to the credit bureau, as it may not accept documents online.
If you decide to mail in a dispute, you can look at sample template letters available from government agencies and other trusted sources. Your letter to a credit reporting company should include a copy of your free credit report in which you've highlighted the disputed items, along with copies of relevant documents.
You can send your dispute with a return receipt requested via certified mail to:
Experian
P.O. Box 4500
Allen, TX 75013
(888) 397-3742
TransUnion LLC
Consumer Dispute Center
P.O. Box 2000
Chester, PA 19016
(800) 916-8800
Equifax Information Services LLC
P.O. Box 740256
Atlanta, GA 30348
(866) 349-5191
TransUnion and Equifax provide downloadable dispute forms for you to include. Always keep copies of any communications you share with a credit bureau, as well as with lenders, merchants, or any other source of the disputed information.
Expect a decision (or a request for additional information) from the credit bureau within 30 days of receiving your dispute. If your dispute is rejected, you can still add a statement to your credit report explaining the dispute to future lenders and anyone else who requests a copy of your credit report.
Why Would Someone Need to Dispute Their Credit Report?
Each credit report error may lower your credit score and send the wrong message to prospective lenders, creditors, landlords, employers, insurance companies, utility providers, and other recipients. Derogatory information on a credit report can reduce or cut off your access to loans or new credit, which is why you must insist your reports are accurate.
Incorrect information may linger on your reports for up to 10 years, so it's important to remove it as quickly as possible.
Several types of credit report misinformation can trigger a dispute:
A credit account number you do not recognize. This may be a simple mistake or could be an indication of fraud. For example, an identity thief may apply to a credit card company for a new card or a higher credit limit using stolen information about you, such as your Social Security number.
An incorrect balance on a legitimate account. If your records differ, it may indicate theft of your credit card account number or unauthorized charges posted to a credit card company by a merchant, proving the value of identity theft protection.
Unauthorized hard inquiries. You must authorize hard credit inquiries for the purpose of evaluating your application for new credit. A hard credit inquiry can depress your credit score by five to 10 points for up to a year. You can dispute hard inquiries by challenging the inquirer to prove you gave your authorization.
Erroneous missed or late payment reports: A missed payment can hurt your credit score and remain on your credit report for up to seven years. However, if the payment was late due to unforeseen circumstances, you can ask the merchant or lender to remove it.
Incorrect reporting of events: These may include write-offs, collections, repossessions, foreclosures, liens, court judgments, and bankruptcies. You can dispute all or some of the information, but you will need to provide documentation to back your claims.
Checking your credit report is an effective strategy for identity theft protection. A crook can steal your information (or purchase stolen information) for all sorts of mischief, such as buying things, stealing your tax refund, or receiving medical care under your name.
When you don't pay these fraudulent bills, you will be reported to the credit bureaus, which will mark your accounts as unpaid or delinquent. This will send your credit score plummeting and may take months to correct.
If you think you are the victim of identity theft, report it to the Federal Trade Commission's Identity Theft site. You can also file a report with the police and with your State Attorney General's Office.
You can also place an extended fraud victim alert on your credit report that will remain active for up to seven years. With the alert in place, creditors must verify your identity before creating a new credit account. Contrast this with a credit freeze, which blocks all new credit accounts.
Placing the fraud alert (but not the credit freeze) with any credit reporting company triggers alerts to the other two bureaus. You can place an alert by contacting the fraud alert centers of the credit bureaus — Experian, Equifax, or TransUnion.
Can Credit Report Disputes Hurt Your Credit?
There is no impact on your score for filing disputes over your credit reports. Your right to do so comes from the 1970 Fair Credit Reporting Act, a federal law regulating how your credit information can be legally collected, as well as your rights to see your credit reports.
However, if you file numerous complaints found to be without merit, the credit reporting agency may regard future disputes as frivolous and ignore them. While you have the legal right to file disputes, doing so for items you know to be correct is ethically dubious and a waste of everyone's time.
If a credit reporting company rejects a dispute because the underlying information is correct, your score may dip if the credit reporting company discovers new facts that compound the problem. For example, you may see blowback if the credit reporting bureau learns about a repossession in connection with a disputed charge.
Do Credit Bureaus Really Investigate Disputes?
Under regulations specified in the aforementioned Fair Credit Reporting Act (FCRA) of 1970, credit bureaus (also known as consumer report agencies) and their information data furnisher participants must work together to investigate disputes. They cannot simply delete the item in question as a way to save time and money.
Under the FCRA, a credit reporting agency must conduct a reasonable investigation, for free, of disputed items to determine whether the information is inaccurate. The credit reporting agency must correct or delete bad information from the complainant's credit report within 30 days of receiving the dispute letter.
The Consumer Financial Protection Bureau (CFPB) issued a bulletin in 2013 describing "the FCRA's requirement to investigate disputes and review all relevant information provided by consumer reporting agencies." The FCRA requires the credit bureaus to notify information furnishers with the entire set of relevant information whenever a consumer disputes a credit report item.
Once a data furnisher receives a heads-up from a credit bureau, it must immediately conduct an investigation and then provide the credit bureau with the results. Thus, the burden of investigation lies with the party that furnished the disputed information, including lenders, creditors, and merchants.
The CFPB expects each furnisher to comply with the regulations by:
Maintaining a system to receive disputed information and related documents.
Conducting an investigation based upon the information received from the credit bureau and their own internal information.
Reporting results back to the credit bureau.
Provide corrections to all the major credit bureaus if the credit dispute is upheld.
Modifying or deleting information that is inaccurate, incomplete, or unverifiable.
Problems can occur when a credit bureau uses a computerized system, known as e-OSCAR, to resolve an initial dispute. However, the system may have bad information that the bureau propagates. In the real world, some credit bureaus may disregard disputes and claim the items to be valid.
However, you have the right to receive proof from the credit bureau that the disputed items have been verified. If that proof is not forthcoming, you can demand the deletion of the inaccurate entry. You can also reissue your dispute and even file a lawsuit for non-compliance under Section 616 of the FCRA.
Is It Worth Disputing My Credit Report?
The wishy-washy answer is, it depends.
An isolated activity, such as an unauthorized hard credit inquiry, is of little significance to your score and is probably not worth filing a dispute. On the other hand, bad information regarding late payment occurrences, delinquencies, collections, and other financial nightmares should be removed from your credit history because of their substantial negative impact on your credit score.
An especially critical concern is when erroneous information drops you into a lower credit category. The following chart shows the various FICO score tiers:

Suppose your credit score is hovering at 660, and you discover bad information on your credit report. If you file a winning dispute, your credit score may jump up to, say, 680, moving your rating to good credit from fair. That's when you can celebrate your eligibility for a lower APR and more favorable borrowing terms.
The bottom line is that disputing items on your credit report can't hurt your score and may help it. What you must weigh is whether it's worth the time and effort to file a complaint on your own or to pay a credit repair organization to intervene, especially if you already have good credit.
Can You Dispute a Debt If It Was Sold to a Collection Agency?
Your rights to dispute debts do not change simply because a lender sells your account to a debt collector.
Lenders and creditors may sell debts to collectors rather than spend additional money trying to collect the amount owed. This way, the lender can recoup at least some of the money you owe and offload the debt collector duties to a specialist.
Some grounds for dispute include:
The debt is a result of identity theft or other fraud.
The creditor took too long to attempt recovering the debt, so the facts and underlying paperwork are lost or forgotten.
You repaid the debt without receiving acknowledgment for doing so.
On the other hand, an unscrupulous credit repair service may claim that it can remove legitimate debts reported to be in collection. This is a tipoff you are dealing with a bad credit repair company.
When you file a debt dispute with a collection agency, it must stop collection activities and investigate your claims for 30 days. If you find yourself being harassed during this period, you can file a complaint with your state's attorney general and with the CFPB, either online or by calling 855-411-2372.
Compare Services For Disputing Credit Reports
Our review of the best services for disputing credit reports identifies four companies that can effectively challenge derogatory information on your credit reports. If you are not going to dispute a credit report error on your own, then a legitimate credit repair agency can take on the work at a fair price.
Using a credit repair organization for a six-month period has the potential to raise your credit score, but remember that results are not guaranteed, and your mileage may vary.
Advertiser Disclosure
BadCredit.org is a free online resource that offers valuable content and comparison services to users. To keep this resource 100% free for users, we receive advertising compensation from the financial products listed on this page. Along with key review factors, this compensation may impact how and where products appear on the page (including, for example, the order in which they appear). BadCredit.org does not include listings for all financial products.
Our Editorial Review Policy
Our site is committed to publishing independent, accurate content guided by strict editorial guidelines. Before articles and reviews are published on our site, they undergo a thorough review process performed by a team of independent editors and subject-matter experts to ensure the content's accuracy, timeliness, and impartiality. Our editorial team is separate and independent of our site's advertisers, and the opinions they express on our site are their own. To read more about our team members and their editorial backgrounds, please visit our site's About page.